Also check out :
– S Beam : Transferring files
– Battery Life of the Samsung Galaxy S3
– Benchmark test results on the Samsung Galaxy S3
– Avail of Samsung Galaxy S 3 Free With Smart Unli Data Plan 2000
– Globe offers Samsung Galaxy S3 for as low as 1699 pesos a month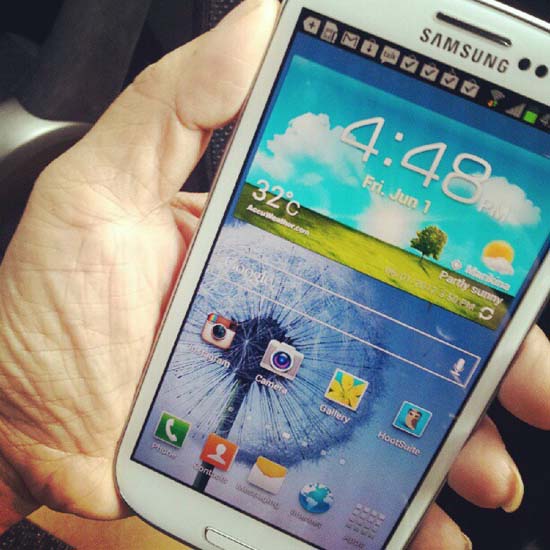 Yes, it is my lucky day. I am the proud owner of a Samsung Galaxy S III (GT- 19300) thanks to SMART Mobile. I wanted to buy the Samsung Galaxy S III but I already had a Samsung Note and an iPhone.
This latest Samsung smartphone, with the third generation model is expected to be even more successful than its predecessor , the Samsung Galaxy S II. Word is this S II helped Samsung Electronics topple Apple Inc as the world's top smartphone maker. Samsung shipped 44.5 million smartphones in the first quarter, exceeding the 35.1 million of Apple, according to market researcher Strategy Analytics last month. It also overtook Nokia as the biggest maker of all types of mobile phone in the same period.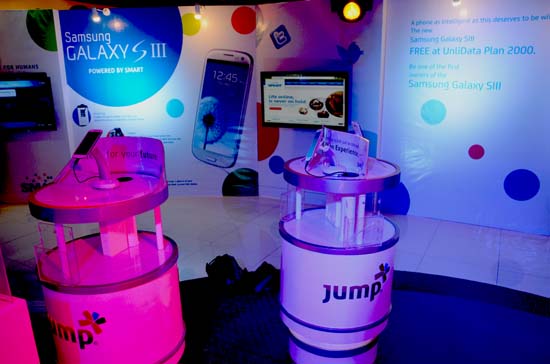 Well, plain luck got me this beautiful Samsung Galaxy S III during the third raffle draw at the Smart Media & Blogger event for the Samsung Galaxy SIII
It was Jane's lucky day too but that is another story.

The color of my Samsung Galaxy S3 is marble white. I like it white so I can easily spot my phone in my bag. It will take as long as three weeks to supply the new pebble blue Galaxy S3 in some of the regions, as SlashGear reported that the firm had to throw away over 600,000 back cases due color issues. Since my Galaxy S 3 is still barely a day old, this entry is more of unboxing the Samsung Galaxy s3. Reviews will come as the days come along. After all there is a lot of nifty features to play around with.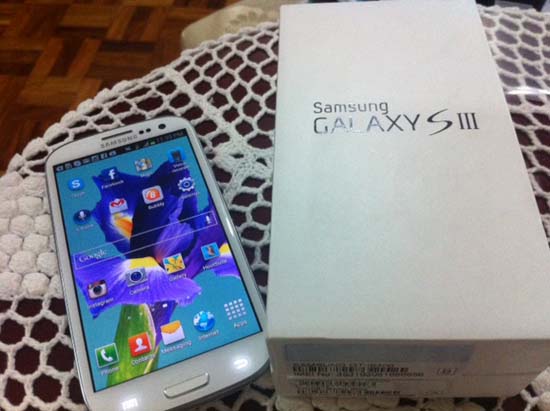 The Samsung Galaxy S III runs on the latest Android operating system the Ice Cream Sandwich . You will know what Galaxy S 3 is all about with a quick glance on the protective plastic:
HD Super AMOLED– at least 720p HD resolution, which is defined at 1280 x 720 pixels.
Quad core CPU – the short of it means fast or A quad-core processor is a chip with four independent units called cores that read and execute central processing unit (CPU) instructions such as add, move data, and branch
Bluetooth smart ready – Using Bluetooth SMART technology, it lets you know when you receive a call, text, Facebook message, calendar notification and more!
NFC– Near Field Communication technology. Well, NFC allows a device, usually a mobile phone, to collect data from another device or NFC tag at close range.
Android technology -a Linux-based operating system developed by the Open Handset Alliance, led by Google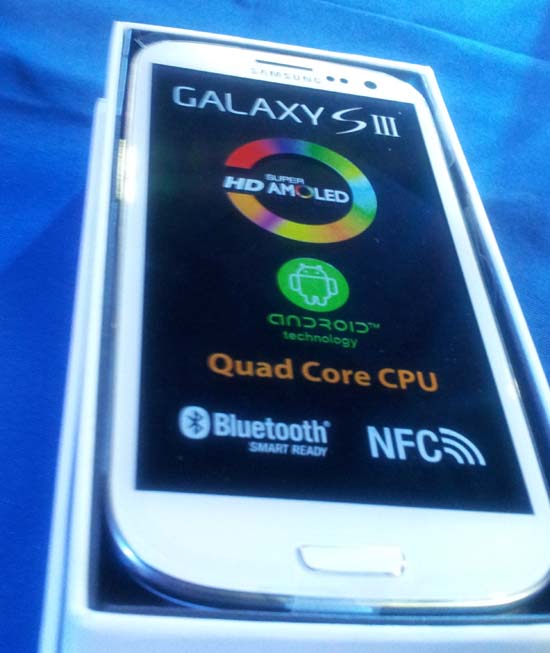 I won't talk about those features yet but at least you get a preview the moment you open the box.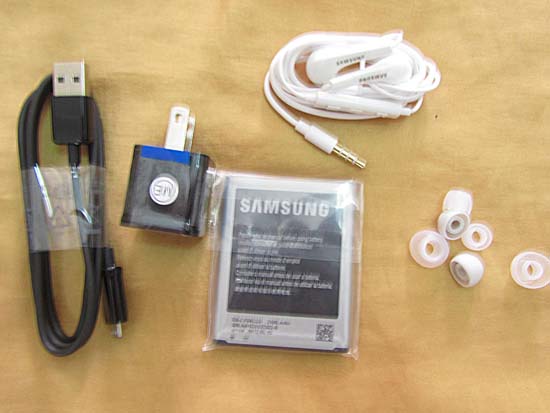 The box comes with a plug, USB cable, earplugs, and 2,100mAh battery.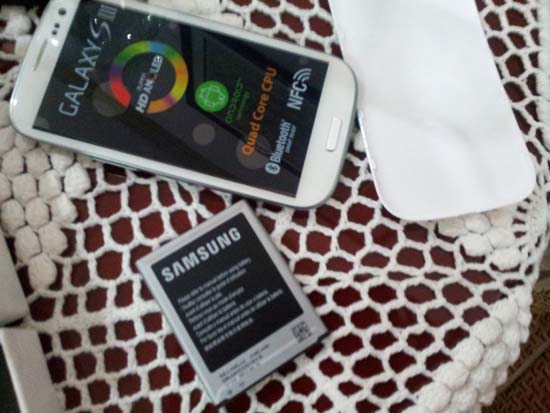 I normally don't read the manual because I believe smart phones should be smart to use. I resorted to this later on when checking the type of SIM Card to use.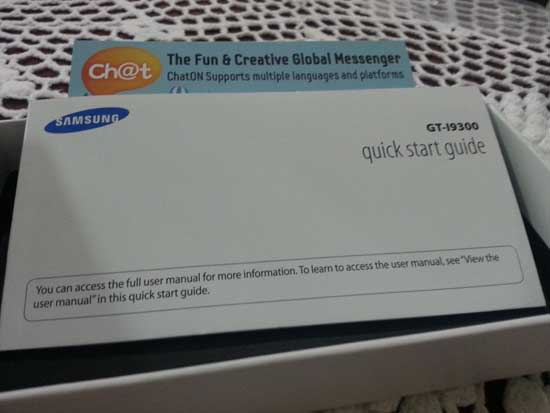 While placing the battery , I noticed the white polycarbonate plastic case felt flimsy and fragile. Then I recalled my polycarbonate luggage that withstood the rigors of airport handling. The polycarbonate gets its strength from being flexible. Cleaning solvents may not be good for the polycarbonate cover. Besides I only use water to wipe out the smudges on my gagdets.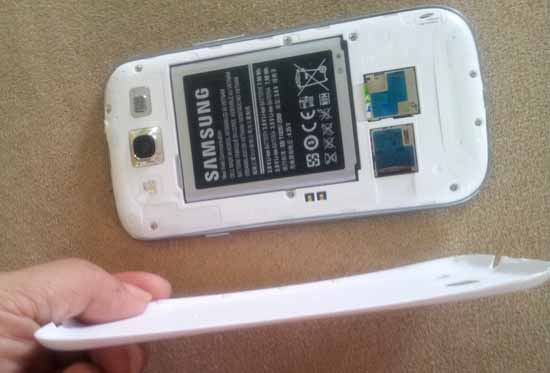 The curvaceous design reminded me of my white iPhone 3S but it felt sexy on my small hands.
The light weight of the Galaxy S 3 surprised me too especially comparing it to my iPhone 4 and Samsung Galaxy S3. Nice to have a light weight phone for a change.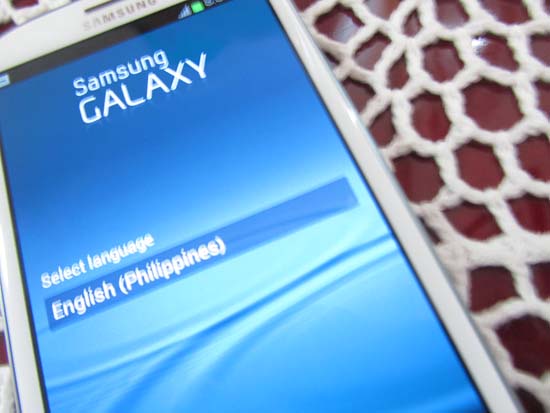 The first thing that appears on my screen is "English/Philippines".
I was too excited to use my new phone that I forgot the Galaxy S 3 needed a micro sim.
Updated June 3 (I had my regular prepaid SMART regular sim cut at a mall for 100 pesos)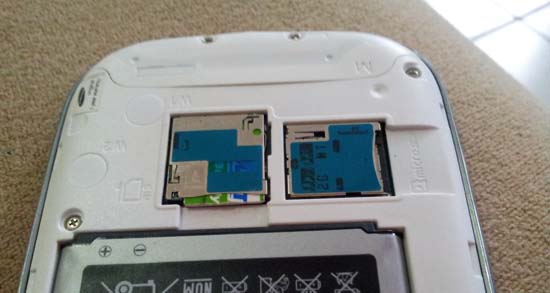 The setup didn't really need a SIM and in my initial set-up, I skipped this to proceed to the next step. I just had to enable my WIFI to get connected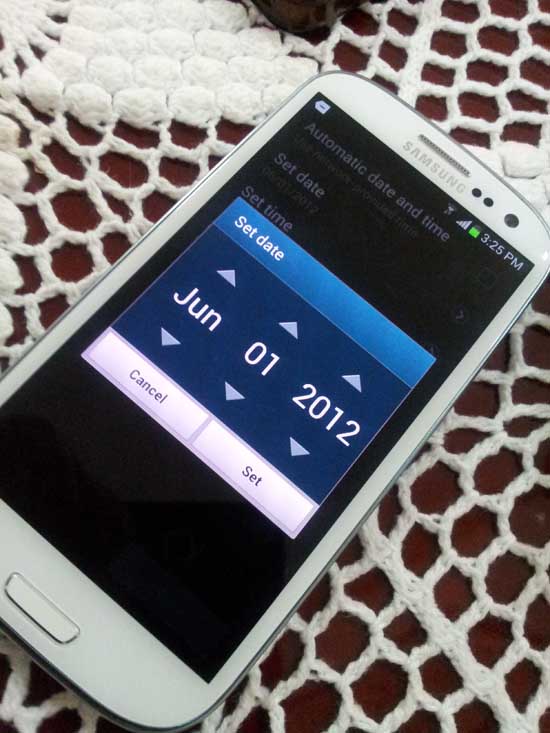 The date was already set to June 1, the day I got my phone.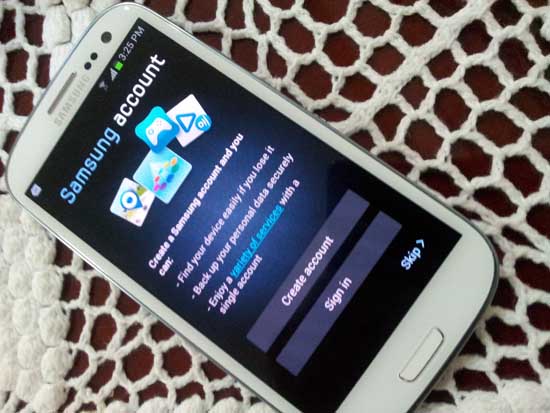 Since I already had an existing Samsung account, I just logged in.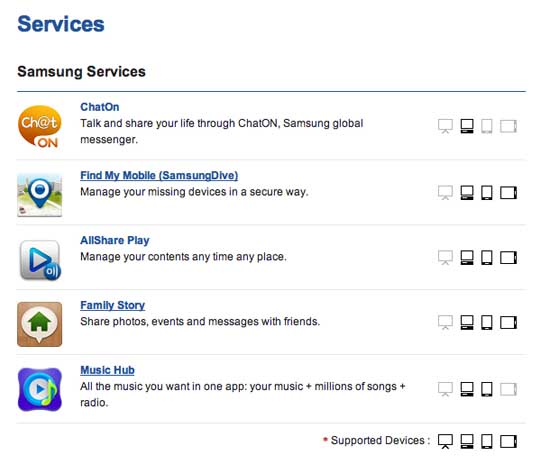 The Samsung Account allows you to use Samsung Services in one single account like the following.
– Samsung Apps
– AllShare Play
– Find My Mobile (SamsungDive)
– Caster
– Family Story
– ChatOn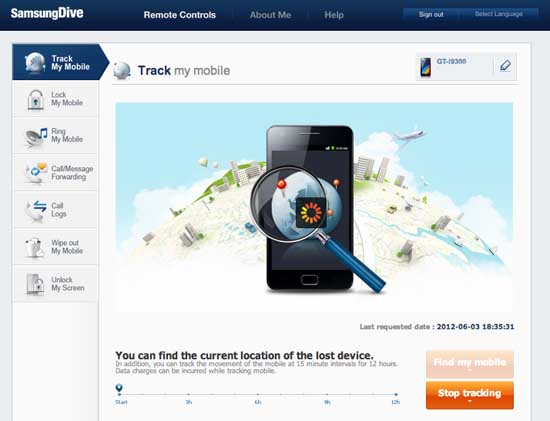 It is important that you create this Samsung Account now because your phone is very new. The "Find My Mobile (SamsungDive)" allows you to manage your missing devices in a secure way. DO it now.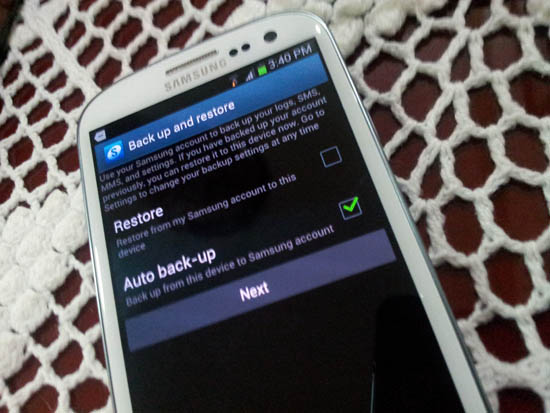 Next is backup and restore. The prompt tells you that "You can use your Samsung account to back up your logs, SMS , MMS and settings. If you have backed up your account previously, you can restore it to the device now. Go to your settings to change your backup settings at any time". I chose "auto back-up"- Back up from this device to my Samsung account.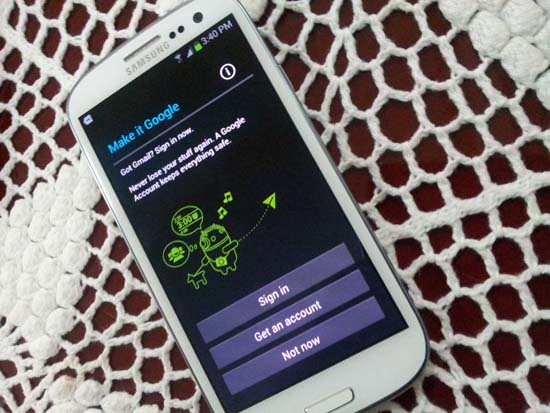 Who doesn't have Google? I used my Google account in my Samsung Note and I was annoyed at how many junk contacts I had. You will need to delete contacts on the google web page itself so it does not add up to your Samsung Galaxy S 3.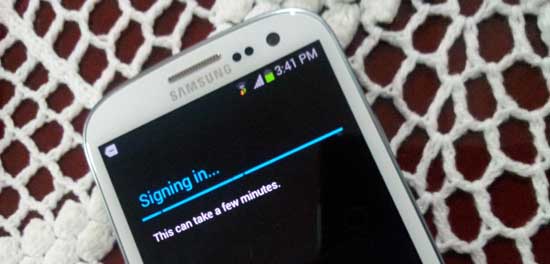 Signing in took a 1-2 minutes only.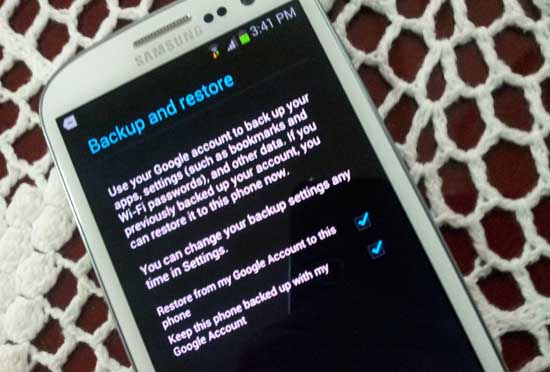 I use my google account to back my apps, settings ( bookmarks, WIFI passwords) and other data. I checked "restore from google account to this phone" and "keep this phone backed up with my google account". I think this is checked by default.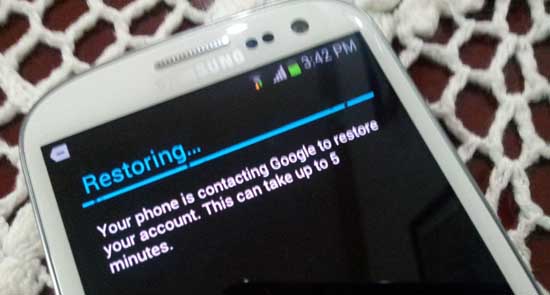 The phone is contacting google to restore my account.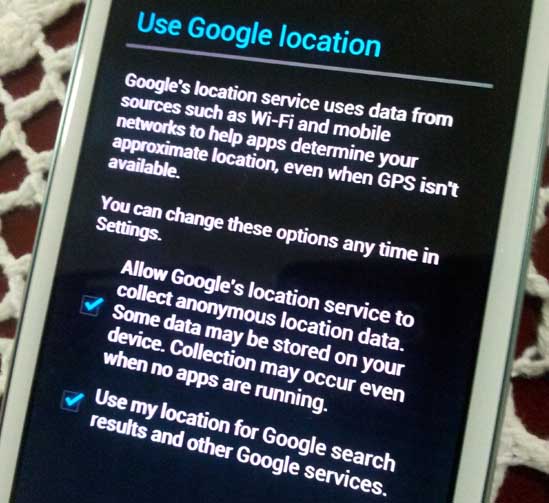 You don't have to use Google's Wi-Fi location service. One can choose to just use your device's built-in GPS, but the more data points your smartphone has to work with the more accurately it can fix your location and thus make location-based services more accurate and useful. In other words, if you use Wi-Fi on an Android device to help pin your position down though you'll also be contributing to creating Google's maps.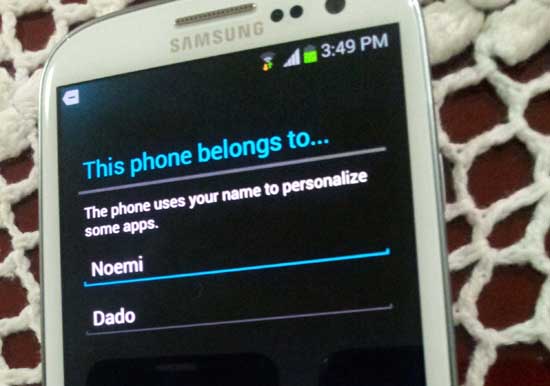 This phone belongs to…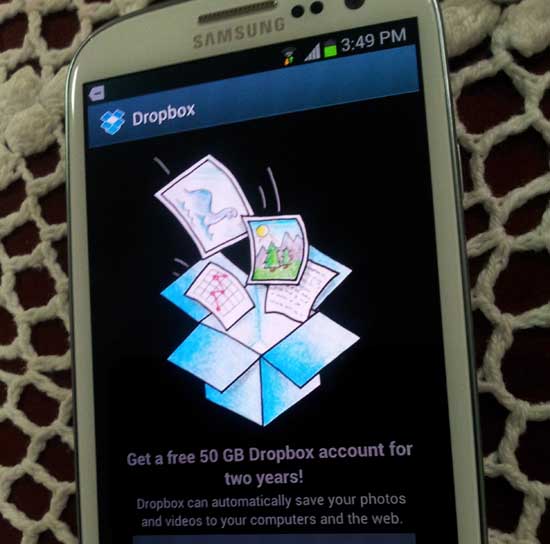 The Dropbox is a free cloud storage that I used for the past 4 years. Well good news: Samsung partnered with Dropbox to offer owners of this Galaxy S 3 an additional 50GB cloud storage. All you have to do is register your phone after making the purchase.
Since I have an existing account, I signed in. I didn't see the upgrade yet. A few hours after , I received an email that Dropbox upgraded storage to 48 GB for next 24 months . So now, I have 51.25 storage for all my junk.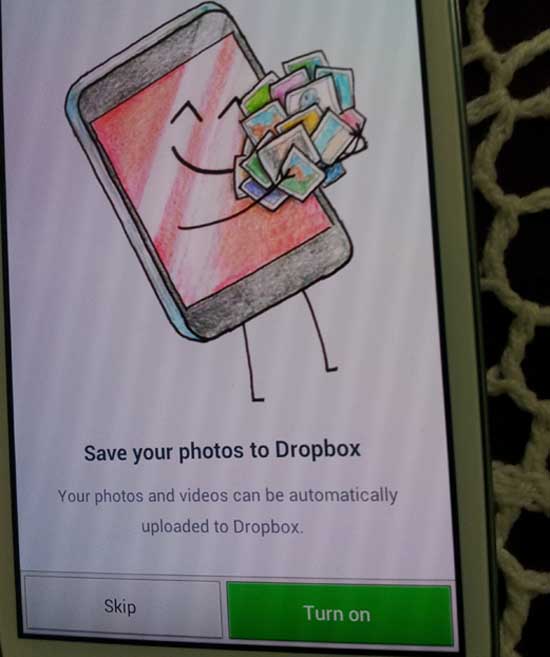 I turned on Dropbox feature to automatically upload my photos and videos. I find this feature quite useful since I am in multiple mobile devices.
Finished! It took 25 minutes to set up including a gap of 5 minutes figuring out that I needed a micro sim.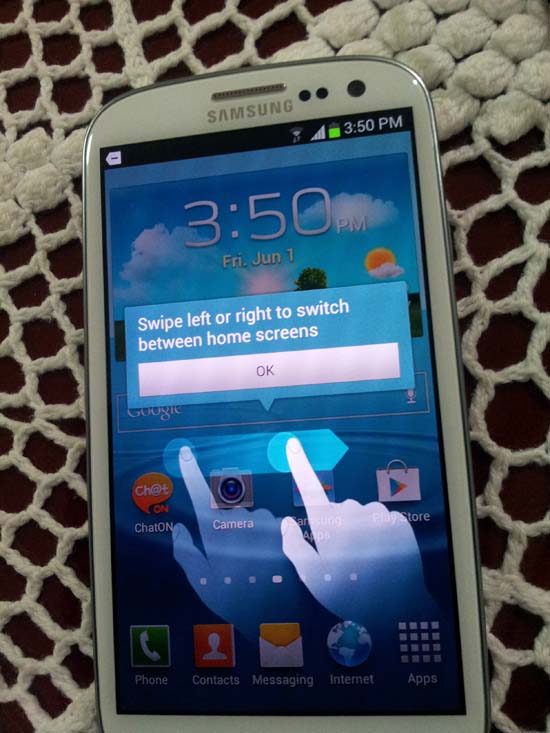 If you are first time user of this beautiful phone, there are instructions on how to swipe the phone. I normally just fiddle with the phone to see how things get done.
So first impressions:
1. The 4.8in 1280×720 resolution HD Super AMOLED screen delivers pretty and crisp colors.
2. The plasticky feel of the back cover felt cheap at first but once the battery is in place, the phone feels sturdy. Just because it is thin, light and flexible does not mean the polycarbonate is not sturdy. Read more on what is a polycarbonate.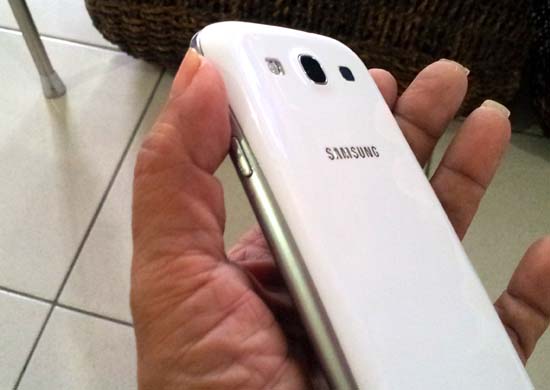 3. Taking photos is really faster (than my Samsung Note which also runs on Ice Cream Sandwich). Its 8MP camera features a zero-lag shutter speed that lets you capture moving objects easily without delay – the image you see is the picture you take. The 'Burst shot' function instantly captures twenty continuous shots (3.3 frames per second) . I was so used to the lag in my Samsung Note that I did not realize I already took a photo.
4. I am liking it so much that I am giving up my iPhone and its new owner is my daughter. The larger Galaxy S 3 is attractive to my visually challenged eyes. It is a brillant user-friendly phone packed with features that will complement my citizen media experience.
There is more to review such as the Smart stay, "Pop-up Play" feature, that allows one to continue to watching a video while sending a text or browsing the web; "S Voice", which is similar to Apple's Siri voice recognition; Buddy photo share and "S Beam" NFC sharing. I also need to get a micro sim so I can review the phone features. In the meantime , here is a preview of Samsung Galaxy S 3 other nifty features.
Stay tuned for more.
Check these out too:
– Battery Life of the Samsung Galaxy S3
– Benchmark test results on the Samsung Galaxy S3
– Avail of Samsung Galaxy S 3 Free With Smart Unli Data Plan 2000
– Globe offers Samsung Galaxy S3 for as low as 1699 pesos a month
The Samsung Galaxy S3 is free at Unli Data Plan 2000 at SMART. It comes with unlimited mobile Internet, plus free SMS and call minutes. The device will also be available under Smart's All-In Plans.
The locked prepaid kit is 31,500 pesos which is lower by 1,500 pesos than the suggested retail price of Php32,990 for the unlocked handset.