Also check out:
– Unboxing the Samsung Galaxy S3
– Battery Life of the Samsung Galaxy S3
– Benchmark test results on the Samsung Galaxy S3
– Avail of Samsung Galaxy S 3 Free With Smart Unli Data Plan 2000
– Globe offers Samsung Galaxy S3 for as low as 1699 pesos a month

Photo credit: Jane daughter's took this photo and captioned it "Funny techy moms!"
We must have looked like a sight to Jane's daughter as we struggled to use the S Beam feature.
I have been using my Samsung Galaxy S3 for the past 13 days and am quite happy with it. Fast, with an amazing screen and great battery life , it's more than I ever had in a smart phone. There is so much to explore. I tried the S voice and wakeup commands but I don't find it too useful. I feel it was just added there just so it can compete with Siri.
One feature I totally love is the S Beam. Last night, Jane , Vince (who also owns an S3) and I were exploring the S Beam feature.
With the new 'S Beam,' the GALAXY S III expands upon Android™ Beam™, allowing a 1GB video file to be shared within three minutes and a 10MB audio file within two seconds by simply putting two GALAXY S III phones back to back, even without a Wi-Fi or cellular signal.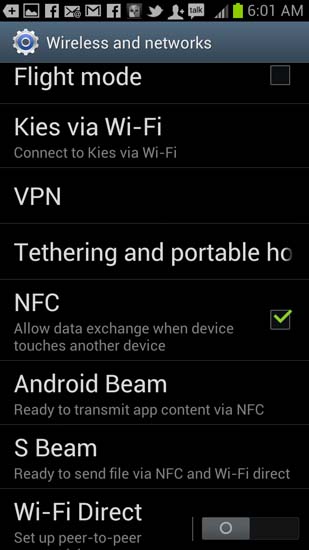 Just enable the NFC settings in "more settings". NFC is Near Field Communication technology that allows a device, usually a mobile phone, to collect data from another device or NFC tag at close range.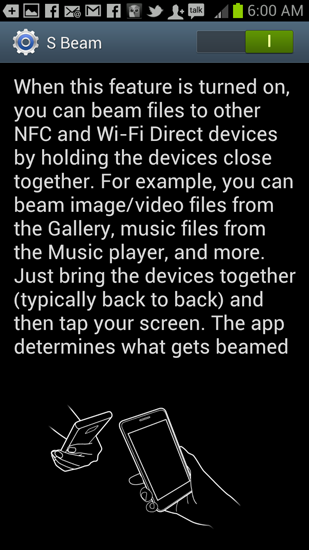 When this feature is placed to ON, you can beam files to other NFC and wi-fi direct devices by holding the devices close together. For example , you can beam image/video files from the gallery, music files from the music player and more. Just bring the device together (typically back to back) and then tap your screen. The app determines what gets beamed.
It took some experimentation before we got to transfer a photo file. Just remember the following
1. One needs to put the phone together till you feel a haptic feedback from the phone.
2. One has to "touch the image or file" for it to be beamed. Transfer was immediate. Under 2 -3 seconds or less for a 2 MB photo file upon connection.

Photo via Carl Valenzona
I was also able to transfer 48 MB HD video with Abe Olandres in 20 seconds.
The S beam is a useful feature as it encourages sharing. Well the downside is one should also have NFC on their smartphone. For me and Jane who are often on events, I am glad we both own a Samsung Galaxy S3 so we can easily transfer photos and files on the spot.
Also check out:
– Unboxing the Samsung Galaxy S3
– Battery Life of the Samsung Galaxy S3
– Benchmark test results on the Samsung Galaxy S3
– Avail of Samsung Galaxy S 3 Free With Smart Unli Data Plan 2000
– Globe offers Samsung Galaxy S3 for as low as 1699 pesos a month