Check these out too:
– S Beam : Transferring files
– Photos: Unboxing the Samsung Galaxy S3
– Battery Life of the Samsung Galaxy S3
– Avail of Samsung Galaxy S 3 Free With Smart Unli Data Plan 2000
– Globe offers Samsung Galaxy S3 for as low as 1699 pesos a month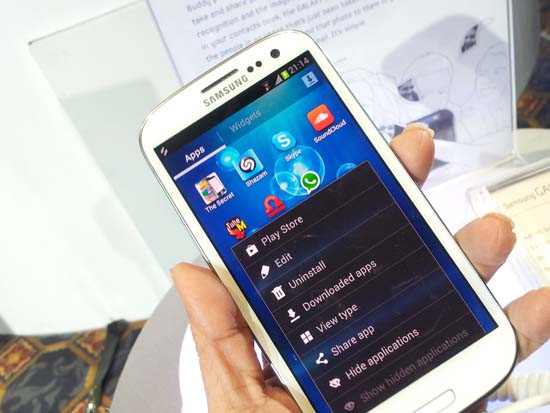 I spotted Yuga's benchmark results on the Samsung Galaxy S3 and thought it was a brillant idea to check out the performance of my Samsung Note and my 4 day old Samsung Galaxy S3 (GT 19300). Like Yuga , I " took three (3) of the most common benchmarks that we usually do when reviewing Android smartphones — Quadrant Standard, Antutu Benchmark and Nenamark 2 — with the latter focusing on the graphics performance of the smartphone."
When I did the test, I had power savings on so I think the results might have been affected.
SAMSUNG NOTE- Power Savings ON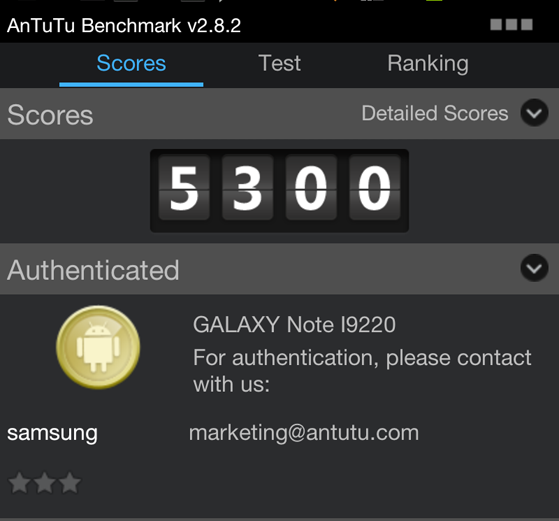 Antutu Result of 5300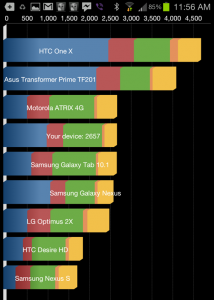 Quadrant score of 2657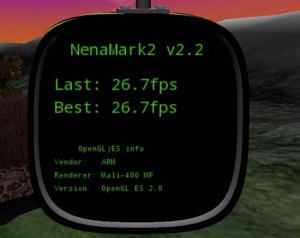 Nenamark is 26.7 fps
SAMSUNG GALAXY S3- Power Savings On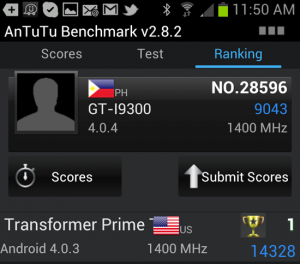 Antutu score of 9043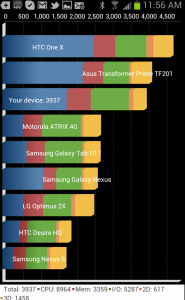 Quadrant score of 3937
Nenamark score of 58.6 fps
Comparing benchmark scores
Power savings ON
Definitely the Samsung Galaxy S3 is faster than the Note. Though these tests are theoretical, I tell you that the Galaxy S3 is the fastest handset I have tested so far even if Power savings is turned ON.
In Antutu Benchmark the Galaxy S3, which test Memory, CPU and Graphics, my Galaxy S3 scored at 9043, much lesser than Yuga's Antutu Benchmark score of 10,148 and Techdweller Antutu benchmark score of 12,112 points.
Quadrant score for techdweller is 5,291 points while I got 3937 points. For Yuga, Quadrant score for his S3 is 5,130.
The Nenamark 2 benchmark gave a rating of 58.6fps . Yuga got 58.8 which is the highest frames per second they have ever tested on any handset to date.
Of course you have to remember I turned Power savings on. Most likely, you will also turn this feature on when you are trying to save on battery life.
Samsung Galaxy S3 Power Savings OFF
Out of curiousity , I turned OFF Power savings and got an Antutu benchmark score of 10,202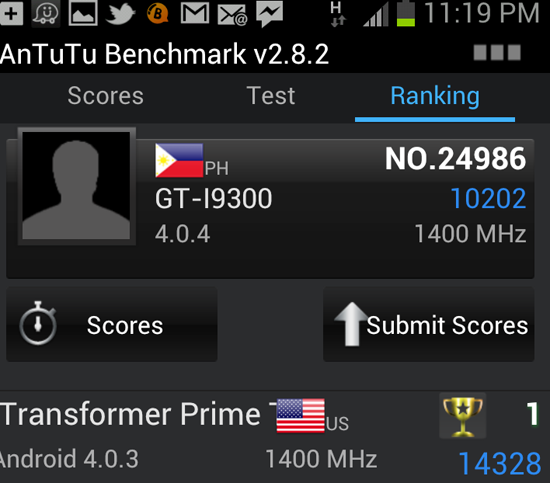 The 10,202 I got is now closer to Yuga's Antutu Benchmark score of 10,148 which is very close to the score of the NVidia Tegra 3 on the Transformer Prime.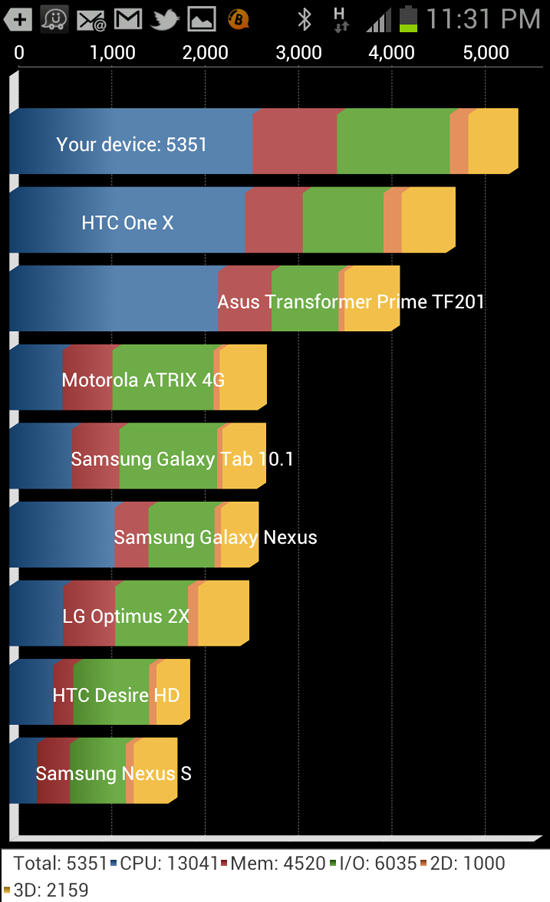 Quadrant score is now 5351 points close to Yuga's 5,130 and techdweller of 5,291 points. Looks like the score I got bested HTC One X. Tech Dweller confirms this too. "Despite the HTC One X being a quad core phone and having a higher clock speed, it still lags behind the S3 in comparison which also runs with a Quad Core and slightly lower clock speed. This mainly shows us that the in house developed Exynos Quad core chipset works better then the one designed for the One X by Nvidia. The Tegra 3." The Nenamark score of 58.6 fps is the same whether power is turned off or on. Wonder why.
All these benchmark tests just confirm that my Samsung Galaxy S3 is indeed a fast smartphone that I need for my daily mobile needs.
Don't forget to check out:
– S Beam : Transferring files
– Photos: Unboxing the Samsung Galaxy S3
– Documenting the battery life of the Samsung Galaxy S3/a>
– Avail of Samsung Galaxy S 3 Free With Smart Unli Data Plan 2000
– Globe offers Samsung Galaxy S3 for as low as 1699 pesos a month