Winner is Carlos Maningat:
#iwantglobegalaxys3mini because its mega features will make me a more effective netizen for social change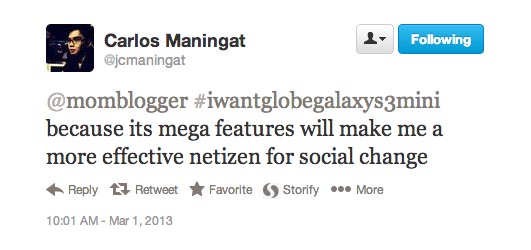 Remember my blog post on Small is in: Samsung SIII Mini a few weeks back? When I first tweeted about the launch of this miniature version of the Samsung Galaxy S III , I got a couple of favorable responses on twitter. The convenience of having all the utilities in this miniature version is useful.
Imagine the same intelligent features in Galaxy S III are in the SII mini, which include Smart Stay (which detects if the user is looking at the display and keeps the display from timing out until the user looks away), Smart Alert (which detects when a user returns to the phone and gives him a brief vibrating nudge to inform about missed calls, calendar events, and new messages), Direct call (which allows a user to make a call simply by lifting the phone to his or her ear while writing or reading a message or while specific contact details are brought up to the display), and S-Voice (which allows the users to control and command the smartphone with his or her own voice).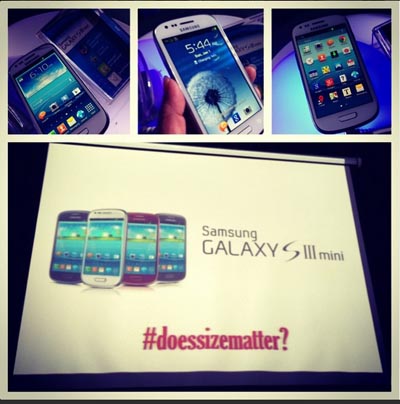 Right now, the Samsung SIII Mini is exclusive to Globe. You can experience it too just by getting it free at plan 999 which comes with P900 Consumable, 50MB data and two call and text freebies by purchasing it here: http://bit.ly/GlobeSamsungs3Mini or …*drum roll*
and in celebration of my aboutmyrecovery.com 7th blog anniversary on February 24, you can also join my blog's giveaway.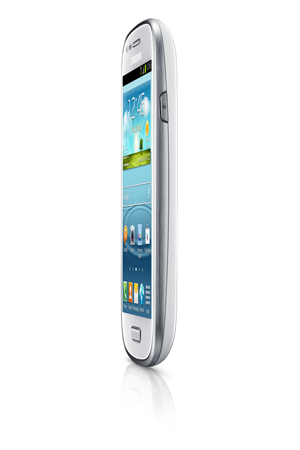 Here are the Mechanics
Bear with me as this is my first contest in this blog. It will run from February 22 till March 1. Promise, this contest will be really simple.
Just tweet : (please follow directions)
@momblogger #IWantGlobeGalaxyS3Mini (cite/name a feature or reason)
Note: I will only get replies from active twitter accounts with at least 50 followers . You also need to tag me as @momblogger so I can curate your tweet submission.
Judging criteria: I will choose the best answer on March 2. So be creative. Please do NOT spam my timeline. One tweet is enough. That is how creativity comes in.
Last day of submission is March 2 at 12:00 AM. I will check the winners to see if they have won in other similar contest.
Curation of the #IWantGlobeGalaxyS3Mini as submitted to @momblogger