I attended the launch of the new Samsung No-Frost Inverter Refrigerator yesterday at the Chef Jesse in Rockwell Club. I was excited to see the latest powerful technology innovations since my daughter is moving to her new pad by March. Behind the modern sleek design, I was impressed with the power of the refrigerator's digital inverter compressor, based on Samsung's press release. This intelligent compressor automatically adjusts across five speeds of RPM in response to various cooling demands. Whether due to frequent door openings, a hot plate of food, or outside temperature changes, the groundbreaking compressor can either rapidly or slowly provide cold air to reduce energy consumption. What's more, it operates only when needed, thereby producing less noise when one throws parties or intimate dinners without hearing a strange humming sound in the background.
To further ensure the refrigerator's durability, Samsung backs up its new No-Frost Inverter Refrigerator compressor with a 10-year warranty which is a first. I am confident that Samsung ref can deliver because my 5 year old Samsung ref survived Ondoy.
More innovations are packed within the Samsung No-Frost Inverter Refrigerator that will leave its owners in awe. If you keep a lot of fresh fruits and vegetables, you will like the refrigerator's MoistFresh Zone, which controls air circulation to obtain optimal humidity, creating an ideal environment to keep fruits and vegetables fresh for a long time.
Now this nifty feature is quite useful when there is brownouts. Say goodbye to melted ice cream whenever there is power interruption, thanks to the refrigerator's Coolpack that keeps the freezer cool for eight hours in case of power shut off.
The Samsung No-Frost Inverter Refrigerator's Power Cool button allows the refrigerator to start cooling inside quickly, reducing waiting time when extra cooling is needed.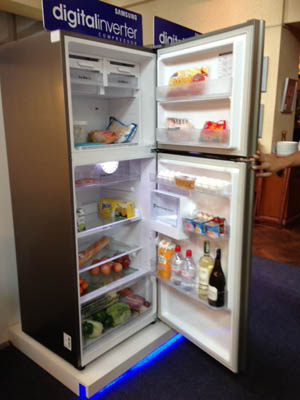 When it comes to organization, the smart appliance provides maximum storage flexibility and efficiency. Its Easy Slide shelf makes storing and removing food effortless. Door shelves are also made wider and larger to accommodate bottles of various sizes, and a detachable Multi Storage Basket can be used to hold medicines or cosmetics, and other small objects that need refrigeration. And finishing off the ultra modern design is the recessed Easy Handle that quickly and easily opens the refrigerator with just a click of a button.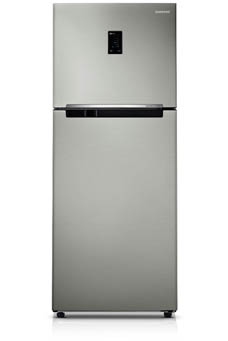 The ref is really ideal for my daughter who needs to cut energy cost and yet have ideal storage space for her food and even cosmetics.. Samsung says there 10 reasons why every home should have a Samsung refrigerator, which includes the energy-saving digital inverter that comes with a 10-year warranty; easy slide shelves for easy food access; multi flow air system; adaptive defrost control; the Coolpack option that keeps the freezer cooler for an extended period despite power interruptions; the MoistFresh zone that helps keep fruits and veggies fresh; the built-in deodorizing filter that eliminates unwanted smell; LED lighting fixture that brightens every corner of the refrigerator; tempered glass shelves that can handle heavy load; and the Big Guard that provides wider and deeper storage space for tall bottles and extra large containers.
The suggested selling prices are as follows:
1. RT22FARBDSA – P19,995 (8.3 cubic feet)
2. RT29FAJBDSP – P24,995
3. RT32FAJCDSP – P28,995
4. RT35FDACDSP – P31,995