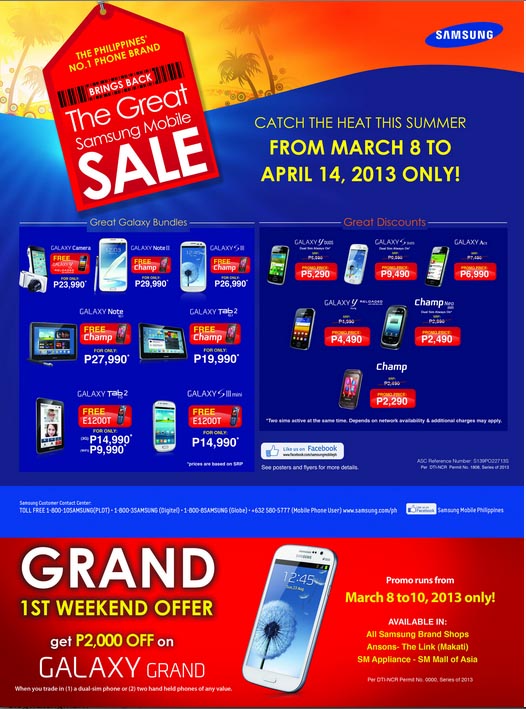 Samsung, the country's leading phone brand, stays ahead of the competition as it brings back its most awaited pre-summer sale beginning today (March 8) for its leading models and latest gadgets from the best-selling Samsung Galaxy S III to the Samsung Galaxy Note II to the Samsung Galaxy Camera.
Shoppers can get a Samsung Galaxy Y Reloaded for free when they purchase a Galaxy Camera. For those who wish to purchase a a new 7-inch Samsung Galaxy Tab 2 or the new Samsung Galaxy S III Mini, they can get a free Samsung E1200T with their new gadget. Get a free Samsung Champ, for every purchase of a Samsung Galaxy Note II, Samsung Galaxy Note 10.1 or a Samsung Galaxy S III.
The summer offering, dubbed 'The Great Samsung Mobile Sale, will run till April 14, giving Samsung fans, more time to choose from its wide array of products at very affordable prices.
They also include the Samsung Galaxy Note, Samsung Galaxy Tab2 and the Samsung Galaxy S III mini.
The sale also offers slash-down prices on Samsung Galaxy Y and S duos models, the Samsung Galaxy Ace, Samsung Galaxy Y Reloaded and the Samsung Champ Neo Duos.
Spicing up the promo is the grand first weekend offer where customers get P2,000 off on the Samsung Galaxy Grand for a trade-in of a dual-sim phone or two hand-held phones of any value. This promo, however, runs for today till Sunday at all Samsung Brand Shops, Ansons-The Link (Makati) and SM Appliance at SM Mall of Asia.
For details, call Samsung Customer Contact Center at toll free 1-800-10Samsung(PLDT) or 1-800-3Samsung (Digitel) or 1-800-8Samsung (Globe), or (632) 580-5777 (mobile phone user) or visit www.samsung.com.ph or Like us on Facebook Samsung Mobile Philippines