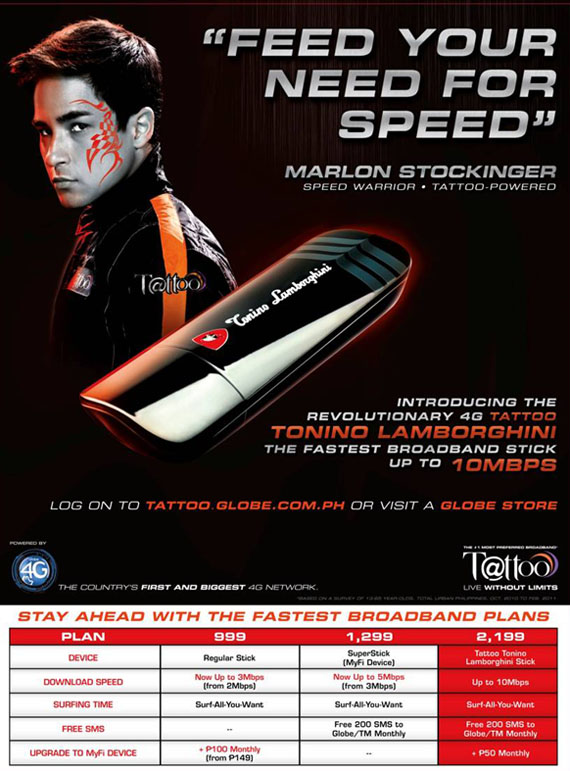 Click to enlarge image
Broadband sticks are a lifesaver, especially for freelance or home-based workers who need a good backup internet connection. Today, Globe Telecom proudly announces the Globe Tonino Lamborghini, which they claim is the first 4G stick in the Philippines. Users are said to enjoy internet speeds of up to 10Mbps, five times the speed of the average broadband stick. This makes the Globe Tonino Lamborghini the fastest internet connection offered by Globe to date.
You can avail of the Globe Tattoo Tonino Laborghini under the Tattoo postpaid plan. At just P2,199 a month, subscribers can enjoy this fast internet connection using the broadband stick, plus 200 free text messages to Globe/Touch Mobile subscribers.
Aside from this new stick, new and old Tattoo subscribers will experience faster internet speed for their two postpaid plans at no extra cost. Beginning June 6, Plan 999 subscribers can enjoy internet speed of up to 3Mbps instead of 2, while Plan 2999 subscribers are instantly upgraded to speeds up to 5Mbps instead of 3. And if you're planning to upgrade to the Tattoo MyFi device, now's a good time to do so. Instead of P149, you only pay P100 monthly. This is available to Tattoo Plan 499 and 999 subscribers. Tattoo Tonio Lamborghini subscribers can upgrade to the MyFi for just P50/month.