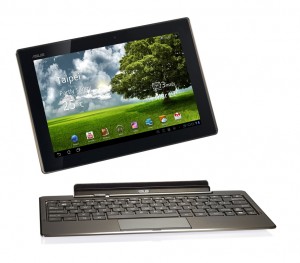 The ASUS Eee Pad Transformer is like having your cake and eating it, too – the innovative device is a tablet computer that can turn into a more traditional laptop feel, thanks to its expandable keyboard dock. As a tablet, the Eee Pad Transformer is an impressive machine in itself, with an NVIDIA® Tegra™ 2 dual-core processor running the smooth Android 3.0 Honeycomb as its OS. The hardware is enough to make the machine a TV-on-the-go, thanks to a crystal-clear scratch-resistant display, 3D stereo, and even HD video output support.
What makes the ASUS Eee Pad Transformer stand out, however, is its ability to switch from play mode to work mode in a matter of seconds. One common issue with tablets is that they're not exactly conducive to working; the layout of traditional laptops is just better when you're trying to get something done. By attaching the Eee Pad Transformer to its keyboard dock, the device morphs from a tablet orientation into a notebook that's ready for mobile office work.
The flexibility with this machine is exceptional, and definitely makes the device something to keep an eye on. If you want a mobile computer ideal for both work and play, head on over to a nearby ASUS and try out the Eee Pad Transformer. Prices start from P22,995.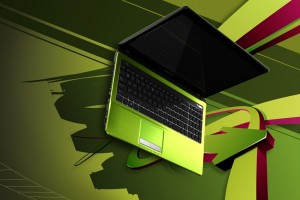 If tablets really aren't your thing, and you're looking for something that combines both style and functionality, look no further than ASUS' K series notebooks. Underneath the shiny aluminum shells are technological powerhouses that offer maximum versatility for excellent prices. The ASUS K series boasts Intel® second generation Core™ processors and NVIDIA® GeForce™graphics, making the notebooks fully capable of playing the latest games without any hitches. The laptops are designed with both multimedia and workability in mind, allowing you to get tons of mileage out of these devices. All this is made possible with ASUS' IceCool technology, which reduces the machine's heat by a significant amount, making it more comfortable to use and less prone to overheating. Prices start at P29,995.
Highlights:
Mobile Productivity with docking station (Full QWERTY KB and touchpad, up to 16 hours of battery life, Unlimited ASUS WebStorage)
Mini-Cinema Entertainment (Brilliant IPS panel with 178? viewing angle, HDMI support, NVIDIA® Tegra™2 1.0 GHz dual-core CPU)
Trendsetting Tablet Experience (Android 3.0 OS for tablets, Flash support, thousand of applications on Android Market )
Specs and Price:
Eee Pad Transformer TF101
DISPLAY: 10.1″
OS: Android 3.0 Honeycomb
CPU: Nvidia Tegra2
STORAGE: 16G
WIRELESS DATE NETWORK:
Wifi b/g/n
BT2.1
CAMERA: 1.2MP front camera
5 M Pixel Rear Camera
DIMENSIONS: 271 x 171 x 12.98 mm
WEIGHT: 680 g
Price : 22,995 pesos
Eeepad Transformer TF101 with Dock
Display: 10.1″
OS: Android 3.0 Honeycomb
CPU: Nvidia Tegra2
STORAGE: 16G
WIRELESS DATE NETWORK:
Wifi b/g/n
BT2.1
CAMERA: 1.2MP front camera
5 M Pixel Rear Camera
DIMENSIONS: 271 x 171 x 12.98 mm
WEIGHT: 680 g
Mobile Docking:
Keyboard
Touch Pad
2 x USB 2.0
2 x Docking port (Host + Client)
1 x Card Reader (MMC/SD/SDHC)
1 x 24.4Wh Battery
Price- 29,995 pesos