By Ma. Rachel Yapchiongco as originally posted on the Philippine Online Chronicles, Age Guessing App Craze

This is mine: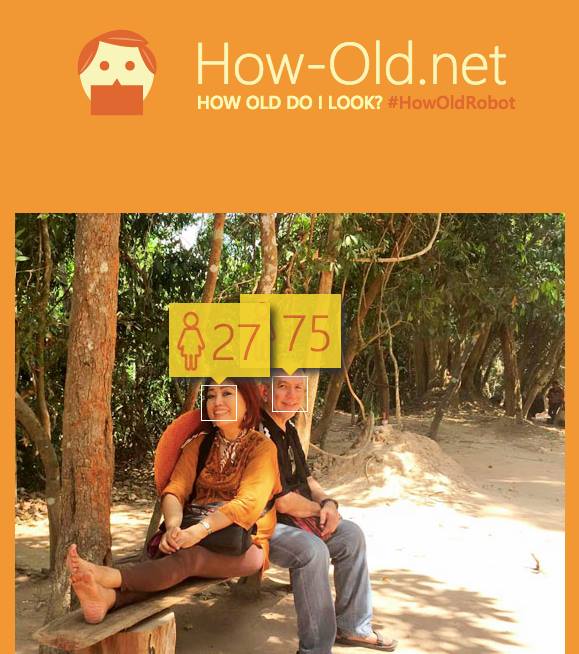 Not everyone likes to talk about their age. Microsoft has somehow found a way to break the age avoidance culture with its latest tool called How-Old.net.
Netizens are crazy about this new app which claims that it can guess your age. Introduced during Microsoft's annual Build Developer Conference, the tool is powered by a cloud-based application program interface or Face APIs. It is said to provide "the most advanced algorithms for face detection and recognition." The app quickly became popular on social media as people began sharing their results online.
Corom Thompson and Santosh Balasubramanian, engineers in Information Management and Machine Learning at Microsoft said in a blog that they were expecting around 50 users to test the algorithm. Imagine their surprise when they got over 35,000 users in just a few hours.
It only took a couple of developers a day to put the whole solution together which includes "the web page to the Machine Learning APIs to the real time streaming analytics and real time BI."
How-Old.net enables users to upload a picture of their choice. It can be a solo or group picture. The Face API predicts the age and gender of faces of people on the photo. People who appear younger on the age guessing tool are flattered and amused but those who come out as older than they really are on Microsoft's algorithm are not exactly thrilled.
However, it is not an accurate app and is still under development. Users may see the warning — "Sorry if we didn't quite get the age and gender right – we are still improving this feature."
This latest internet craze has reached Manila. How-Old.net posts have dominated Facebook and Instagram. Even Filipino celebrities like Kris Aquino have tried the app and posted the results on her Instagram account.
The tool may not always guess your age and gender right but many admit that it's fun to use.  People enjoy posting their results and making fun of their own images. Users say that it's a perfect excuse to have a good laugh.
Critics are warning people to be wary of letting Microsoft use their personal photo for the company's "Internet businesses".
There's a fine print on the site that states, "However, by posting, uploading, inputting, providing, or submitting your Submission, you are granting Microsoft, its affiliated companies, and necessary sub-licensees permission to use your Submission in connection with the operation of their Internet businesses (including, without limitation, all Microsoft services), including, without limitation, the license rights to: copy, distribute, transmit, publicly display, publicly perform, reproduce, edit, translate, and reformat your Submission; to publish your name in connection with your Submission; and to sublicense such rights to any supplier of the Website Services."
This means that Microsoft can use your photos for advertising purposes. Your photos can end up on its websites. The company may also give its suppliers the same rights to your photos.
To answer the growing concern of users, Microsoft assured users that their photos will not be held in the company's database.
"How-old.net does not store or share pictures or personally identifiable information (PII). The Terms of Service are accurate and like those of other companies. Developers get to choose how their apps work. The developers of How-old.net chose not to store or share photos for this app." – Microsoft spokersperson
Curious how old the site thinks you are?  You can try it here.
Photo screencaps from How-old.net/  and Kris Aquino Instagram account.
—————————–
Rachel Yapchiongco, also known as Rach to her friends, is a Psychology and Marketing Management graduate of De La Salle University. Rachel is a chocolate lover, full-time mom to a charming young boy and married to an entrepreneur who has a passion for cooking. She shares parenting experiences and slices of everyday life on her personal blog called Heart of Rachel.