When I learned that Oculus Go will be phased out, I thought that I would wait until my Go would not function anymore before I buy a new one. But I read so many great reviews of the Oculus Quest in the VR Philippines Facebook group. Many bought their unit through Amazon. I didn't realize that Amazon ships to the Philippines. Their price includes custom and shipping fees. My husband overheard me sighing, "Oh I will buy the Oculus Quest 2 after Christmas". He then said, "It's my Christmas gift to you. Buy it". I jumped like a little kid excited for her new toy.
I ended up buying from Arthur's Gadget Shop (AGS) Facebook account. I compared both Amazon and AGS pricing.  The 64 GB version is $299 while the 256 GB is $399.   I chose the higher specs. At the time of purchase (November 29), Amazon 's price was 28,903.97 pesos while AGS was slightly cheaper at 27,490 pesos plus courier cost of 140 pesos. The best thing about buying it locally is that I get to use the Oculus within the day after payment is confirmed. The buying experience from AGS was excellent. They answered all my queries such as warranty and tracking of the courier.

The first thing I did was disinfect the plastic covering of the box and letting it sit there for some time.
The outer cover is just a preview of what lies underneath.
Since I didn't own the previous Oculus Quest, I cannot tell if the Quest 2 headset is lighter. The Quest 2 1832×1920 per-eye resolution is powered by a Qualcomm Snapdragon XR2 chip and 6GB RAM.
The two new-look Touch controllers, complete with batteries, is a good add-on since I can use the headset right away. In the box is a charger with the USB-C cable and compatible wall plug,
I added the glasses spacer, which goes between the headset and the padded face interfacing to provide a bit more space for my glasses.
The Oculus Quest 2 is definitely lighter than my Go but I had to get used to the pressure on my forehead.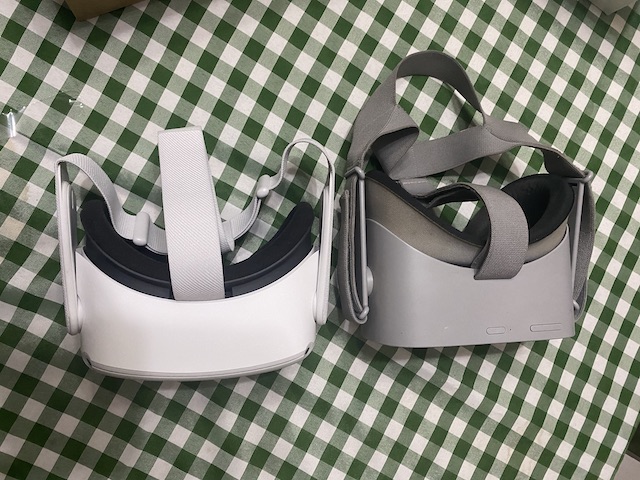 Specifications of the Oculus Quest 2
Via vrfocus.com
Product Dimensions: 191.5 mm x 102 mm x 142.5 mm (strap folded in), 191.5 mm x102 mm x 295.5 mm (strap fully opened up)
Product Weight: 503g
Tracking: Supports 6 degrees-of-freedom head and hand tracking through integrated Oculus Insight technology.
Storage: 64GB or 256GB
Display Panel: Fast-switch LCD
Display Resolution: 1832×1920 per eye
Display Refresh: 72Hz at launch; 90Hz support to come
SoC: Qualcomm® Snapdragon™ XR2 Platform
Audio: Integrated speakers and microphone; also compatible with 3.5mm headphones.
RAM: 6GB
Battery Life: You can expect between 2-3 hours based on the kind of content you're using on Quest 2; closer to 2 hours if you're playing games and closer to 3 hours if you're watching media. At any point, you can check the battery status of your headset in the Oculus App settings or in VR via Oculus Home.
Charge Time: With the provided USB-C power adapter, Quest 2 will charge to a full battery in about 2.5 hours.
IPD: Adjustable IPD with three settings for 58, 63 and 68mm.
Playspace: Stationary or Roomscale supported. Roomscale requires a minimum of 6.5feet x 6.5 feet of obstruction-free floor space.
Controllers:
Dimensions: 9 x 12cm (per controller, includes tracking ring)
Weight: 126g (per controller, no battery installed)
Requires 2AA batteries (included in the box; 1 for each controller)
Getting started with my Oculus Quest 2
Unlike the Oculus Go, Quest 2 requires your Facebook account to login. My VR name is unique from my Facebook name. Setting it up is easy. Since I already had the Oculus app on my iPhone, I just chose Quest/Quest 2 on the menu. A tutorial is available at the Oculus website.  The first app I downloaded was Beat Saber because I heard so much about this popular rhythm app that can be such a workout. A one time fee of $29.99 for the full version seemed pricey at first, but it is worth it. Additional music tracks are another cost. Since I love K-pop music, I couldn't resist the BTS track. It costs $14.00.
READ: Oculus Quest 2 VR headset enhances my workouts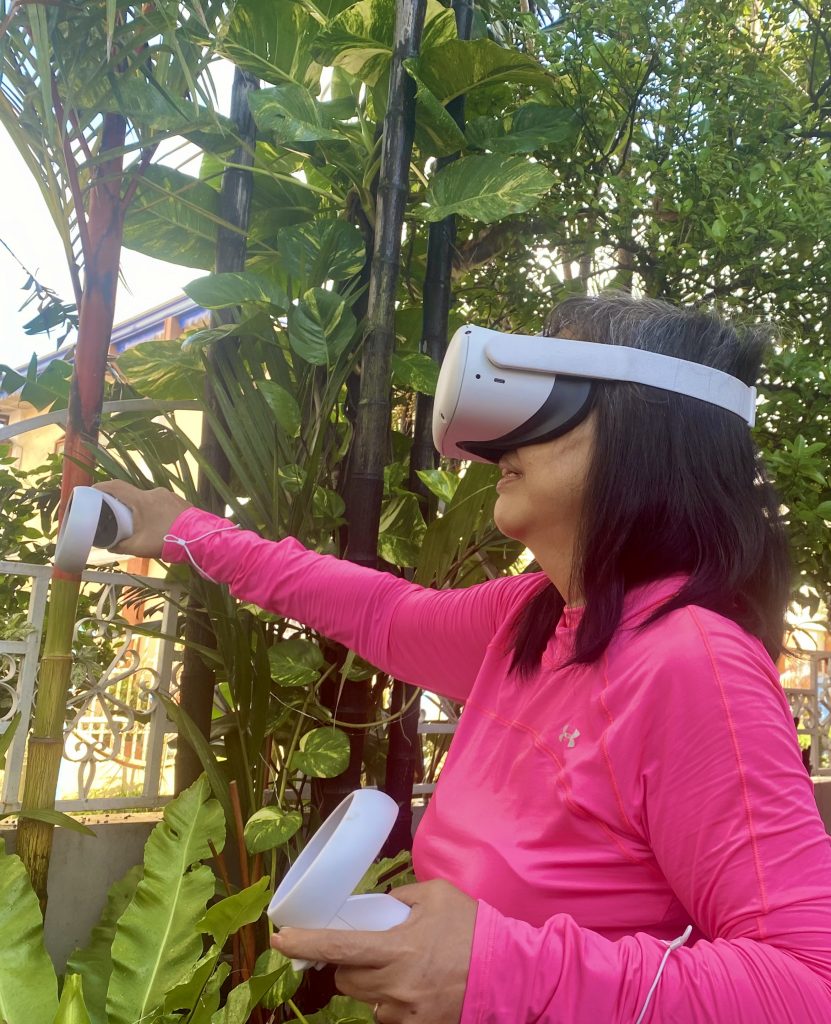 Apps I downloaded
Most frequently used apps are for social networking/chat, fitness and relaxation. Here they are.
Beat Saber- I enjoy Beat Saber so much I can last for 45 minutes, slicing and dicing blocks representing musical beats with a pair of contrasting colored sabers. Beat Saber is a virtual reality rhythm game developed and published by Beat Games. The game takes place in a surrealistic neon environment, and the app combines original beats with vibrant visuals and frenetic gameplay. I am not that good yet. I can muster normal level with a B or C grade. Check the demo version first before the purchase.
READ:  Oculus Quest 2 VR headset enhances my workouts
Look how Beat Saber is played. The video uses a track from BTS but I can only play normal level.
2. The VZFit by Virzoom is another great workout app. I have been using this in Oculus Go.that pairs with a cadence or speed sensor to upgrade a stationary bike to Virtual Reality. I discovered VZfit Explorer while using my Oculus Go Virtual Reality (VR) headset. VZfit is software for the Oculus Quest & Go that pairs with a cadence or speed sensor to upgrade a stationary bike to Virtual Reality. Virtual sports and activities can be played that exercise your legs and brain together to get a cardio workout every day .

READ:  A virtual workout on my stationary bike, using VZfit with the Oculus GO
With the Oculus Quest 2, the virtual experience is even more awesome because the resolution of the Google Streetview images are so much clearer and high.
3. Tripp– I have been using Tripp even in my Oculus Go. Tripp is like fitness for your  inner self.  It is not free. I paid $9.99 annual fee. TRIPP® is an innovative research driven solution designed to help you manage your emotional well-being through the immersion of virtual reality. There are two sessions in Tripp: Focus and Calm. I usually just do Focus.
CALM: Breathwork and guided meditations to propel your inner peace.
FOCUS: Mini-games and daily reflections designed to provide a renewed sense of purpose.
Watch:
4. Alcove – This feels like my virtual home. I even placed photos of my family in the living room. I can invite up to three friends and family members. Together we can travel to new places to see the world. There are hundreds of virtual travels to all continents: take a city tour, a hot-air balloon ride, a back-country road trip. We can also explore the depth of the ocean or go diving in the Great Barrier Reef of Australia, or swim with dolphins in the Pacific Ocean, Relaxation is also available. Meditation can be guided or unguided using the 360 videos. What else can you do?
– Listen to classical music
– Play with your virtual pet
– Play games, share photos, upload and watch your own videos – standard, and 360, and step into them together.
Here are some screen grabs inside my Alcove.
Photo gallery in my family room
Watch what it is like:
5. Vtime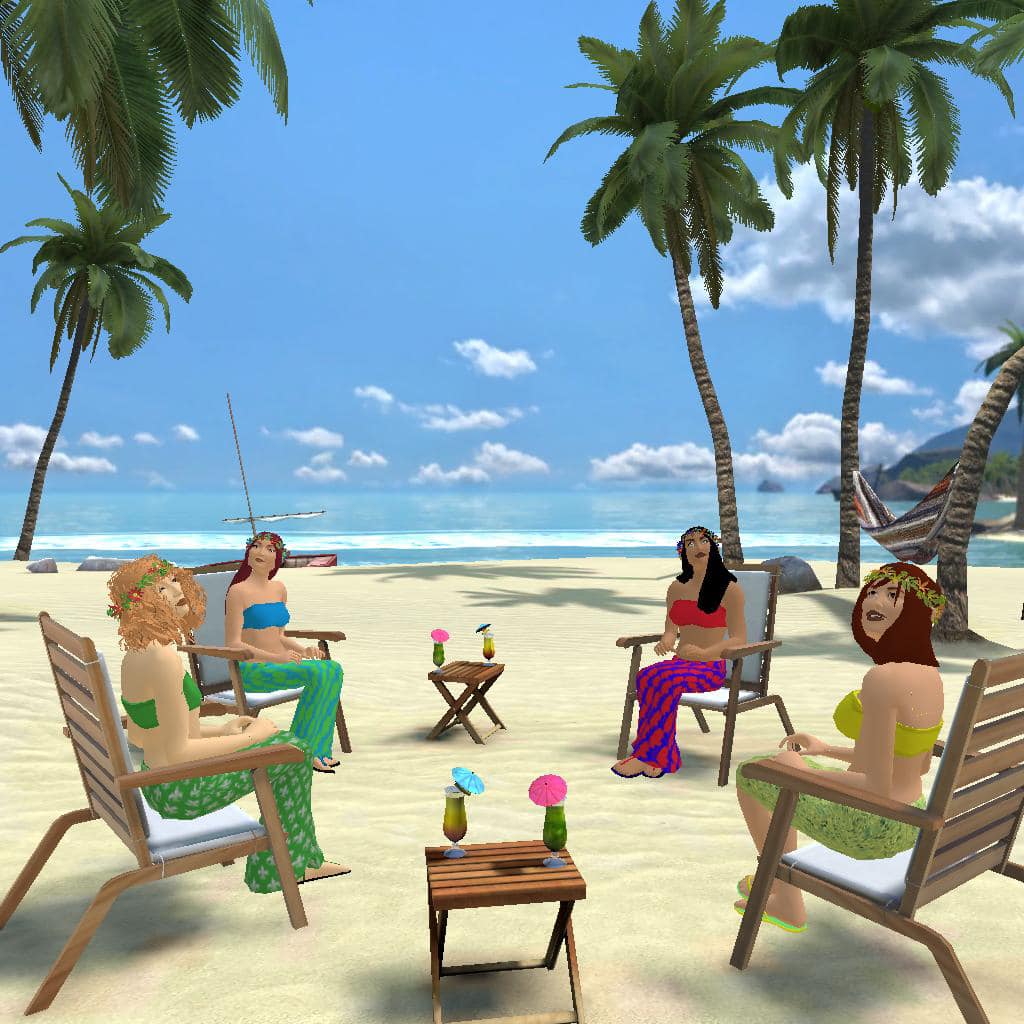 My sisters and I enjoy VTime . It's a social media platform. Aside from Zoom, we use Vtime to meet, chat, watch content, and share photos with one another. In fact, we dress up our avatars based on a theme: Cowboy, Hawaiian, formal, etc.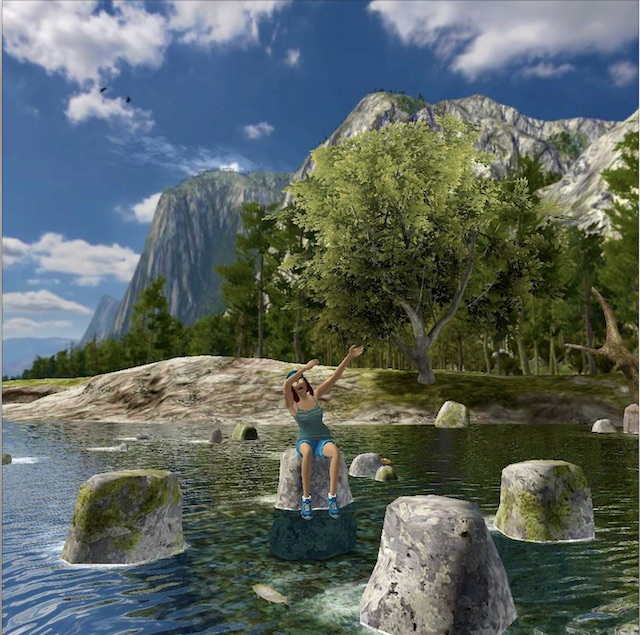 READ: Hello, Virtual Reality
Watch the vTime trailer
6. Rec Room – This is another social app . VR Philippines uses the Rec Room to meet up with group members. Though it is free, there are in-app purchases to dress up your avatar or room.
Oculus store describes Rec Room as THE place for you and your friends to build and play games together. One can also party up with Rec Roomers from all around the world to chat, hang out, explore millions of player-created rooms, or build something new and amazing to share with us all. Rec Room cross plays on everything from phones to VR headsets.
Watch highlights in Rec Room community
I want to explore more apps. For fitness apps, I downloaded Dance Central and FitXR, but I don't use it as much as Beat Saber. I probably wasted money on apps I might not use regularly.
What's on my wishlist?
I don't want to spend a lot of time on my headset, so I limit it to 30 minutes per app. Even my fitness app is limited to 30 minutes usage. Maybe one day, I will download some of these apps and I hope I won't have buyers' remorse.
I will take it slowly. For now, I am just so excited playing and sweating it out with Beat Saber.