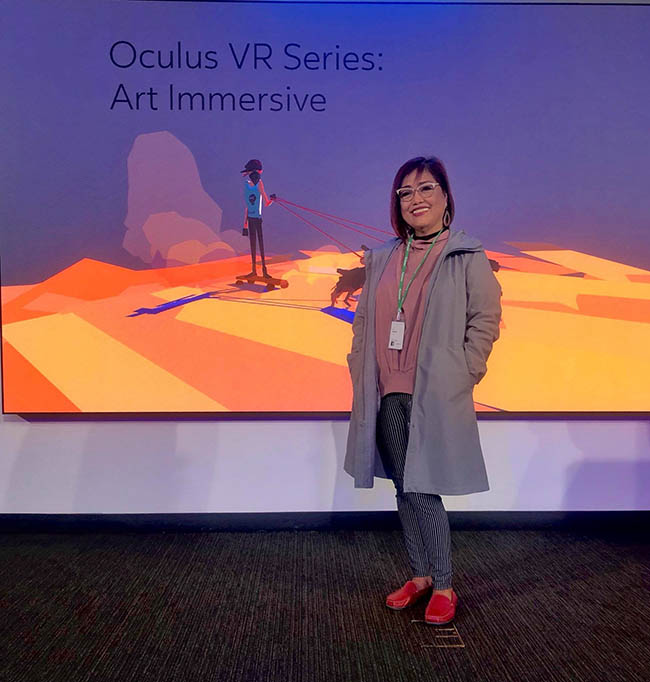 Attending the Facebook event last September 14, 2018 called "Oculus VR Series: Art Immersive" at the Facebook HQ campus in Menlo Park made me realize that Oculus  VR and other VR gadgets are the platforms of tomorrow. I watched the artists work in 3D illustration, sculpture, animation, and beyond during this event.  One of the virtual art demonstrations I looked into was the Virtual Fashion room by Anand Duncan using Tilt Brush. High-end fashion designs and experimental dresses created in Tilt Brush can be seen and worn in the fashion room. I chose a pink ball gown and wore this beautiful gown around virtual space.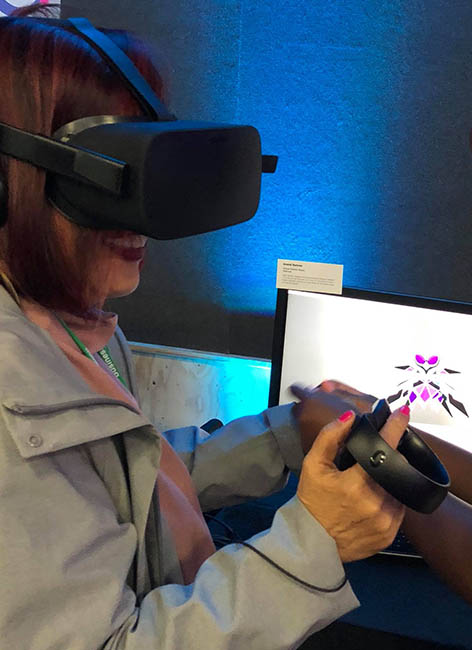 Facebook hopes to take virtual reality mainstream, through its new standalone headset, Oculus Go where one can browse Facebook, watch 360-degree videos, play one's favorite Netflix shows or buy 3D movies. I took a second look at Oculus Go not as a gaming platform. Do I really need it?  If I were to understand virtual reality, I would need to immerse in its functions and see its potential in social communications.  My first impressions on Virtual Reality was that it is meant only for games and entertainment. I am going ahead of my post here but when I purchased the Oculus Go at Best Buy, I can see that this headset will take VR mainstream. Oculus Go costs $199 for the 32 GB while the 64 GB is $249 plus sales taxes. I checked Lazada and I saw that Oculus Go can be bought for 20,000 pesos or so.  I decided to purchase the 64 GB at Best Buy  1717 Harrison , San Francisco branch together with my sister.
When my sister and I visited this branch, there was no Facebook/Oculus sales agent around to demonstrate the Oculus Go. I bought the 64 GB anyway and my sister chose to purchase hers the following day. While I was there, an employee knew how the set up worked. On the first day we visited Best Buy, there were 32 GB headsets still available at the counter but the following day only 64 GB headsets were the only stocks left. Good thing my sister liked the 64 GB .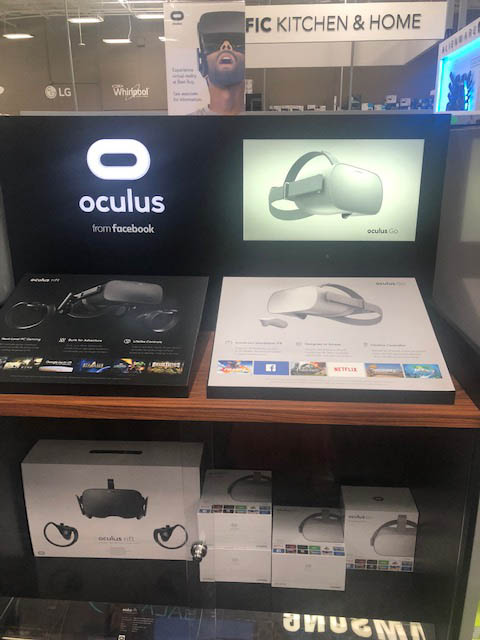 Best Buy had a corner where we could check if the headset was working properly. I took this opportunity to take photos while my sister unboxed her purchase. Remember, I already had a functioning Oculus Go the previous day but I was too excited to take enough photos for the unboxing. Best Buy called this their "Geek corner".
The white box looks sturdy and the contents looks promising as it touts 1000 + apps , games and movies.
it gives the description of how this Oculus Go is your All-in-One Virtual Reality Headset. Like most gadgets I own , there is always a smartphone app to connect to the gagdet. I'll get back to this later.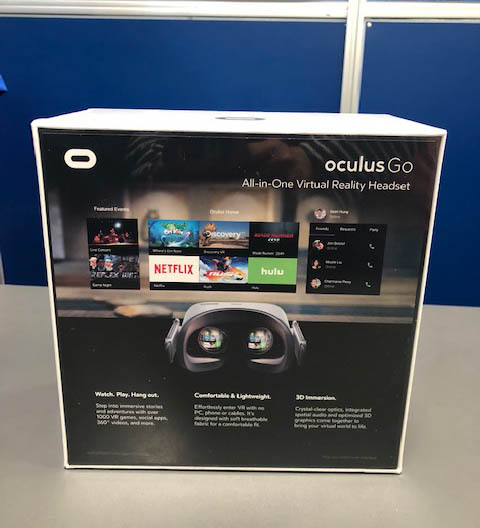 Unboxing the Oculus Go
The side of the box shows what is in the box: VR headset, Controller, Power Adapter, AA Battery, Eyeglass spacer.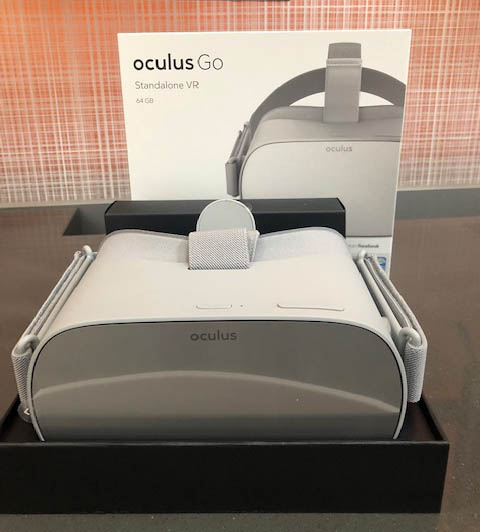 The first thing I saw upon opening the box is the headset, a black box and the controller.
I first got intimidated by the headset but after using gadgets for over 30 years, I know that the interface should always be intuitive/
You see all three things at once and I didn't feel overwhelmed with all these accessories.
The black box contains the following:
Glasses Spacer
Microfiber Cleaning Cloth
Controller Lanyard
Health and Safety Guide
USB Charging Cord
AA Battery for the controller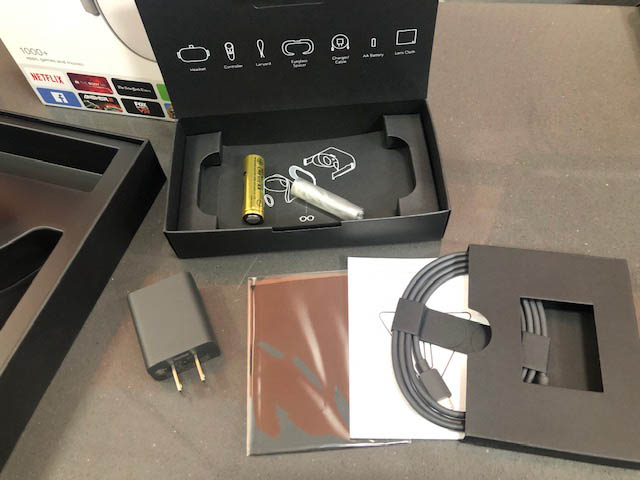 The headset contains a black card with instructions: "Grab your phone to get started. Download the Oculus app (for iOs and android) on your mobile . When I downloaded the app, the email gave me instructions on how to use the Oculus Go such as  Getting Started With Your Oculus Go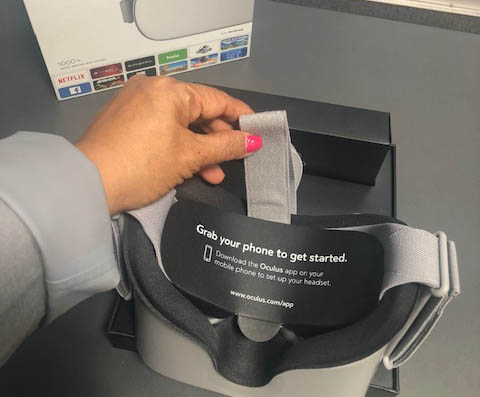 This is how the headset looks after removing the black card.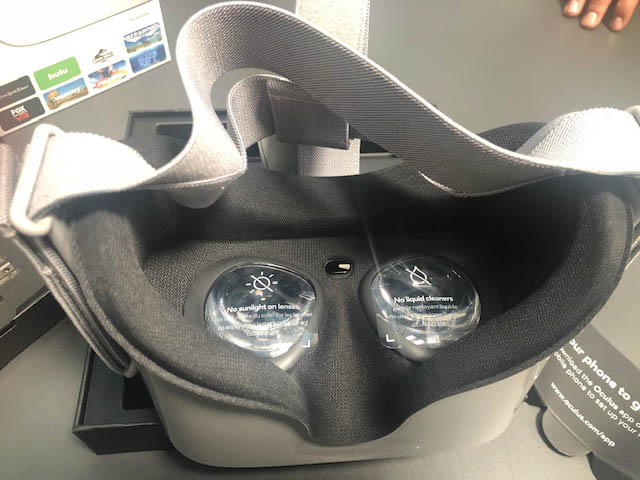 Caution is also given here. No liquid cleaners . No sunlight.  I intended to wear glasses while using your Oculus Go, so I checked the instructions on inserting the glasses spacer into my headset. I also connected the packaged lanyard to my Oculus Go controller.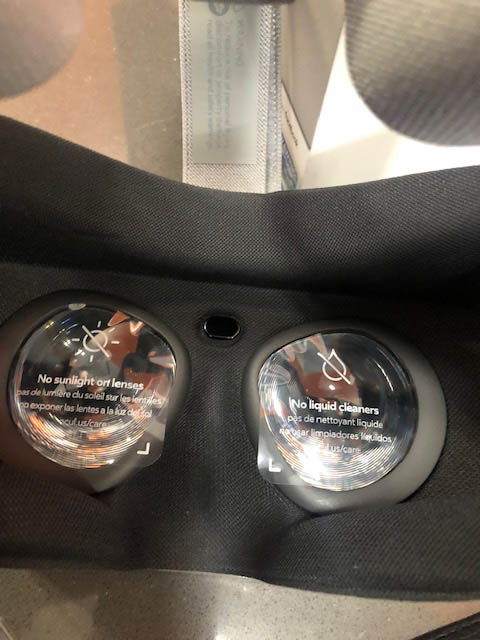 Connecting and Pairing the Headset
It is now time to setup. The Oculus app looks like this after registration: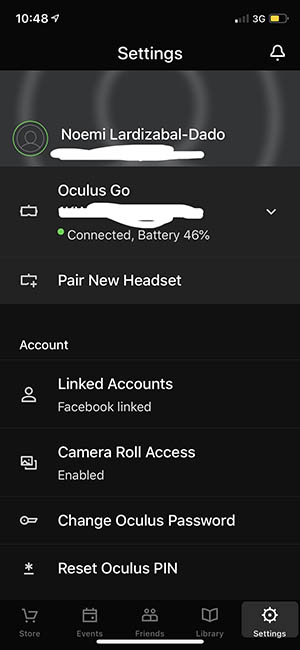 Oculus Go needs to be connected first. I followed the on-screen instructions to connect my phone to my headset and  my headset to my WiFi network.. The setup won't work on public wifi so I used my iPhone X as a hotspot so I could have a wifi connection.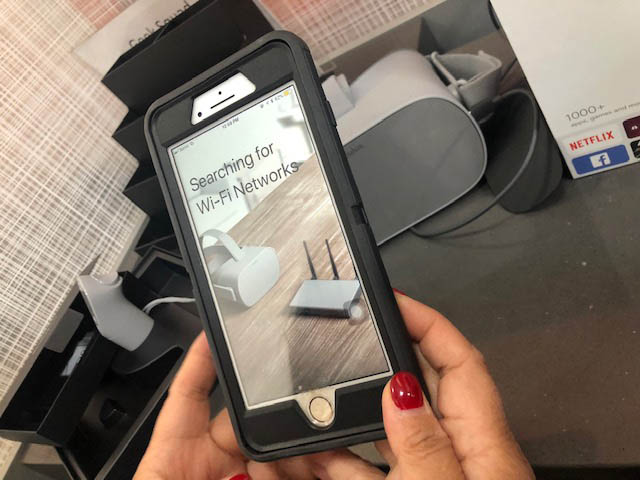 I continued  through the on-screen instructions to pair the controller with my headset.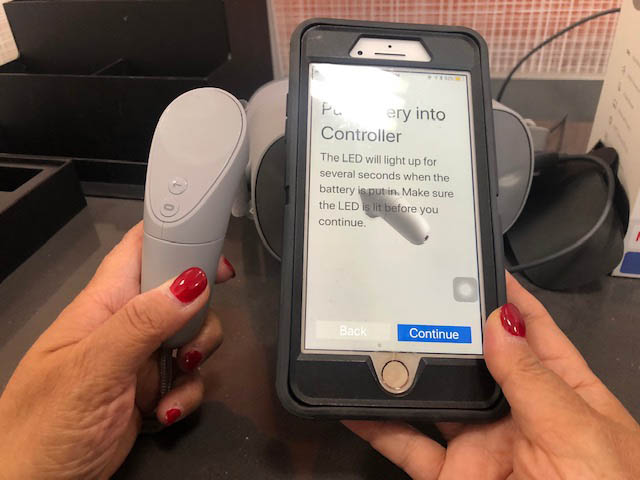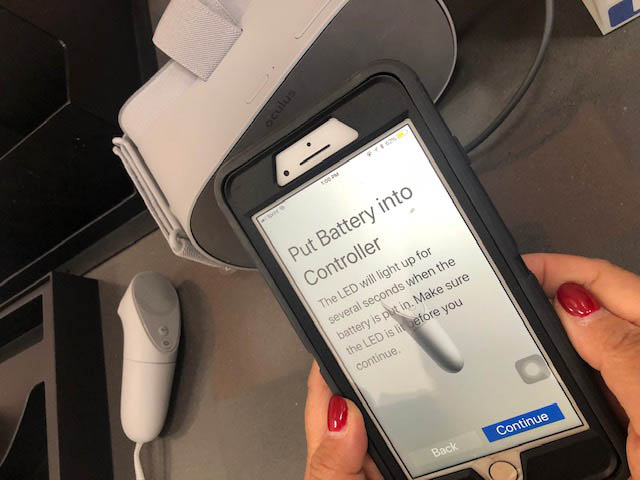 I had to finish through the video tutorial and safety instructions before I could continue on with my setup.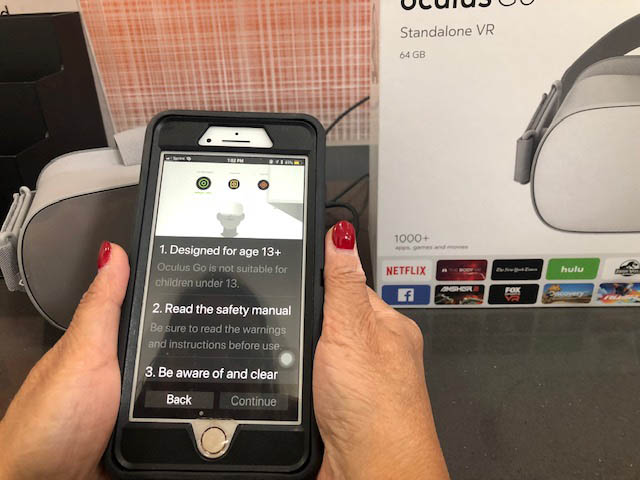 Wearing the Oculus Go Headset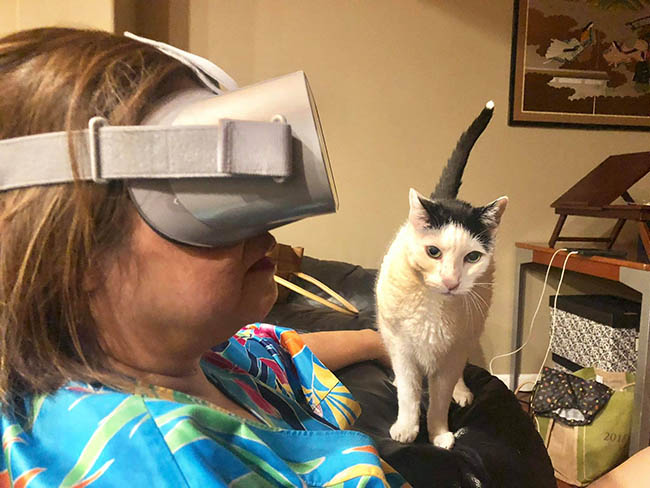 To put your headset on
Loosen the side straps and then the top strap.

Be gentle when pulling or adjusting straps. If the side straps disconnect from your headset, you can reattach them.

Starting from the back, put your headset on.

If you're wearing glasses, put the headset on from the front first.

Tighten the side tabs and then top strap.

Make sure the straps aren't too tight. The headset should fit comfortably and shouldn't apply too much pressure on your face and head.
First Impressions
Since my Oculus Go is just four days old, I will just give my first impressions. If you want to read some reviews, check out Techradar's Oculus Go review , Oculus Go Review: Standalone VR For The Masses , or The Oculus Go Is The Best Non-Phone Gadget Of 2018 . Here is what I have experienced in this platform of the future.
It is user friendly and intuitive.
When I first wore the headset, there was a tutorial right away for the controller before proceeding with the experience.
The first thing I did was download apps for the library . I started with the free apps like Oculus rooms, Oculus venues, Oculus TV, Oculus gallery, Oculus Video, Netflix, Guided Meditation, VTime, the social network, CNN VR, Al Jazeera contrast, The New York Times , BBC VR and more.
 The Oculus rooms are connected to your facebook friends so my sister and I checked out this room. How awesome. We could hear each other talk. This is a customisable social space in which you can hang out with friends' avataros floating around, playing Boggle, sharing photos and watching films.  I am also able to customize my room and using photos from my Facebook page as my wall photos in the room. I am so floored by this app
The Guided Meditation is beautiful. The graphics are now in 5k on the Oculus Go! There are  100+ lush environments to escape the every day and includes 16+ hours of guided meditations in Zen, Loving Compassion, Maternity, Depression, or Sleep.
My first paid app is Nature Trek where one can discover over 60 different animals, command the weather, take control of the night or shape your own world. What I like most is the ability to explore with a range of locomotion options including free movement. It feels like I am walking on the meadow, or swimming inside the ocean. I just love the green meadow.
You can drag-and-drop videos to the Movies folder, photos to the Pictures folder and so on. Then the access is through the Gallery menu in the headset.
Battery life is about 2.5 hours of video according to Oculus's claimed battery measurements, and that's more or less in line with my experience.  I think this is just alright because more than two hours wearing the headset can be such a pain. Besides real life is also waiting out there.
I agree with TechRadar's verdict . "Oculus Go does not disappoint. It offers excellent VR that, while not as good as what you'll find on a PC-tethered headset, is still immersive and enjoyable.
Simply put, the whole Oculus Go package just works. From its design and content to the controller and visuals, it's hard not to smile or, at times, simply be amazed when you're using the headset.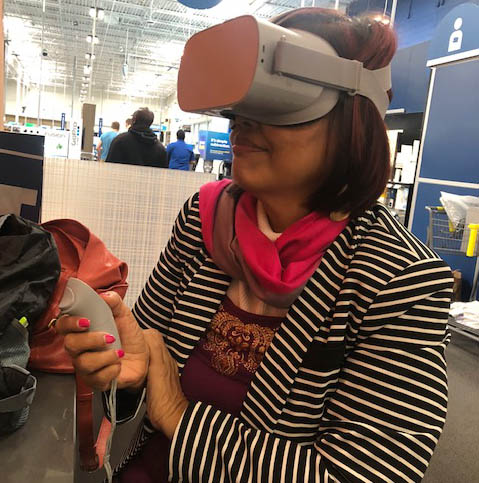 It's so good, you actually forget that it's not tethered to anything and is running completely on its own."
It is so good that my husband, a non-techie believes it will work even in his workplace. They are already showing designs in a 360 environment. As an HR practitioner, he can create training modules for employees. In fact
Walmart is putting 17,000 Oculus Go headsets in its stores to help train employees in VR.
Walmart said that ""VR affords the chance for simulation-based, experiential learning that 2D methods simply cannot achieve. It's awesome to see how fast this relationship has moved and is a testament to Walmart's willingness to push the envelope in everything they do."
Oculus Go rocks and you should get one for anybody even mildly curious about VR. Some say the Oculus Go can be isolating but I can mirror my experience by sharing it via Facebook Live. (The sharing is in the navigation bar). Some apps can't be streamed though. Watch my FB live video.