First published at the Manila Times' Sunday Business & IT on September 30, 2018
The Oculus Go (OGO) is the entry-level, standalone Virtual Reality (VR) headset from the Facebook-owned company Oculus. It has access to over 1000 plus apps and the ability to load your own content onto the device from your own PC using the micro USB port for charging. OGO costs $199 for the 32 GB while the 64 GB is $249 plus sales tax. Unlike the Oculus Rift and other VR headsets, the OGO doesn't need tethering to a PC or smartphone. The OGO is what I wanted instead of the Rift because of its less complicated system and affordable price.
When I purchased the OGO at Best Buy San Francisco with my sister on September 20, I never expected Mark Zuckerberg to announce a newer product called the Oculus Quest a week later at the Oculus Connect 5.  I listened to Zuckerberg's announcement on a 180-degree screen through my OGO headset. I joined Oculus Venues along with fellow VR enthusiasts seated beside me in their avatar form. Oculus Venues is a social VR app that allows you to watch concerts, events, sports, and shows them live in real time as if you attended it. The Venues app appeared right behind the Audio/Video engineers while the live audience sat near the stage.
READ: Unboxing the Oculus Go , an all-in-one virtual reality standalone headset
Zuckerberg added that the Oculus Quest, the first all-in-one VR gaming system will launch in Spring 2019 for $399 USD.   Offering six degrees of freedom (the body is free to change position as forward/backward, up/down, left/right) and Touch controllers, Oculus Quest makes it easy to immerse right into the action with no  PC, wires, and external sensors.  Zuckerberg said the Quest completes the lineup of VR headsets, which includes the Rift and Go headsets. The plan is to reach 1 billion VR users, but he joked that they have only attained 1% of its objective. Andrew "Boz" Bosworth, vice-president of AR/VR at Facebook mentioned, "It's not the number of connections that matter—it's the depth of those connections."
I consoled myself knowing I need not wait eight months before I jump into a virtual reality platform. The setup of two OGO VR headsets for my sister and myself was easy and intuitive. One needs a smartphone, WiFi with a password and the Oculus app for the setup. The headset is simple with a power button and volume levels on the top. After the strap adjustments, the headset perched perfectly on my head and I was ready to immerse in VR.  The stunning visuals of the Golden Gate Bridge wallpaper floored me and gasped as I felt myself floating on mid-air and looking at the water below.
Oculus apps I downloaded for the library were the free ones such as Oculus rooms, Oculus Venues, Oculus TV, Oculus gallery, Oculus Videos, Oculus 360 photos, Netflix, Facebook Watch, Guided Meditation, VTime- the sociable network, CNN VR, Al Jazeera contrast, The New York Times, BBC VR, Mediafire comics, Bigscreen beta, Altspace BR, Skybox VR, Within, and more.
Social is where OGO is changing things as shown how it connects the Oculus rooms to my Facebook friends.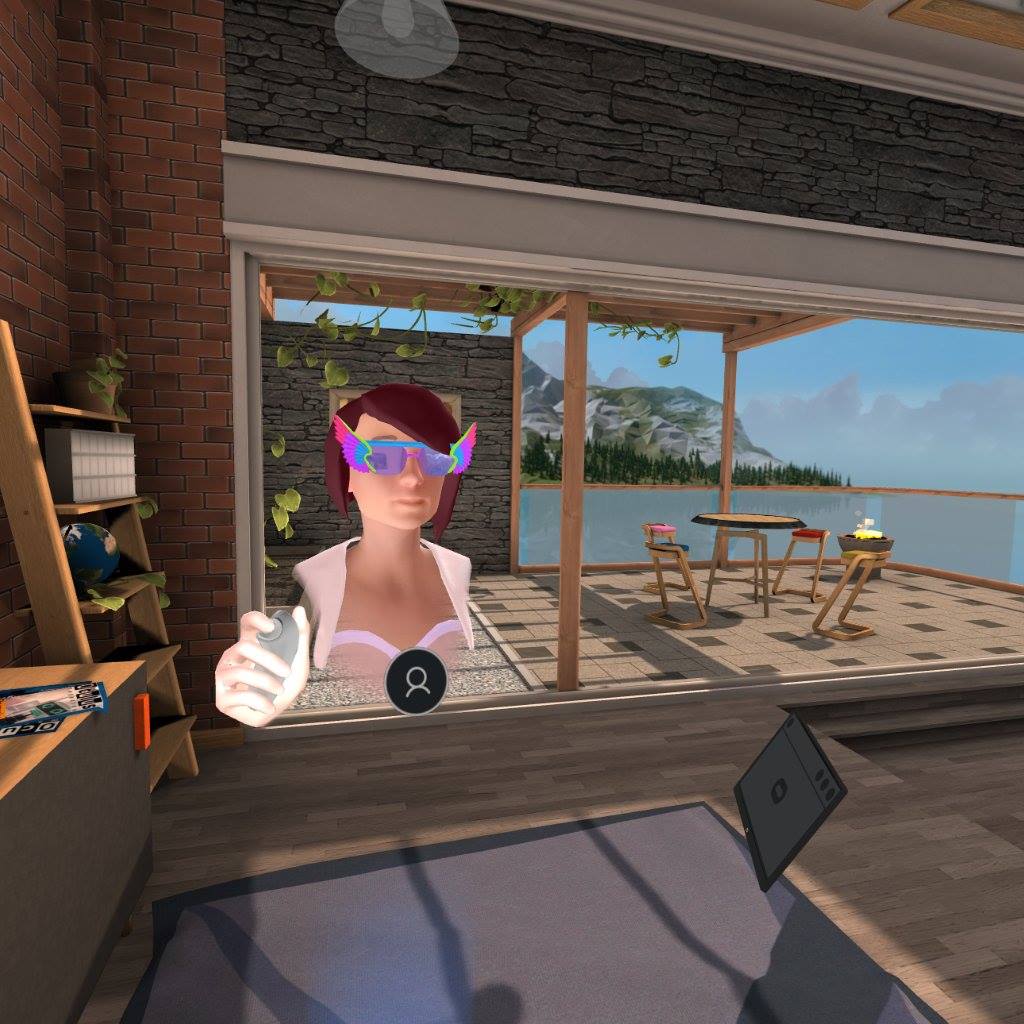 This customizable social space is where the ability to hang out with three other friends is possible. One can play games, listen to music, share photos, watch films or even get together for a meeting.  The sight of my sister's avatar with platinum hair floating around the room looked surreal.  The  audio of her voice coming from the built-in speakers is clearer than the Facebook Messenger audio calls.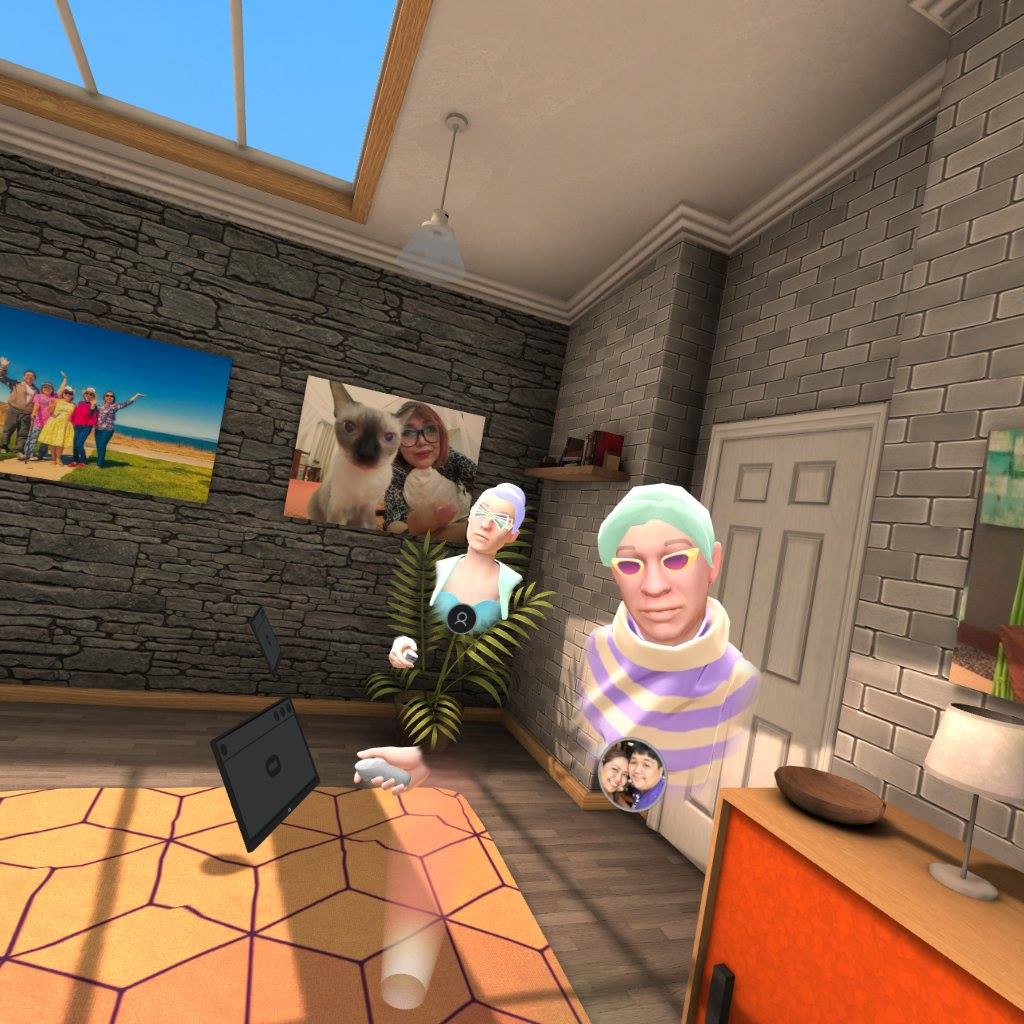 Watching Netflix on a wide cinema screen while settled on a big red sofa is amazing.  One can adjust Netflix to accommodate lying on your back or any position by clicking on the Void Theater symbol on the left side of the mantle. Finding myself seated in a massive room, looking around to discover what's behind me seemed weird.
This experience is only 3dof (three degrees of freedom) meaning I can twist around, glance up and tilt my head. I see the 3D images and a sense I am there but not the full VR experience.
Claims of battery life is about 2.5 hours of video  but I got a low battery alert at 1 ½ hours while attending  the keynote event.  Two hours wearing the headset is fine but less than two hours is unacceptable. Maybe I need to tweak brightness and other settings. Using the OGO can isolate but I can mirror my headset experience by sharing or streaming it via Facebook Live, set to "only me" or "friends".  The cast support, which will allow OGO users to stream their experience to mobile devices is coming soon while the casting to TV screens will follow suit.
Access to over 800,000 360-degree videos is now possible because of its new partnership with Google's YouTube service. OGO owners will have the opportunity to enjoy NBA games via Oculus Venues.
If you have never tried VR, the OGO is the best stepping stone to virtual reality. It gives you the experience of looking in 3D and 360 degrees with positional sound. The standalone OGO headset is wireless, accessible, and affordable, and is a great step forward in consumer VR.