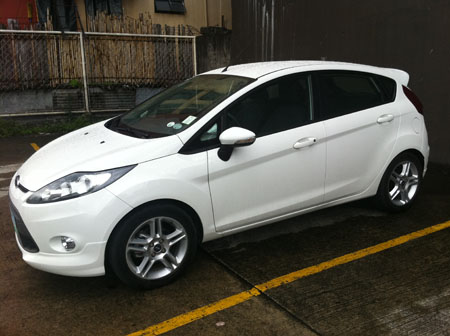 The word "fiesta" evokes many joyful and exciting images for us Pinoys. It brings to mind childhood summers and out-of-town trips where we enjoyed the color and pageantry of varied town celebrations. It was thus with a sense of thrilling adventure that I welcomed the opportunity to drive the Ford Fiesta "S" hatchback , a sports variant no less. I wasn't disappointed.
I had heard, of course, that the Ford Fiesta shares the same platform as its sister, the Mazda 2. But you can't tell from looks alone unless one has a trained eye for automobile design. I've driven both and can honestly say that the Fiesta has its own distinctive profile and feel, incorporating what Ford Group Philippines calls "bold Kinetic design elements". It has a style all its own.
The white car that I drove from the dealer was certainly compact and sporty. It had clean lines and a stance commonly described as "aggressive". In fact, it looked ready to just about jump out of the showroom. Per specs, it's wider and longer than the Honda Jazz though shorter than the Toyota Vios. But the interiors are roomy and plush, with all the bells and whistles one normally expects from higher-end models.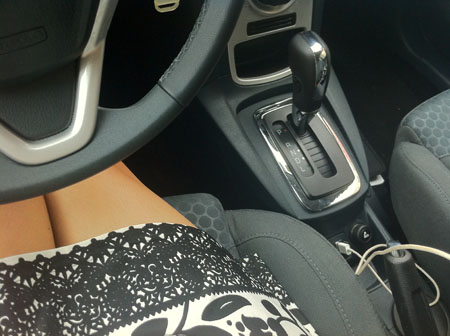 The cabin is comfy and surrounds the driver like a high-tech cockpit. Before even starting the car, one is immediately drawn to the center console, with its directional controls and a center "OK" switch for running through the menu.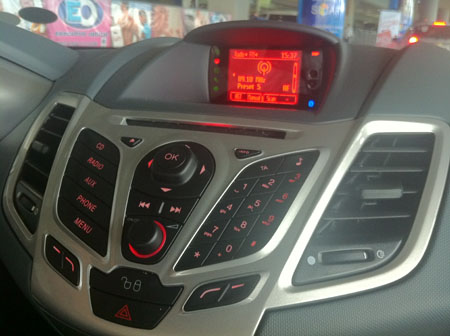 On either side are buttons for the CD, radio, auxiliary jack and a number pad for the hands-free phone. The multitude of gadgets can be intimidating at first, but as one gets to know the Fiesta better, you appreciate the integrated functionality of the whole set-up. It even has audio adjusters on the left hand of the steering wheel, nifty for those who shift from music to news while navigating Manila's chaotic traffic.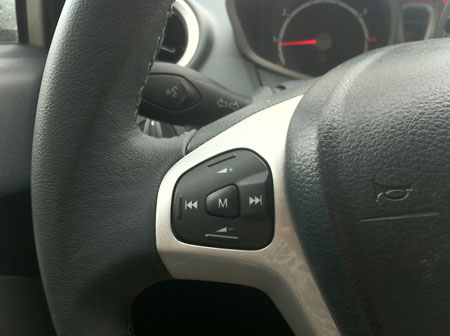 And for something truly unique in its class, the Fiesta has Voice Control, allowing one to control audio and cell phone functions via voice commands.
But the proof of the pudding is, as they say, in the driving. And this is where I think the Fiesta leaves the competition behind. The "S" variant has what is said to be the most powerful 1.6 liter engine in the local market, the 1.6-liter Duratec Ti-VCT (Twin Independent Variable Crankshaft Engine). According to a review in Top Gear magazine (August 2010) , with an output of 119hp and 151Nm of torque, it's even more powerful than the 1.6 – liter variants of other brands, including the Mazda 3 and the Toyota Altis.
I can believe it. The Fiesta provides a surge of power uncommon in cars of its size. It has a six-speed automatic transmission, actually a dual-clutch transmission which provides quicker gear changes.
The most common complaint regarding subcompacts is they often feel underpowered. No such problem with the Fiesta "S". A perfect combination of engine and transmission, it makes for a smooth and powerful ride whether on the highway or weaving through traffic. And the cabin is surprisingly quiet, giving a cool, cocoon-like feel even as one maneuvers through the mad rush of EDSA and environs.
One reason the Fiesta handles so well is it boasts of Ford's Electric Power Assist Steering (EPAS) , cutting-edge technology which allows the car to adapt the steering to changing road conditions. A driver doesn't need to make an extra effort to control and steer the car under variable driving situations, for instance when traversing uneven roads or hitting crosswinds. The car does it for you.
Standard safety features include traction control, antilock disc brakes and front-seat airbags.
As for gasoline consumption, it seems to consume just a tad more than the Mazda 2, probably due to its bigger engine. Still, it's no gas guzzler. After 5 days of daily drives from one end of the metro to the other, there was still a quarter-full amount of gas left in the tank.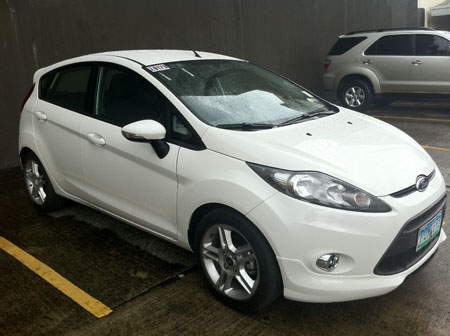 This subcompact standout floors the competition on many fronts: styling, power, handling and neat gizmos. As for pricing, the Fiesta S hatchback is competitive at 825k.
Small wonder that the Fiesta, in all its interesting variants, is Ford Group Philippines' best-selling model. Our family has been Honda and Toyota loyalists for years. But we are seriously looking at the Ford lineup now, all because the feisty Fiesta has opened our eyes to new driving possibilities.
This brought total Fiesta sales to 1,406 units from January to May.
"Sales of the all-new Fiesta are contributing to our strong performance and underscore its strategic role in transforming our business. The Fiesta is attracting a wide range of Filipino customers who appreciate its class-leading style, smart technology, superior fuel efficiency and unmatched safety in a small car," FGP president Randy Krieger said in a statement issued Wednesday.
Sales of another strong model, the Everest, likewise increased by 47 percent in May to 226 units.
FGP also sold 102 units of the Ranger, an improvement of 38 percent from the same month last year, and 62 units of the Focus.
"We're continuing to experience strong demand across our full product lineup, and that is contributing to our sales performance. It's a strong indication that our One Ford strategy is working, and we're offering the right vehicles in this market that suit a diverse range of Filipino lifestyles and requirements," Krieger said.
The March 11 Japan earthquake damaged plants producing crucial auto parts and components as well as critical logistics hubs, effectively causing a disruption in the auto supply chain.
This forced FGP to advance 18 scheduled down days in April while waiting for the necessary parts and components to be delivered to the country.
According to FGP, the temporary shutdown of its manufacturing facility in Sta. Rosa, Laguna, was merely precautionary, to ensure that the parts on inventory would be enough to last the company until fresh supplies come in.
Prices per Fiesta model
5Dr 1.6L Sport 6PS PhP 826,000
5Dr 1.6L Trend 6PS PhP 776,000
4Dr 1.6L Trend 6PS PhP 766,000
5Dr 1.4L Trend MT PhP 695,000
4Dr 1.4L Trend MT PhP 685,000
4Dr 1.4L Style MT PhP 670,000