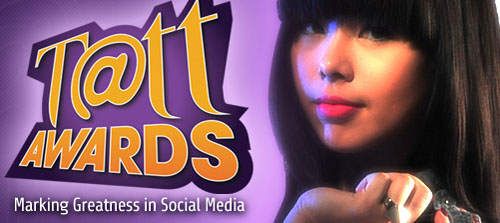 Give your favorite online media personality the recognition he or she deserves with the first ever Tatt Awards, sponsored by the Globe Internet brand Tattoo. This award is designed to celebrate the accomplishments of influential bloggers and Twitterers who use their respective platforms to ignite passion and awareness about current events or issues that are dear to them. It's not a mere popularity contest; the Tatt Awards will look beyond a person's online followers and see how he or she expressed opinions or spurred socially relevant messages or changes that have influenced their followers to act.
You can send in your nominations for the Tatt Awards by going to www.tattoo.globe.com.ph/tattawards. Nominations are open for the following categories:
* The One – the most influential trendsetter that shaped opinion, moved people and prompted action
* Ballbreaker – a blogger or a Twitter user who started a debate, sparked conversations or a revolution of opinions with just one hard-hitting post
* Stylisimo – a person that not only reviewed fashion but also set a trend one that everyone followed
* Indie Rocker – a musical band or indie artist who fought hard to claim their space in the hearts of Filipino audience via webtime
* Wordslayer – a blogger whose mastery of words showed wit, humor and grit to the Philippine blogosphere
* Artiste – an inspiring person whose fiery passion for creating visual art through original graphic design, animation or photography has caught fire in the Philippine online art scene
* Tech Junkie – a blogger, podcaster or Twitter user who shares access to the latest in trends and the fast pace world of e-knowledge
* Thought-mover – a Twitter user who sparked a fire in the Philippine Twittersphere with one unique hashtag
* Video Slinger – an individual or group who shook the Pinoy web space with thought-provoking or entertaining video.
* The Advocate – a person or a group of individuals who worked to improve the state of societal cause in the Philippines through social media
As soon as the nominations are closed, a Tatt Award Council will determine the winner for the categories, who will receive 100,000 Pesos in cash each and premium broadband products from Tattoo. Expect the big announcements within August 2011! The Tatt Award Council is led by Dong Ronquillo, who will collectively serve as judges to determine the winners in ten Tatt Awards categories. The Council members are award-winning journalist and ABS-CBN News & Public Affairs social media pioneer News and Current Affairs Maria Ressa, revolutionary online educator and Rock Ed Philippines founder Gang Badoy, prolific lifestyle blogger and entrepreneur Cecile Zamora-Van Straten, esteemed tech blogger and Tattoo ambassador Rico Mossesgeld, popular video blogger and director Kring Elenzano, RX radio DJ Chico Garcia and President of the Internet and Mobile Marketing Association Hans Roxas-Chua.
You only have until July 14 to nominate your favorite social media personality, so head to www.tattoo.globe.com.ph/tattawards now!