Innovative sound technology combines vacuum tube amplifier and digital amplifier
I have always thought of an audio dock for my Samsung smart phones particuarly the Samsung Note and the Samsung Galaxy S3. My audio dock is meant for iPhone use only. Maybe Samsung read the minds of the new Samsung smartphone users.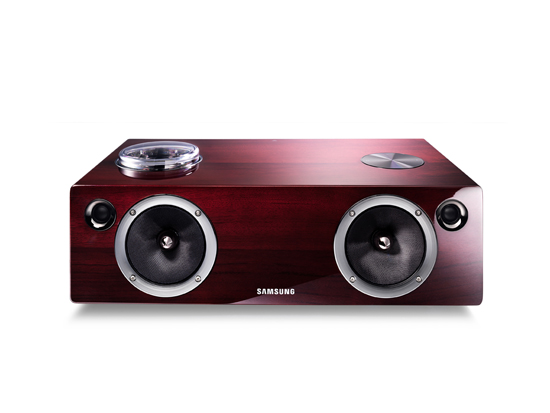 Introducing the DA-E750 , the world's first dual-docking system that allows mobile phone users to enjoy high-quality audio experiences. "Users can enjoy their music from various smart devices such as the Samsung Galaxy SII, Galaxy SIII and Galaxy Note or other products such as the iPhone, iPod and iPad" ( with support for both Samsung GALAXY devices and Apple iOS devices )
-Wireless Audio with Dock also features enhanced wireless content sharing with AllShare Play, Bluetooth® 3.0 and is even compatible with AirPlay technology
Samsung Electronics Philippines Corporation (SEPCO) launched its new premium Wireless Audio with Dock that incorporates its vacuum tube amplifier technology, offering natural and harmonious sound qualities.
A first-class Wireless Audio with Dock, the DA-E750 is the world's first dual-docking system for the premium audiophile that supports both Samsung GALAXY devices and Apple iOS devices—via both docked and wireless connectivity.
Allowing audio enthusiasts to enjoy music the way it was meant to be heard, Samsung's new vacuum tube amplifier technology provides a warmer, more natural sound compared to conventional audio systems that use transistors. By also combining the vacuum tube with a digital amplifier, the DA-E750 reduces unnecessary, harsh sound distortions—while its 2.1-channel woven glass fiber speakers and powerful built-in subwoofer produce 100 watts of crystal-clear sound with enhanced bass for a quality music experience.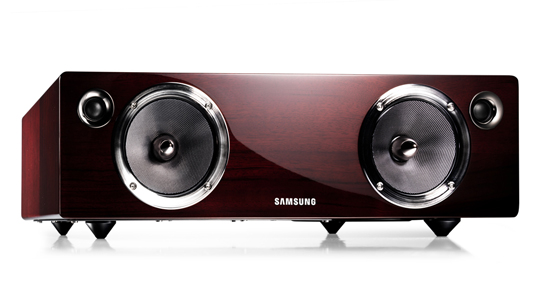 Delivering a total wireless solution, the DA-E750 provides superior convenience, supporting wireless audio file playback via AllShare for Samsung GALAXY devices and AirPlay for Apple devices, or via Bluetooth® 3.0 for additional devices. The DA-E750 also features an analog (composite) input and a USB port to play audio files directly from a thumb drive, music player or portable hard drive—supporting MP3, WMA and WAV file formats.
The elegant design of the DA-E750 exudes the highest level of sophistication by combining classic design elements with a touch of luxury. The sleek high gloss wood finish is available in either mahogany color
which is accentuated by the warm glow from the vacuum tubes inside the docks when in operation.
With the DAE750 launch, Samsung also released an online commercial video showcasing the spectacular "Flavor of Sound" the wireless Audio with Dock delivers. The video stars George Craig, lead singer of the British indie rock band One Night Only.
Other Wireless Audio Dock models are also available such as the DA-E550, DA-E570, and DA-E650.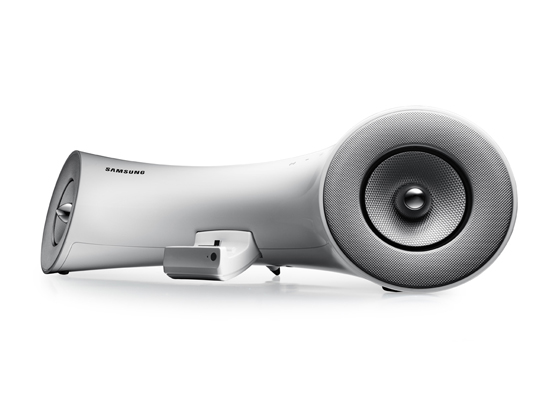 DA-E550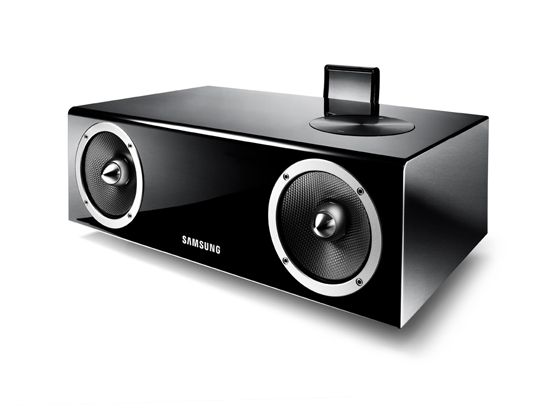 DA-E570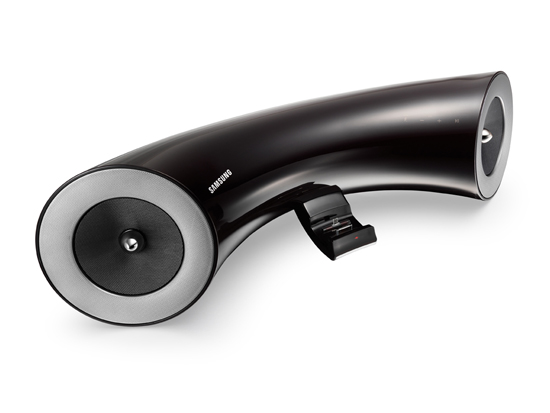 DA-E650