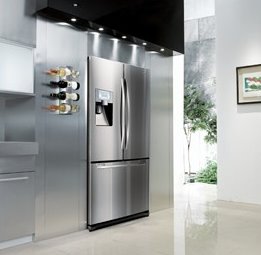 Samsung's refrigerators are so classy and sleek that simply putting them in your kitchen increases the room's style level by a notch. This week, Samsung just launched a new fridge – the premium RF62NERS French Door Refrigerator.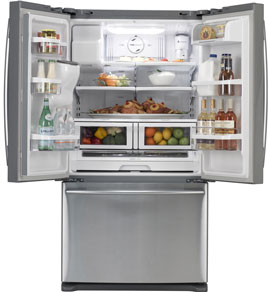 The unusual design of the refrigerator was inspired by the discovery that people use the fridge more than the freezer. Thus, the fridge compartments of the Samsung French Door are located above the freezer, at a convenient height for users. This also allows you to store far more in the freezer. And even if it is located at the bottom, you don't have to worry about hurting your backs just opening the freezer door. With Samsung's EZ Open handle technology, you can open the freezer door with little force simply by lifting the handle slightly and pulling the freezer.
The Samsung French Door Refrigerator is also equipped with Samsung's unique Twin Cooling technology. This makes use of two independent evaporators controlled by a precise system, providing optimal humidity at 43% (compared to only 17% of the average refrigerator). To make sure that the nutrients of your veggies and meat are preserved, the No Frost feature makes sure that there will be no ice build-up or frosty layer. The Twin Cooling technology also eliminates cross-contamination of food odors, as cooled air is not shared between compartments. Optimal temperature is quickly restored once the door has been opened.
Check out this revolutionary new refrigerator at the Samsung dealer nearest you.