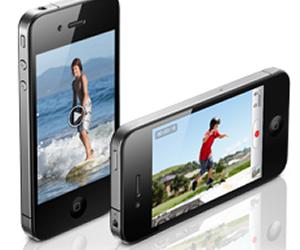 Today, Apple finally confirmed the existence of the rumored iPhone 4G. It will be available in the US on June 24 with the new iOS 4 operating system and four new features.
First is the 3.5-inch Retina display, which has 960 x 640 pixels to make text and images look absolutely crisp. The iPhone 4's Retina display is powered by a technology called in-plane switching (IPS) – the same technology used in the iPad – so that users can achieve a wider viewing angle. This means that you can hold the iPhone any way you want and still see a clear picture.
There's also FaceTime video conferencing, a Skype-like service that doesn't require you to set up a new account. It's as easy as making a regular video call – all you have to do is find your Contact and tap on the FaceTime button. You can also do so when you're already on a voice call and would like to switch to video.
Multitasking will now be made easy thanks to the multitasking user interface, which allows you to switch back and forth between recently used apps without slowing down the performance of your current app or draining the battery. Just double-tap on the Home button to reveal the recently used apps, then tap on the icon to open it.
Finally, there's HD video recording, allowing you to capture moments in stunning high-definition. The iPhone 4 is equiped with an advanced backside illumination sensor, which delivers crisp video in low-light and bright environments. If it's really too dark, there's a built-in LED light to brighten things up. You can also perform basic video editing at the Camera app.
The iPhone 4 will come in either black or white, and will be sold in the US for $199/16GB model and $299/32GB model. iPhone 4 will roll out worldwide to 88 countries by the end of September. iPhone 4 will be available by the end of July in Australia, Austria, Belgium, Canada, Denmark, Finland, Hong Kong, Ireland, Italy, Luxembourg, Netherlands, Norway, New Zealand, Singapore, South Korea, Spain, Sweden and