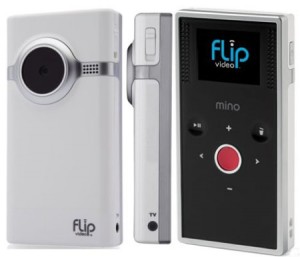 If any of you gadget freaks are going to the States or have relatives who are coming over, don't make them come back until they have a Flip Mino HD for you. The latest incarnation of the easy-to-use Flip video camera, the Flip Mino HD is apparently the world's smallest and most affordable HD camcorder.
For only $299, you can expect a 3.3-ounce gadget with a 1.5 TFT screen, 1280×720 (hi def) resolution, and 4GB memory, allowing you to capture as much as 4 hours of footage. The camera has also been made sensitive to low-light conditions, and the new expanded compression engine creates better image and sound quality. And just like the other Flip models that came before it, the Flip Mino HD can upload your footage directly to YouTube without the hassle of wires and software. There's also the added bonus of being able to customize your Flip with a wide selection of stick-on decals.
For more detailed product specs, check out the Flip website.