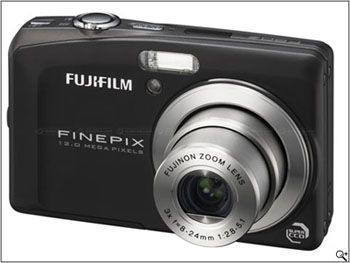 In the quest for affordable point-and-shoot cameras with good macro shots, I stumbled upon the FujiFilm Finepix series on Amazon. And at just $169,the 12-megapixel Funepix F60FD is a total steal. Not only does it have a bigger 3″ LCD screen than its predecessor, the Finepix F50FD; the Finepix F60FD also comes equipped with Face Detection 3.0 and brand new Scene Recognition technology.
Most point-and-shoot digital cameras have scene modes where you get to select what scene you're photographing – whether it's portrait, landscape, night, or macro. With Scene Recognition technology, however, the Finepix F60fd selects the scene for you by automatically identifying portrait, landscape, night, and macro shots. Once the camera has identified the scene in the frame, it optimizes the setting to capture the best photo of your subject. That means portrait subjects get natural skin tones, night scenes have less noise, and your macro shots will be crisp and clear.
Besides Screen Recognition, the Finepix F60FD's Face Detection technology will help give you clear portraits and group photos. The Face Detection can detect up to 10 faces in a frame, and automatically corrects the exposure, focus, and white balance regardless of where your subjects are. The FinePix F60fd also has CCD-shift image stablization, reducing blurriness that comes with camera shakes during longer shutter speeds, and giving you high resolution photographic quality images even in low-light conditions. Finally, the Portrait Enhancer mode allows you to remove blemishes like spots and wrinkles, and gives skin tones a smoother texture, even before you upload the photo to your PC!
I am definitely looking forward to the day this finally arrives in the mail.