I am a happy and satisfied PLDT MyDSL subscriber since April 2007 and it is the fastest, the most consistent, and the most reliable internet connection in the house. The PLDT Mydsl wired connection is connected to my main work computer, the desktop located at my my small-office-home-office (SOHO) on the second floor.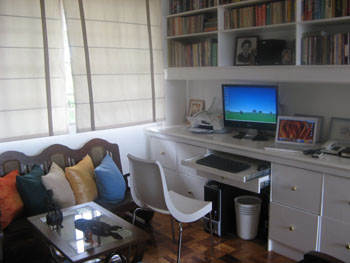 The thing is, does the SOHO need to be limited to one area of the house? I like to move around my cozy home because I am first and foremost, a mom and a homemaker. This is where the PLDT MyDSL modem+wifi will come really handy. Think of the possibilities if we had a reliable internet connection delivered via WIFI in every corner of our house.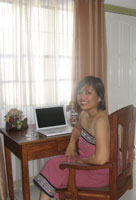 Working here at my antique narra writing table is best at around 7:00 AM after my dear husband leaves for office . Hearing the chirping Maya birds and gazing at the greenery of the pocket garden is a good start for the day. This nook works best for me when I am in a calm mood.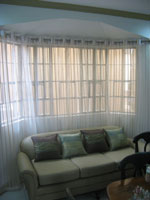 The dining room is the favorite part of our home. It's the soul of the house, a place of conversation. When the kids or my husband are having a snack, I am sometimes found lounging on the couch. If work piles up, I can multitask with my macbook while supervising the food preparation, cooking or house cleaning. I am at my most productive when I work in the dining room area.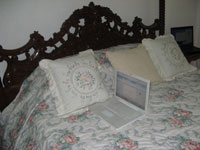 And of course, the sanctuary of my home is the bedroom which I share with my husband. At night , my husband and I read websites or blog hop before we call it a night. You can see his laptop on his side table.
The flexibility of my SOHO allows me to move around as I work and relax as well . Sitting down in one area stiffles my creativity. I like to work and enjoy the view at the same time. It would be ideal to have a redundant WIFI connection.
Now, you know why PLDT myDSL modem + wifi in One is something I need.
This is my official entry to the Nuffnang – PLDT MyDSL modem+wifi contest. Even if I don't win the contest, I still plan to upgrade.