Should Globe subscribers expect a new experience once there is an upgraded network? In a round table discussion tuesday evening, Globe told us that the network is expected to be a brand new one.
They announced that the network transformation program is halfway completed with nationwide cellsite change out set to finish by first quarter of 2013.
To date, over 3,000 Globe cellsites have already been swapped with the newest best-in-class infrastructure while simultaneously increasing 4G HSPA+ footprint by 4x the current site count. Of these , the Globe network in the following areas have already been transformed: Bulacan, Marikina, Cebu, Davao, South Luzo, Caloocan, Valenzuela, Malabon, Navotos, Apayao. Zamboanga, Sibugay, Sorsogon, and Basilan.
The change out date in Quezon city will be completed by September, Ortigas and Pasig by October, and Makati Central Business District by November.
There were more announcements but the one that I liked the most is their website for network updates here : network.globe.com.ph. This is the place to know what is happening to your area and the details of their modernization program.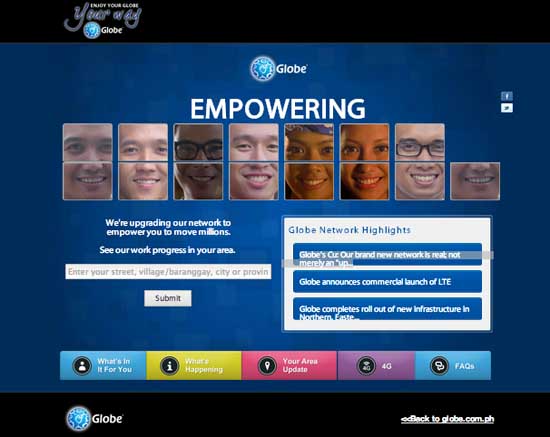 So I visited the site and typed "Pasig":
The result?
Network upgrades in your area will start by September 2012 . We`re all about empowering you!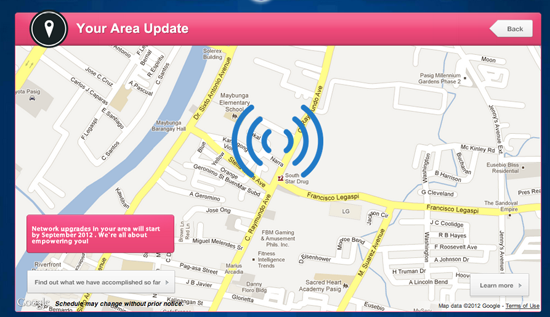 After hearing all these updates, I just have to see to believe it. Globe can say all they want but results will speak for themselves. The technical details seem theoretical at this point but it is good information to know.
I have been a post-paid subscriber for the past 13 years. My question during the round table question were three-fold:
1. Will you still get new subscribers knowing services are now congested?
2. Will you stop having all these endorsers ?
3. Where is the loyalty rewards for someone like me?
I was told that subscribers will be taken in only if the network allows it. This then means, endorsers have been on hold . The latest strategy is to engage with the customers like myself. The engagement with social media users is a good move actually since it gives us an idea on how Globe addresses the network issues. The network.globe.com.ph is another way of empowering customers. Lastly, Globe is working on the loyalty rewards after the new network is out.
This is what to expect in the network transformation:
"This is no usual upgrade. A brand new network will be coming with capacity many years forward, state-of-the-art performance and superior capabilities. You will see and you will find out that this network modernization is indeed real. It is coming and you will feel the difference when it comes to your particular area which will be very, very soon."
Yes, I have been told time and again to be patient. I guess with Globe being so much a part of my digital life, I will grin and bear it. In the meantime, I have backup which makes the waiting a bit easier.
Go ahead check their website for network updates for your area: network.globe.com.ph