I wonder if you recall Manny Pangilinan 15 minute speech in last year's ad congress. MVP talked of a girl named Christine : "Let me share you a story today. Please think of it as a storyline for a narrative advertisement."
He then proceeded to narrate how Christine spent a lot of her time online. Her spending and splurges are influenced by the wide variety of lifestyle choices she sees on the Web. MVP then concluded with "So that's Christine not of the past, but the present and the future. And that's our market today and of the future."
Fast forward today. Carlo Ople presented Kristn.com the fruit of MVP's narration of the Christine in an exclusive preview with a few bloggers and potential writers of the site. Well it is spelt "Kristn" now.
Kristn came along to provide all the information needed to make the best decision without having to endure a very expensive trial-and-error process.
So what is Kristn?
I can't help but get excited when Carlo unveiled the Kristn website. The Kristn icon is just too cute. I guess I will always be young at heart. Anything cutesy that reminds me of "hello kitty" is something that makes me smile. Good for the soul.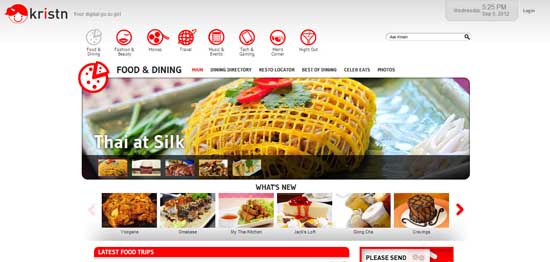 Well, Carlo explained that Kristn is TV5's new lifestyle portal that provides reviews, features, and recommendations to help the target market (which I found out to be up to 35 years old ) to make the right choices in places or things to do.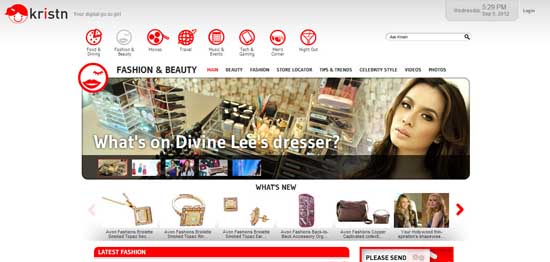 It is a website that gives daily updates on the latest in lifestyle through its directories and locators, articles and galleries, as well as celebrity features—straight to your computer, your tablet, or even your iOS or Android mobile phone. It even rewards your interaction with badges and other exciting privileges.
Though I am far from Kristin target group, I am sure readers here will appreciate what Kristin has to offer.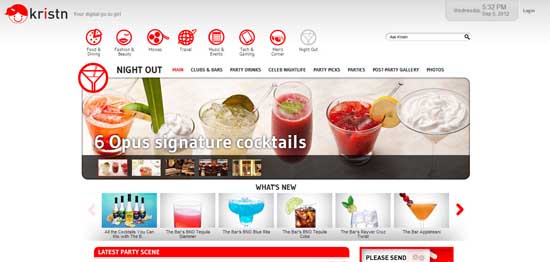 Beta Testing Kristn.com
Kristn.com is still in beta testing status but I got the chance to check out the portal to see if the choices can also apply to my needs. I browsed the eight sections if any will catch my fancy.
The movies section is a something that I will most likely use. See, movies is one affordable way for my husband and I to spend our bonding moments.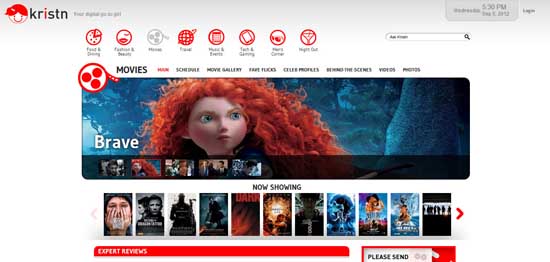 Aside from movies, Kristn provides other one-stop-shop for exclusive content on food & dining, fashion & beauty, travel, tech & gaming, music & events, men's lifestyle, night life, and a whole lot more. It apparently has a men's section which my husband might want to check out.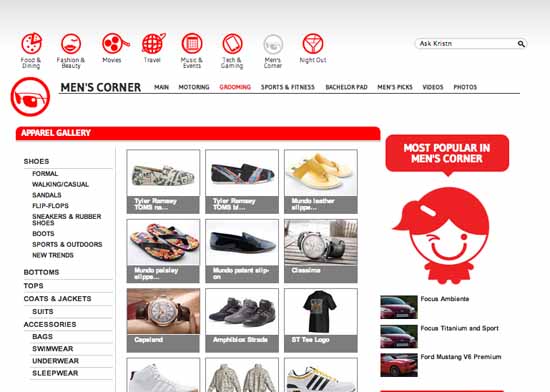 What sets it unique from other web portals is that Kristn actually gets to know you better over time and is most likely the first and only lifestyle portal to do so. Based on this knowledge of your interests, Kristn recommends things you and your friends would like.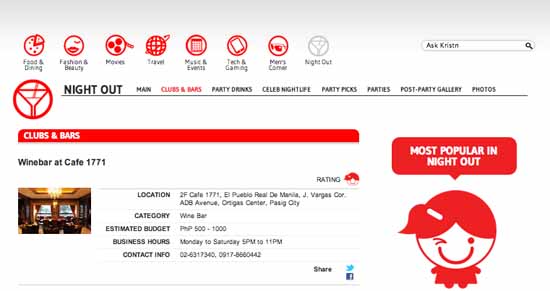 Not only does Kristn give you the best and latest reviews from its credible and celebrated lineup of experts and columnists, it also allows you to share your lifestyle experiences with your community through reviews and other forms of user-generated content—on multiple platforms, to boot: the Web, social media, mobile, and even TV!
Kristn Features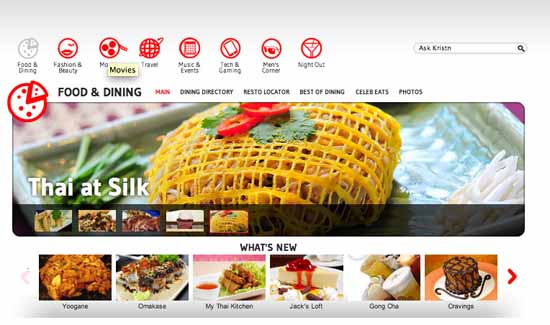 Looking for a place to eat is top of the list. Well here are other nifty features
One-stop-shop for lifestyle choices—complete with user-friendly locators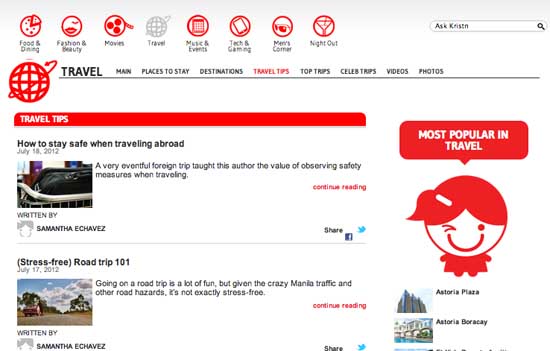 Browse Kristn's product and establishment directories that provide all the information you need on dining and night out establishments, fashion and beauty products, movies, places to stay, music albums, gadgets and games, automobiles, events, and more. Kristn even pins these products and establishments on your mobile to alert you that you want to check them out, next time you hit the mall or the location. You'll find it easy to search products and establishments by area, category, tags, etc.
Offers credible ratings and reviews—and lets you post your own
Kristn has an impressive lineup of experts, influencers, critics and celebrity columnists who provide a well-rounded view of these lifestyle choices through credible and up-to-date reviews. Furthermore, it allows you to share your lifestyle experiences with your community as you post reviews of your own and other forms of user-generated content. Kristn values the views of experts, critics, and users, aggregating everyone's ratings to come up with the total verdict.
Stunning and informative photo galleries
Going beyond the usual photo galleries, Kristn uses a unique slideshow execution to showcase ranked lists and even lets you voice your opinion through "on-or-off-the-list" polls per image! What's more, every photo gives you more information through detailed captions. Clicking through stunning images has never been this engaging.
Celebrity features and columnists
Kristn not only provides the latest lifestyle choices, it also gives you an insider's look at the lifestyles of your favorite celebrities! But, Kristn doesn't stop with rich celebrity features in its wide array of celeb-driven editorial sections; it actually has a huge roster of celebrity columnists who give a first-hand account of their lifestyle picks and experiences, exclusive to Kristn visitors.
Interaction is rewarded
You have more reasons to post that review of a product or establishment you've tried: frequently sharing your experiences actually earns you badges! More than just bragging rights, some of these icons bear with them certain user perks: you're top of mind when Kristn expands its roster of critics and experts, and you get first dibs on events, discounts, and freebies!
Multi-platform presence: Web, tablet, mobile (iOS and Android), and TV!
Read, rate, review, recommend, browse, and earn rewards—whenever, wherever, and practically through whatever device you choose: be it a computer, an iPad, or an iOS or Android mobile phone. What's more, Kristn is the first portal to actually spawn its own TV content! Here is a preview of the Kristn mobile app.
Watch for Kristn TV spots and its own show, coming soon!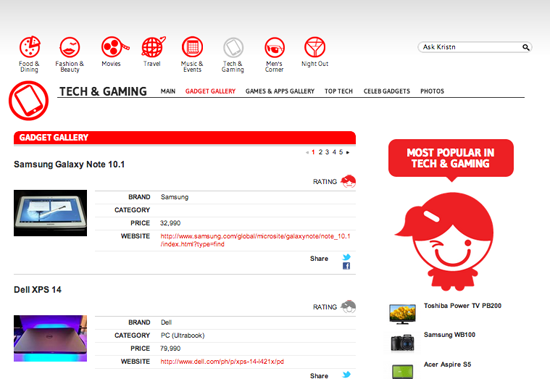 Looking forward

I see a future need for moms' section. Isn't it moms who do shopping for their family's needs. Maybe a recreation center for their kids? a child friendly restaurant with play amenities? or even a list of pre-schools?
For the food and dining, I also envision easy to cook recipes in less than 15 minutes for the young and busy "kristn".
What about for the prime time woman? Kristn will age gracefully and would certainly needs tips on aging well. Or Krstn can start now in taking care of herself.
I plan to write in the Fashion and beauty section and tackle wellness. After all, Kristn can also get stressed out in a fast paced lifestyle.
Kristn is currently on Closed Beta Testing and accounts are given out only to a small number of testers. If you want to help test the portal, you may register at www.kristn.com.
The Kristn beta site will be open to the public in late September. Watch for it!