Be smart, skip the traffic, parking fee and all time wasted on travel . If you reside within Makati, Taguig, Ortigas, Mandaluyong and Pasay, have your parcels or letters pickup and delivered within four hours. vRush  offers express door to door delivery service. They offer two service type namely Next Day Delivery and Rush Service whereby your item will be picked up from you and delivered to your destination within the coverage area within 4 hours. You may track your item through their website vRush.ph. If the item fits in one of their Rush Pack (Regular or Large), you do not need to measure or weigh the package as your shipping charges will be based on the pouch size.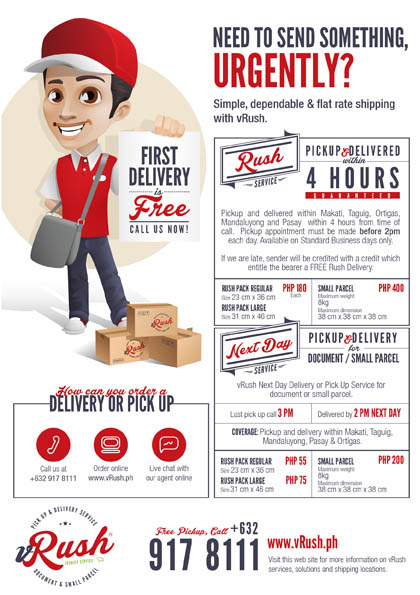 If it does not fit in one of their Rush Pack and it is small than 38cm x 38cm x 38cm and lighter than 8kg, it will be considered as small parcel and the shipping charges will be fix as per their list price for small parcel.
To avail of the shipping services of vRush, you need to open an account. You can open an account in less than a minute. Simply visit vRush.ph and click on the "Sign Up or Register" button.
Once you have an account with vRush, you will be assigned with an account number and then you can call their Hotline at 02-917 8111 to arrange for your pick up.
Visit vRush.ph Or dial 632-917-8111 for more information.