Globe regularly sends me an SMS update of my rewards points. I love how Globe gives out reward points to their subscribers. Prepaid subscribers earn points for every load while Postpaid subscribers like myself earn points based on my billed amount. Redeeming points can be a bit of work since I need to key in codes via SMS like these below:
Redeem Globe services and bill rebates! BR200 = 200pts. BR300 = 300pts. BR600 = 600pts. BR900 = 900pts. BR1200 = 1200pts. MYSUPERTXT = 349pts. MYSUPERUNLI = 599pts. MYSUPERSURF = 999pts. Check out more rewards by texting ITEMS2 to 4438. To redeem, text REDEEMITEM CODE to 4438. To gift rewards to another Globe Postpaid friend, text GIFTITEM CODE10digit# of recipient to 4438. Ex. REDEEM BR200 or GIFT BR200 917——-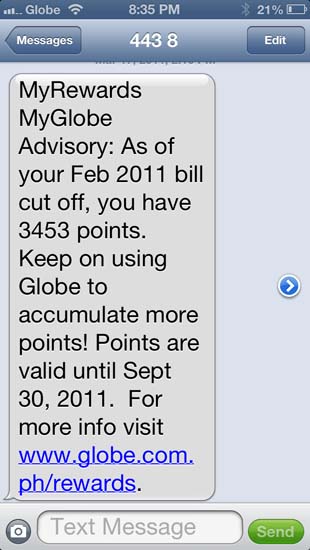 Well the good news is Globe has made it easier. I can now redeem rewards instantly by using Globe Rewards points to pay at partner stores . There is no more waiting time for reward to be delivered or decipher complicated codes. One can use rewards points as cash – 1 point = 1 peso . Text BAL to 4438 to check your available points.
Partner stores like Figaro, Ayala cinemas and Petron gas station are the current partner stores. A few days ago, I invited my husband to dinner because I wanted him to see how rewards points work in buying buy Figaro treats. He is also a postpaid subscriber so I am sure he will want to use it to buy coffee.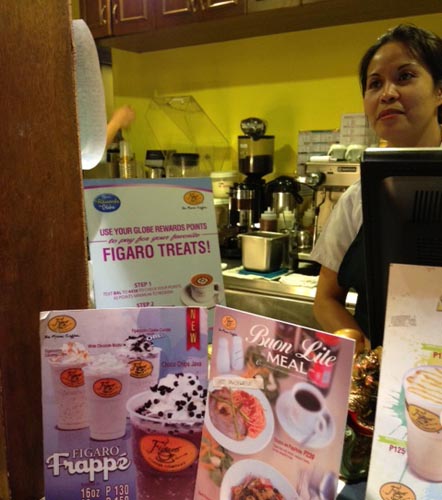 After dropping my sister at the NAIA 2, we drove over to Figaro Bonifacio High Street branch. The Cashier helped us transact and how to redeem rewards points. In fact, there is a huge signage.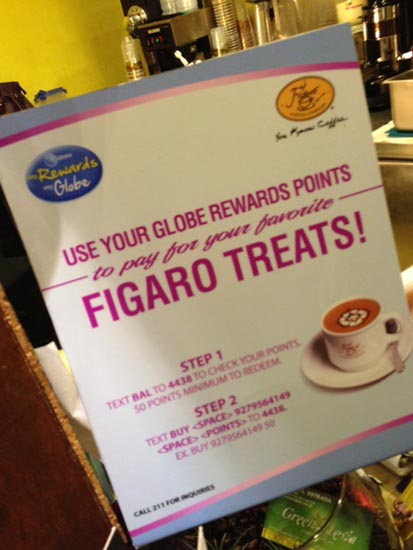 The signage says:
Step 1: Text Bal to 4438 to check your points. 50 points minimum to redeem.
Step 2: Text BUY(space)<10-digit no. of cashier>(space) to 4438
As soon as I sent the SMS, the cashier checked their phone and verified my cellphone number. How fast!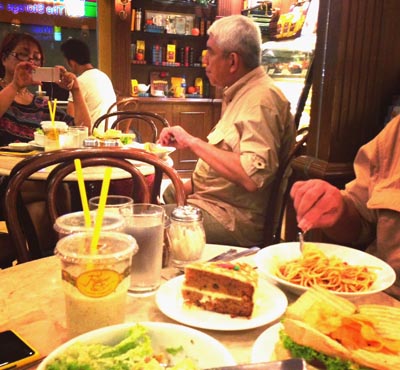 My husband was so hungry. He ordered a complete meal with pasta, sandwiches and carrot cake. I opted to take a light dinner of Cesar's salad. Just check out the Figaro treats as it is worth going there for a dinner date.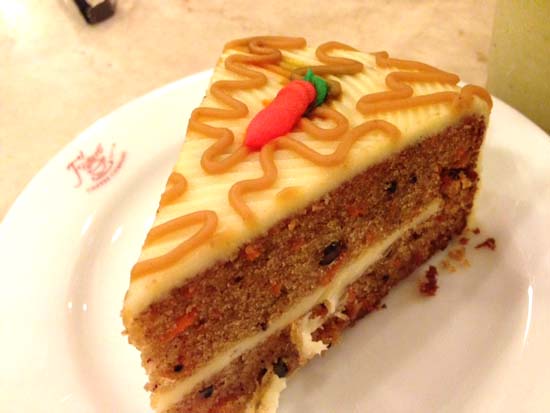 The carrot cake is just so moist and delicious.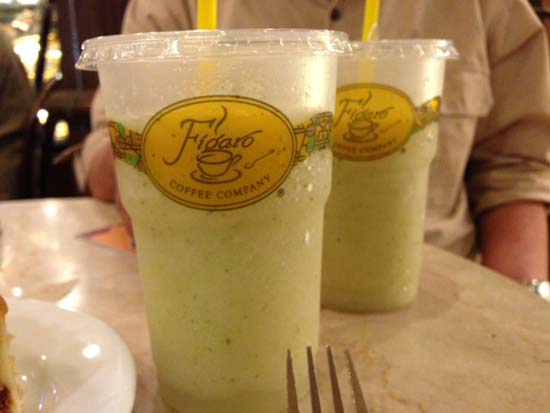 The lychee-cucumber shake was so refreshing after an hour's drive.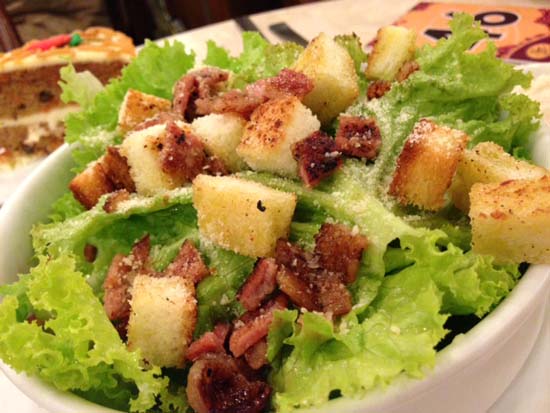 The Cesar salad is just right for someone who needs light dinner.
Happy hubby now knows how to redeem his rewards points. He knows that the more more he uses his Globe Postpaid (also works for Prepaid/TM), the more points he earns. Maybe it is a cup of coffee for him next time.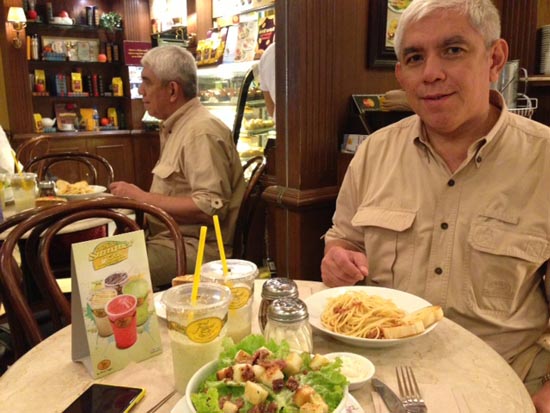 We are having another date this weekend at the Ayala Cinemas as we still have to watch the "Man of Steel". Of course, I will use my rewards points to buy our movie tickets. Along the way, I will fill up my car with Petron gas using rewards points to pay for it.
Enjoy your weekend.
To know more of Globe Rewards Points, just visit http://rewards.globe.com.ph/ and FAQs: http://rewards.globe.com.ph/faq