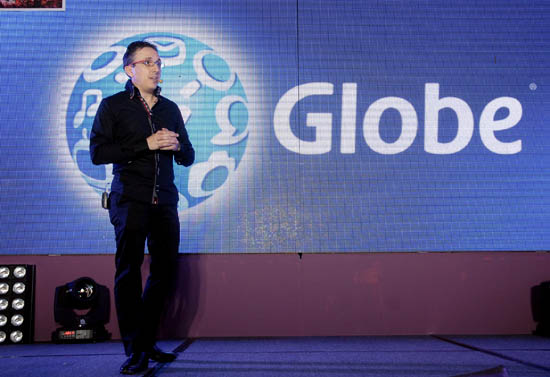 To see is to believe it. I knew that Globe would be launching something big for postpaid users like me. I have been a loyal postpaid subscriber since April 1999 using the same mobile phone number. Through the years, I have seen plans evolve and I always adapt if it redounds to savings. What can possibly change my postpaid life with Globe? I was a bit skeptical but still wanted to know what Globe Senior Advisor for Consumer Business Peter Bithos had to say.
At the launch, Globe Head of Postpaid Raul Macatangay discussed the innovative features and benefits of the best-ever MySuperPlan .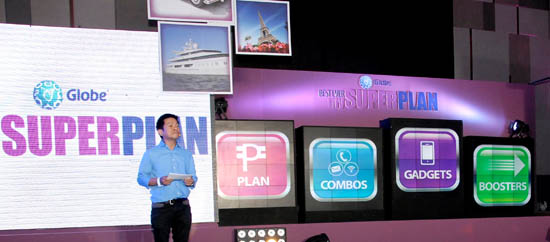 What is the best-ever MySuperPlan?
Take note, subscribers get more than what they pay for with a plan value that is almost twice the value of prepaid load. Each plan has a corresponding 'peso value' (PV) which can be converted to avail of a combination of call, text or surf services, free or discounted gadgets, and a monthly consumable amount for more calls, texts, and surf.

What are the plans?
1. Plan 299 with a P500 monthly PV,
2. Plan 499 with P900 PV,
3. Plan 999 with P1700 PV,
4. Plan 1799 with P3200 PV,
5. Plan 2499 with P4400 PV, or
6. Plan 3799 with P6500 PV.
With the allocated PV for each plan, subscribers can personalize their plans and choose the best combination of consumables, combo services, and gadgets that best fit their needs and preferences. Also available are the Unli Plan and the all-new Family Plan where subscribers can get as much as eleven (11) lines under one account.

What are the combos?
With a monthly PV allocated for each plan, subscribers can avail of combo services and gadgets with corresponding PVs deductible from the total PV amount of each plan.
Combo services range from
1. 50 megabytes (MB) of mobile surfing at 99 PV,
2. 20 minutes of Globe/TM calls at 100 PV,
3. 5 minutes and 100 texts to all networks at 100 PV,
4. 125 all network texts at 100 PV,
5. 5 minutes of international calls and 5 international texts at 100 PV,
6. unlimited surfing for BlackBerry devices at 599 PV, and
7. unlimited surfing for other smartphones at 999 PV. Subscribers can choose the same combo more than once per month.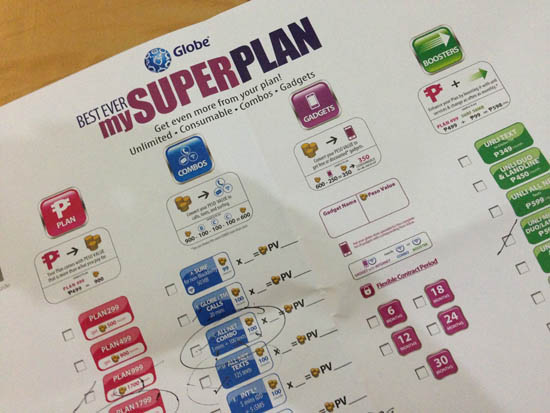 How about gadgets?
After choosing the plan and combos, subscribers can also choose a gadget with no or minimum cashout as well as the contract period of their preference using the peso value from their plan. There is now flexibility with the lock-up period.
From a 24-month lock-up, the best-ever MySuperPlan offers contract periods from 6, 12, 18 and 30 months. Subscribers not availing of any handset can also get a plan with no lock-up period.
After availment of combo services and free or discounted gadgets, unused peso value is automatically converted to a monthly consumable amount which can be used for calls, texts, and mobile surfing services.

Need boosters?
Subscribers can also opt to enhance their plans by boosting them with unlimited services that can be changed monthly depending on the subscriber's need.
Boosters range from
1. unlimited BlackBerry Messenger (BBM) available at P99 monthly,
2. 50 MB surfing at P99 monthly,
3. unlimited calls and texts to 1 Globe/TM number at P249 monthly,
4. unlimited text to Globe/TM at P349 monthly,
5. unlimited DUO and landline at P450 monthly,
6. unlimited BlackBerry surfing at P599 monthly,
7. unlimited mobile DUO and landline at P599 monthly,
8. unlimited calls and texts to Globe/TM at P599 monthly,
9. unlimited texts to all networks at P599 monthly, and
10. unlimited surfing for other smartphones at P999 monthly.



500 pesos savings with The best-ever MySuperPlan
After the presentation, a Globe sales rep approached my table to assist me in the computation of The best-ever MySuperPlan using my current plan.
My current plan amounts to 2097 pesos a month which consists of 499 pesos consumable, 999 pesos for unlimited internet and 599 pesos for super duo and landline.
Using the same needs, the savings with the "The best-ever MySuperPlan" is 500 pesos a month.
Here is the computation.
New plan of 999 which has a peso value of 1700
My combos are
1. 3 All net combos (at 100 pesos each) at 300 pesos
2. 999 for unlimited internet
Deducting 1299 from the 1700 peso value, the balance is 599 which goes to consumables.
The booster I chose is the super duo at 599.
Total cost of the plan (999) plus the booster (599) is 1598 pesos a month with a total savings of 500 pesos plus excess amount for consumables.
The savings with this newest innovation is something to be totally excited about. I looked at the piece of paper that the sales rep scribbled on. I wanted to change right there and then but I had to call Customer care to change my plan. Today, I made that call and within 24 hours, I will now be using "The best-ever MySuperPlan".
To know more about the best-ever MySuperPlan, visit www.globe.com.ph/postpaid or any Globe Store nationwide, or call 730-1010.