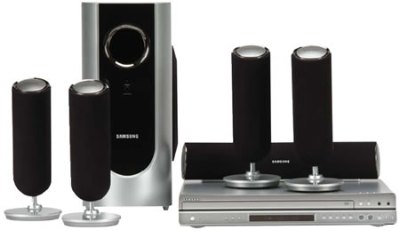 Remember when I said that CES 2010 will be showcasing 3D HDTVs? It turns out that Samsung is one of the companies who will be releasing a 3D device lineup. For these innovations, the Consumer Electronics Association awarded Samsung with 23 CES 2010 Innovation Awards, including three Best of Innovations: three eco-design honors, three LED HDTVs, one Plasma HDTV, three Blu-ray players, one home theater system, two digital audio players, two digital cameras, one refrigerator, six mobile phones and one monitor for multi display. That's a lot of awards!
But I'm interested in 3D technology, as this is clearly going to revolutionize home entertainment. This year, Samsung will be delivering the first complete 3D ecosystem, with an advanced 3D television, sophisticated 3D Blu-ray player, stylish active shutter 3D glasses and a home theater system. The full 3D product lineup includes the LED 9000, LED 8000 and LED 7000 as well as LCD and plasma televisions and Blu-ray players. These all are compatible with multiple 3D standards including half and full HD resolution formats, as well as the Blu-ray Disc Associate ratified "Blu-ray 3D" standard. So consumers will know that all their 3D devices will work together perfectly. Samsung will deliver the industry's best 3D image quality due to its custom-designed 3D chip from Samsung's semiconductor division. To customize the home viewing experience, Samsung also unveiled Samsung Apps, the world's first HDTV-based application store. Users can download and purchase applications from select 2010 Samsung HDTVs, Blu-ray Players and Home Theater systems via the upgraded Internet@TV feature.
Santa, I think I know what I want for Christmas this year.