Windows loyalist will surely love the latest Samsung windows-powered devices.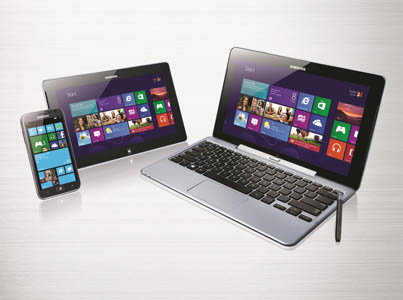 Samsung introduces "ATIV", the new brand for its Windows-based devices. ATIV, the reverse order of the word VITA, meaning "Life" in Latin, is a pledge by Samsung to make everyone's life extraordinary with excitement. The full range of Windows-powered devices will enable this goal. Today Samsung introduces ATIV SMART PC, ATIV Smart PC Pro, and ATIV S, together with notebooks and all-in one PCs, all running on Windows 8. Samsung is the only innovator in the marketplace capable of creating an entire range of devices and is committed to offering more choices based on the Windows 8 and Windows Phone 8 platforms for consumers.
Here they are:

Samsung ATIV Smart PC & Samsung ATIV Smart PC Pro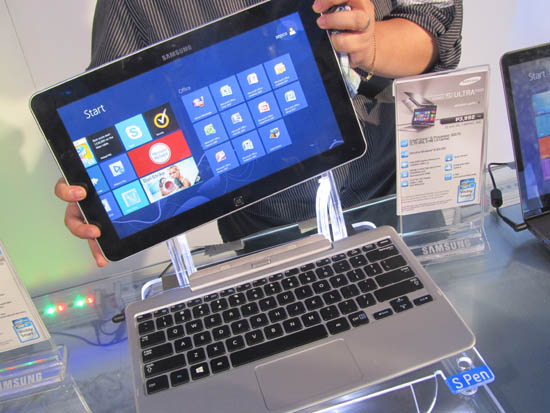 Combing revolutionary design, the power of a notebook PC and the convenience of a tablet PC, the 11.6-inch Samsung ATIV Smart PC and ATIV Smart PC Pro are Samsung's next set of smart devices. These provide computing power with Windows 8 functionality as well as full Windows 7 compatibility. Each device features a detachable keyboard-docking system that allows users to easily switch between a clamshell notebook PC and a tablet PC form factor. These devices allow for great mobility with maximum productivity.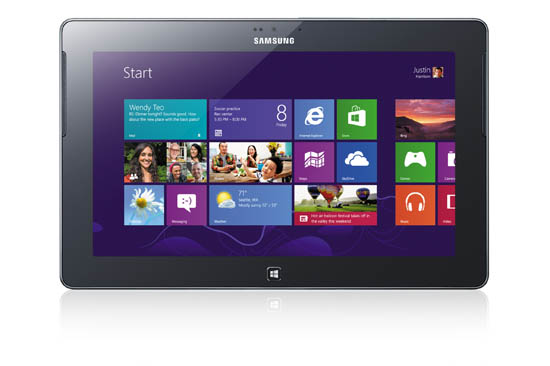 In addition to commonly-provided input methods, the ATIV Smart PC and ATIV Smart PC Pro are equipped with the renowned S Pen, delivering real writing and drawing experiences for maximum productivity, both on the desk and on-the-go. Just like using a pen or pencil, the Wacom digitizer pen is capable of meeting the demands of professional designers with its 1024-level pressure sensitivity. The pre-loaded S Note application accompanies the S Pen to make writing and drawing as simple and intuitive as possible.
While the S Camera fully exploits the performance of the integrated front and rear cameras, the S Player ensures seamless playback of images and videos in any format. This content is presented with Samsung's SuperBright 11.6-inch Full HD LCD display, producing the most vivid colors and sharpness with 400nit brightness.
Samsung ATIV S: Smartphone with maximized PC experience
Samsung ATIV S is a new smartphone for both work and entertainment featuring Windows Phone 8. ATIV S brings a stunning hairline design and high performance with a range of content-sharing and productivity options. Its impressive 1.5GHz dual-core processor and HSPA+42 connectivity enable great browsing performance and high responsiveness even for the most demanding gaming or work applications.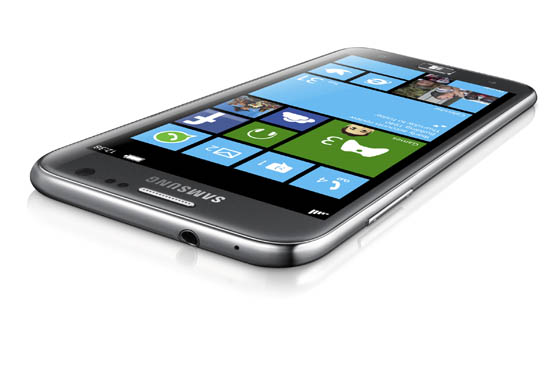 With its pre-installed Xbox games, users can now enjoy high-quality console gaming on on its stunning 4.8" HD Super AMOLED display. The ATIV S also offers an excellent Windows Phone 8 experience through its easy to use MS Office version.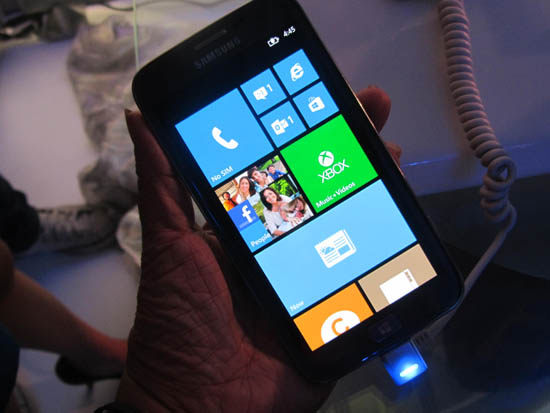 Samsung All-in-One PC: The Ultimate Windows 8 Experience
Beyond high performance, the new Samsung AIO PC Series 7 has been crafted to deliver an entirely new AIO PC experience. Driven by a 3rd generation Intel® Core™i7 processor, 8GB RAM, dedicated AMD Radeon HD graphics and a WQHD display with resolution of 2560×1440, the new AIO PC Series 7 embodies innovative sense recognition features such as 10-finger multi-touch screen control and hand gesture commands.