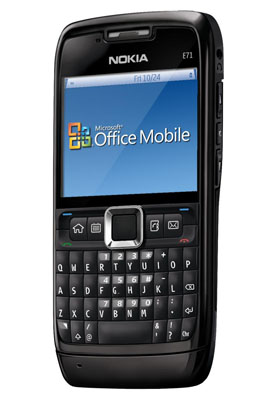 Today, Microsoft and Nokia formed an alliance that will bring Microsoft Office and a wide range of productivity solutions to Nokia phones. This partnership is significant for both companies because ofr the first time, Microsoft will make Office available to non-Windows Mobile phones. Currently, there are 200 million Nokia smart phones and Microsoft wants its software on them.
The first step of the alliance is to integrate Office into Nokia E series business phones so that they would have the following features.
The ability to view, edit, create and share Office documents on more devices in more places with mobile-optimized versions of Microsoft Word, Microsoft PowerPoint, Microsoft Excel and Microsoft OneNote
Enterprise instant messaging and presence, and optimized conferencing and collaboration experience with Microsoft Office Communicator Mobile
Mobile access to intranet and extranet portals built on Microsoft SharePoint Server
Enterprise device management with Microsoft System Center
These solutions will be marketed to mobile carriers, businesses, and individuals. However, the arrival of Microsoft to Nokia will go "beyond email and Office", according to Nokia's Executive Vice President for Devices Kai Öistämö. Microsoft and Nokia will also be developing communication apps, productivity apps (IM, OneNote, and Sharepoint), and open up 200 million Nokia smart phones to the mobile apps from Microsoft, making Nokia an even more appealing choice to corporate customers.
Although I don't see the need to form an alliance just to create applications (unless it will make the apps exclusive to Nokia), bringing all these useful features to a Nokia phone was a smart move. While Americans forget that there are millions of business users who do not use the iPhone, Microsoft and Nokia provide an alternative and remind people just how versatile and capable the Symbian OS is.