Projectors are often used as a presentation tool for business and commercial purposes, but a number of projectors are now being sold to average consumers as a component of their home theater system. Samsung just released a new line of compact projectors to enhance image viewing wherever you go – be it at the office or your living room.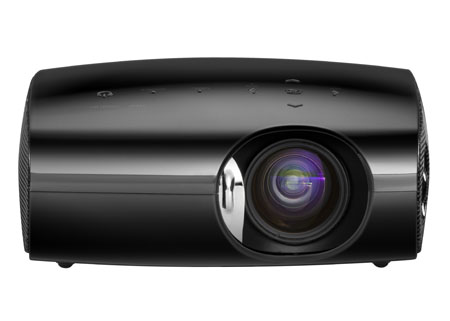 The first of which is the super stylish SP-P410M LED Pocket projectors. It makes portable presentation as an everyday reality. The ultra-compact size offers unrivalled portability and positional possibility, enabling premium, projected images to be viewed anywhere you choose.
With up to 30,000 hours of LED lamp life and brilliant brightness, the SP-P410M performs to perfection in any environment. With a weight of only 950g and dimensions of 14.75 x 14.55 x 6.63 cm, the SP-P410M gives true mobility to its user. It produces high quality image because of its use of LED technology (0.55 "DMD) as a light source, which gives it a brightness of 170 ANSI lumens, a 1000:1 contrast ratio and a 4:3 output format. Some of the other key features are progressive scanning system, manual focus, digital vertical keystone, multiple inputs and built-in (1W x 2) stereo speakers. In terms of energy consumption, in standby mode, it only uses 2.4 watts while in operation, it only reaches 49 watts at an audible fan noise level of only 30 dB.
The SP-P410M even includes a built-in USB port with enhanced Multimedia capabilities, making it extremely compatible with a variety of devices. Plus, the easy-to use P410M is easy to install and even easier to use. Just insert the USB drive into the USB port located at the back of the projector, you can start enjoying photos, music and even movies. With this enhanced multimedia connectivity, the SP-P410M offers freedom and flexibility that you take with you.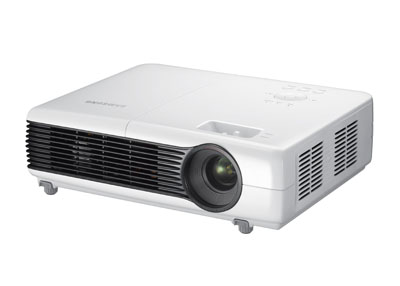 The second on the line-up is the M-series projectors. With a brightness option of 2,500 ANSI Lumens (SP-M250) and 2,200 ANSI Lumens (SP-M255), a weight of 2.5 kg, and a lamp life of 5,000 hours, the super-stylish Samsung M-series projectors redefines the art of portable projection. With 3CLD technology for pure and precise color, enhanced multimedia playback functions, and a powerful 7W built-in speaker, the M-series puts power into your presentations.
The Samsung M series projector has an intelligent Economy mode that not only reduces power consumption and operating noise but also extends lamp life to an incredible 5,000 hours. Economy mode is specifically designed for use with screens that are 100 inches or less.
At only 2.5 Kg, the ultra-portable Samsung M series projector enables you to make professional presentations in any environment. Its pristine white body, compact size, and user-friendly design features make it ideal for mobile use. With easy lamp and filter replacement and one-touch foot release, it can be set-up and maintained in seconds.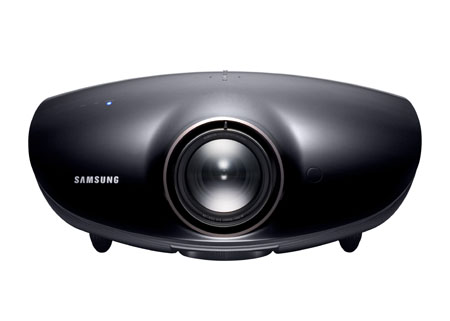 Samsung is truly gearing up for the projector market by launching full HD projector, SP-A800B with 1920*1080P resolution DLP chip and office projector, SP-A400B.
PMA, a market research institute expects the world projector market size to grow to 12.6 million units in 2010 from this year's 6 million with the AV projector market surging more than five times from this year's 700,000 units to 4 million in 2010.
The full HD projector SP-A800B realizes more detailed and clearer definition backed up by lamp brightness upgrade to 300W and the application of "Dynamic black" technology enabling the refined image with the true black color.
In particular, with the aim of realizing quality as close as possible to original film images, 24 frames per second are provided through "true 24 film frames", which is the same number of frames as theater movies.
The "true film mode" makes the image more sophisticated particularly in sports scenes and large scale fighting in movies. The full HD projector is completely compatibility with the simultaneously introduced Blu-ray player BD-P1400 in 24-frame mode, bring the theater atmosphere home.
Get them now at all Samsung retailers nationwide.