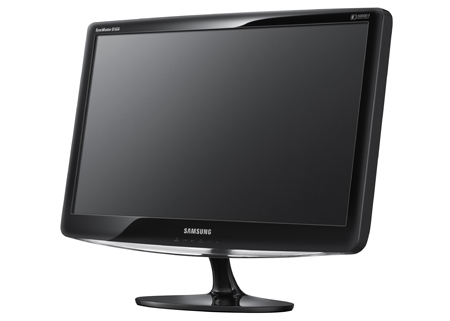 I'm absolutely crazy about my Samsung T220 LCD monitor. I've been using it for two years now and it still delivers the same bright, crisp images it did when it was brand new. If you haven't experienced the beauty of an LCD desktop monitor yet, I suggest you check out the new Samsung Series 30 monitors.
Get into the details
These new Samsung monitors have ultra-high 70,000:1 Dynamic Contrast ratio automatic backlight adjustment creates deeper, more dramatic dark tones and brighter, more striking light tones. Now you can enjoy images that echo reality with rich, vivid color and brilliant natural intensity. When it comes down to the details, conventional monitors simply pale in comparison.

Perfect high speed performance
With a response time of 5ms, you can be sure that your monitor will perform perfectly, even in the fastest moving scenes. This stunning, seamless motion imaging presents movies, games, and internet streamed content with precision and without the motion judder, blurring, and ghosting that can occur on a slower monitor, allowing you to enjoy a completely immersive viewing experience.
Control brightness, conserve energy
Magic Eco makes saving energy easy. It adjusts Samsung monitor's brightness based on how much energy you want to save. You have four energy saving options to choose from: 100%, 75%, and 50% power consumption as well as 'power saving off'. If Magic Eco is turned off, you still enjoy the option of using Samsung's Magic Bright feature, engineered to let you manually adjust the screen's brightness. Take the effort out of saving energy and take control with Magic Eco.
The monitor with great points of view
Love to watch movies lying down or while you're cooking dinner? The Samsung's Magic Angle, a new technology that uses 5-step angle management to deliver crisp images and bold color from every direction. So whether your view is from above, below, the side, or even leaning backwards, images stay the same. It's not magic. It's Samsung innovation.
Feel the Effects of Color
Enhance images your way using Samsung's advanced ColorEffect feature. Open your eyes to a completely customized viewing experience as you play with photographic effects that match your mood. Choose from Aqua, Sepia, Green and Grayscale to interact with your display in a whole new way – namely, yours.
The Smart Size
Why should seeing the whole picture be a stretch, or for that matter, a distorted facsimile of the original? With Samsung's intelligent adjustable image size function, you'll be able to enjoy images exactly as they were intended, by portraying standard sized content in its original format, on a wider screen.
Customize Your Control.
Samsung's innovative custom key feature puts enhanced entertainment at your fingertips, literally. By allowing you to assign your favorite function to the customized key, your favorite features are accessed in a flash. Will your customized key bring you Magic Bright, Magic Color, Color Effect, or the Image Size function? The beauty is, you decide.
Goes Off by Itself.
Samsung Monitors aren't just high performers. They're eco-friendly, efficiency experts as well. The automatic off timer allows users to save energy by setting the monitor to turn itself off at a specified time. As an added benefit, this ensures optimal performance for lasting reliability and extended life.
MagicBright 3™
Control your screen's display with just one click. MagicBright 3™ automatically optimises brightness, contrast and gamma correction, based on the mode you choose.