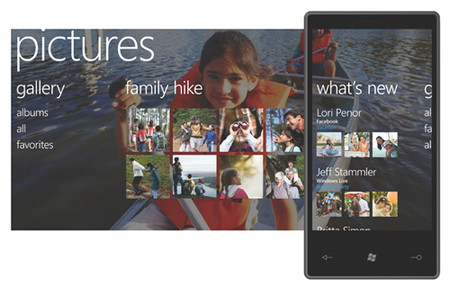 Perhaps the most noteworthy phone revealed at the Mobile World Congress 2010 was the next generation of Windows Phones, the Windows Phone 7 Series. Said to be the most groundbreaking mobile phone since the iPhone, the Windows Phone 7 takes a fundamentally different approach to smart phones. First of all, it has a holistic design system with a visually appealing layout. The Start screen does away with the static icons that you have to click to open an application; instead, it has tiles that shows you real-time content. For instance, you can create a tile of a friend, and you gain an up-to-date view of that person's latest photos and posts.
I don't normally lust after new phones, but after learning that you can enjoy Xbox LIVE games and Zune stuff on this device, I want to get my hands on a Windows Phone 7 now. Yes, the Windows Phone 7 is basically a portable Xbox, and hopefully there will be tons of exciting games to meet this potential. The Zune will be an app, in the same way the iPod is on the iPhone, but the Zune Marketplace will be integrated on the phone rather than separated into its own app.
Check out this video for other features of the Windows Phone 7.
The first Windows Phone 7 units will be made available by the fourth quarter of 2010. I can't wait!