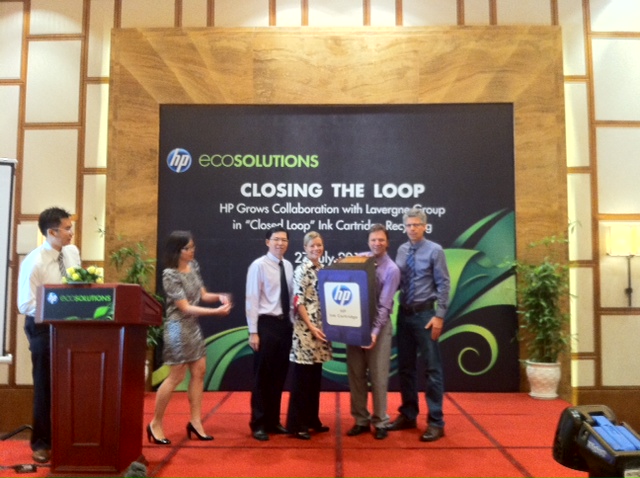 Have you ever wondered what happens to your discarded HP ink cartridges? You'd probably think that they end up rotting in some landfill with the rest of our garbage, but HP's commitment to the environment has spurred them to develop a recycling system that allows them to reuse the plastic from old ink cartridges.
For the last six years, HP has been developing a "closed loop" plastic resins solution,a system that combines plastic from post-consumer objects like original HP Ink Cartridges and water bottles. The combined plastic is then used to manufacture new Original HP Ink cartridges. Since the system's first recycled ink cartridge was manufactured in 2005, HP has then gone on to produce over 1 billion original HP ink cartridges made out of the closed loop recycled plastic. In other words, all the HP ink cartridges you've been buying since 2005 is made of recycled goodness. Just imagine what a wonderful impact this has on our environment.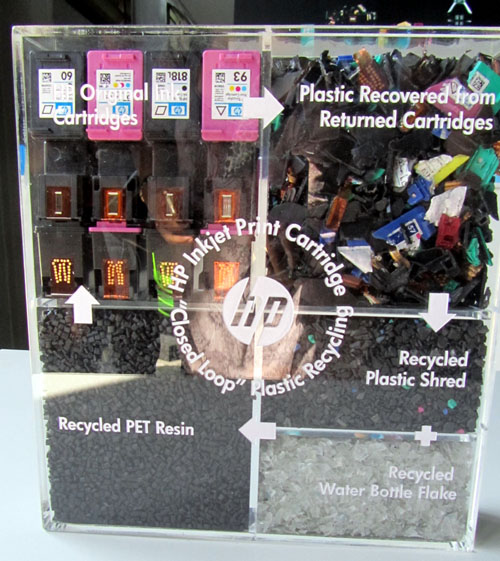 Today, HP collaborates with the Lavergne Group, who has provided them with a new plastic compounding facility in Vietnam. This facility enables HP to get closer to local sources of recycled materials, and to produce a greater volume of closed loop recycled plastic used to manufacture HP ink cartridges. It is estimated that this facility will reduce 6% in the plastic carbon footprint as soon as it is fully operational.
Below are some fast facts about HP's breakthrough in ink cartridge recycling:
* HP introduced the industry's first closed loop ink cartridge recycling process, combining plastic from post-consumer recycled Original HP Ink cartridges and other sources, such as recycled water and soda bottles, in the manufacturing of new Original HP Ink cartridges. More than 1 billion Original HP ink cartridges were manufactured with closed loop RPET plastic, since the program's first cartridge was manufactured in the year 2005.
* In 2009, HP expanded the "closed loop" plastic solution to polypropylene plastics, leveraging the knowledge gained from the RPET program. Since the process's inception, 20 million cartridges have been manufactured using plastic from the "closed loop" polypropylene process.
* For HP ink cartridges that use recycled materials, up to 70% of the cartridge is made from recycled material.
* In 2010, HP and Lavergne co-developed an industry-first ink cartridge disassembly machine, which can separate the plastic, foam, ink and metal components of returned cartridges more effectively and recover a higher percentage of re-usable content. Based on the success of the development effort, this breakthrough equipment is currently being installed in multiple HP recycling facilities, enabling dramatic improvements in material recovery and simplifying recycling supply chain and processes.
* Customers can get twice as many prints with Original HP Ink than refilled cartridges. riginal HP Ink cartridges tested also were found to have worked all the time, in contrast to 42% of refilled cartridges tested that were dead-on-arrival or failed prematurely.
* Recycling Original HP print cartridges is made easy with the HP Planet Partners program, available in more than 50 countries and territories worldwide. Recycling efforts by customers and HP have kept 1.3 billion plastic bottles and more than 210 million HP ink cartridges out of landfills. In 2010, HP used 6,000 tonnes (13.6 million pounds) of recycled plastic from plastic bottles and Original HP ink cartridges recovered through the HP Planet Partners program to manufacture new Original HP ink cartridges. This is equivalent to keeping 340 tractor-trailer loads of plastic from going into landfills.
HP encourages you to do your part to save the environment by recycling your original HP ink cartridges. The HP Planet Partner programs is available in over 50 countries (the Philippines included), and they provide you with a venue to return and recycle your cartridges. For more information www.hp.com/recycle.