BlackBerry® Mobile Fusion, RIM's next-generation mobile device management (MDM) solution is now available for enterprise customers in the Philippines. Built on the foundation that has established BlackBerry® Enterprise Server as the gold standard for government and businesses, BlackBerry Mobile Fusion delivers a cost-efficient, secure, reliable and scalable solution that consolidates the management of smartphones and tablets running BlackBerry® OS (including support for BlackBerry PlayBook™ and future BlackBerry® 10 devices) as well as Android™ and iOS®*, and provides a single, unified, web-based console for easily managing all devices.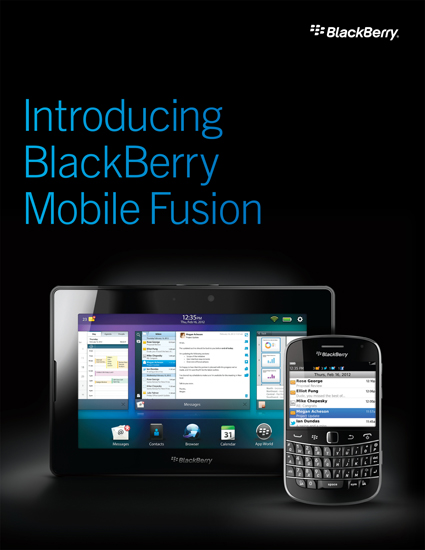 BlackBerry Mobile Fusion integrates the market-leading features and security architecture of BlackBerry Enterprise Server (version 5.0.3), providing advanced IT management and controls, a single outbound security connection (256-bit AES encrypted "BlackBerry VPN"), enforceable IT policies, support for BlackBerry® Balance technology, and over-the-air app and software installation capabilities for the management of BlackBerry smartphones and PlayBook tablets (as well as future BlackBerry 10 devices).
For the wide range of government workers around the world and approximately 90 percent of Fortune 500 companies using BlackBerry smartphones today, BlackBerry Mobile Fusion allows them to leverage their current end-to-end BlackBerry security infrastructure and have flexible options for individually liable devices while keeping costs low.
In addition to providing unmatched functionality for BlackBerry devices, BlackBerry Mobile Fusion also provides comprehensive mobile device management capabilities for iOS and Android devices including:
– Support for multiple devices per user
– Application and software management
– Connectivity management (Wi-Fi®, VPN, certificates)
– Centralized, easy to use, unified web-based console
– Security and policy definition and management
– Asset management
– Configuration management
– Security and protection for lost or stolen devices (remote lock, wipe)
– User- and group-based administration
– High scalability
BlackBerry Mobile Fusion software is available as a free download and is priced by the number of devices being managed. Client access licenses (CALs) are available for purchase from Globe Telecom, Smart Communications, and Sun Cellular. In addition, RIM is offering a 60 day free trial, so customers can deploy a pilot before purchasing a single CAL. The 60 day free trial is available at ph.blackberry.com/mobilefusion
* iOS and Android devices require the Mobile Fusion Client app to enable the BlackBerry Mobile Fusion management services, which is available as a free download for iOS and Android devices from their respective app stores. Device security, manageability and controls vary according to the inherent capabilities of the individual device operating systems.
The BlackBerry and RIM families of related marks, images and symbols are the exclusive properties and trademarks of Research In Motion Limited. RIM, Research In Motion and BlackBerry are registered with the U.S. Patent and Trademark Office and may be pending or registered in other countries. All other brands, product names, company names, trademarks and service marks are the properties of their respective owners. RIM assumes no obligations or liability and makes no representation, warranty, endorsement or guarantee in relation to any aspect of any third party products or services.