I have always wondered about the usage of my  mobile data. The latest breakthrough portal from Smart Bro Prepaid (Postpaid to follow soon) allows users to manage and view their account easily. With the dashboard, Smart Bro subscribers can easily access everything related to their broadband accounts- from their SIM number, current load balance, and promo subscription validity to the full list of broadband packages that they can easily subscribe to, with just a simple click from within the dashboard.
There is the "Load Protect" which when turned on, prevents subscribers from incurring data charges once their Unlisurf, Flexisurf or Always on subscriptions expire. There have been many instances that I have failed to turn this off and incurred hundred of pesos on data charges that I never used. With this feature, I will be fully aware that I cannot be charged beyond the packages that I subscribed to.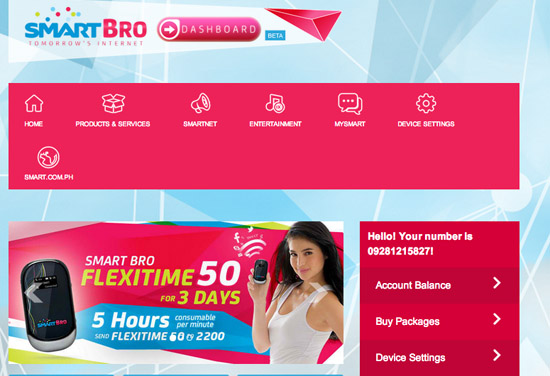 The Smart Bro Dashboard will allow users to:
1. Quick access to a real time account information and subscription package
Subscriber's current load balance
Subscriber's current package registered to
Other Smart Bro offers they can subscribe to (Flexitime, Unlisurf, Always On, LTE packages)
2. See their internet usage and charging, giving users a worry-free internet experience
 Volume meter to monitor Always On packages
 Time counter to monitor time-based packages
 Notification will be sent to subscribers when their load/package expires or they go out of the free area.
3. Free content while they're inside the dashboard – free social networking feeds of Facebook and Twitter thanks to Smart Net
How to access this?
– For new subscribers, just plug in your Smart Bro Plug-it or connect to your Smart Bro Pocket Wifi and open your browser and the dashboard will automatically pop out.
– For existing subscribers, dashboard will appear upon expiration of bucket or zero balance. Or just access it through http://smart.com.ph/brodashboard
Management and subscription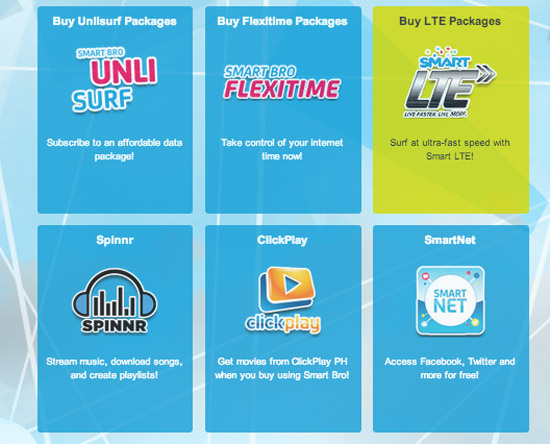 Now this is the part I find interesting. When I will subscribe to an Always-On package, I will be able to see in real-time how much MB volume is left and the validity of the subscription. In this way, I can pace usage accordingly.
In the dashboard, subscribers can buy Unlisurf, Flexitime or Always on load packages with a click . No need to memorize keywords anymore.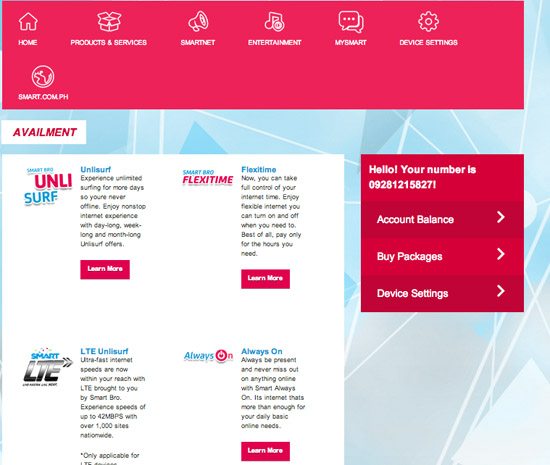 Just click "Product and services" tab on dashboard and choose the specific load package that you want to subscribe and then click "register now". The package will be activated immediately and the amount will instantly be deducted from their prepaid credits.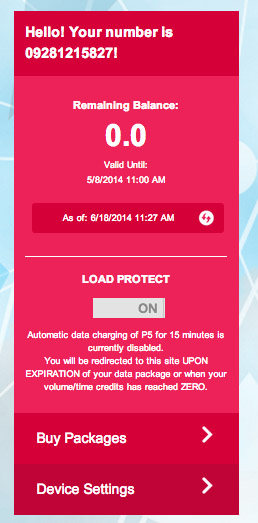 Once subscribed, you can now check the status of your load package through the dashboard. The remaining hours or volume allocation will be displayed prominently on the sidebar.
Trying to figure out device settings? There is a tutorial on the sidebar.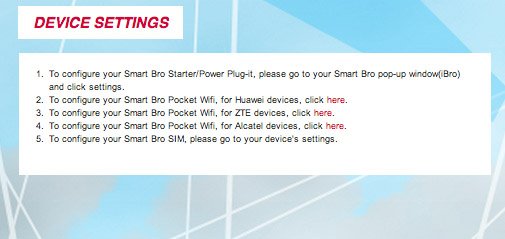 Goodbye to complicated codes to check on the current load balance.
Free Facebook and twitter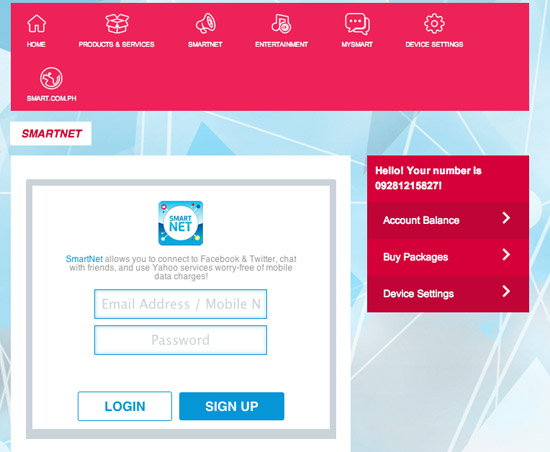 You can also get free and uninterrupted access to Facebook and twitter feeds through SmartNet. One needs to sign in to a SmartNet account and link your social media profiles to be able to post quick updates. These are all done through the dashboard.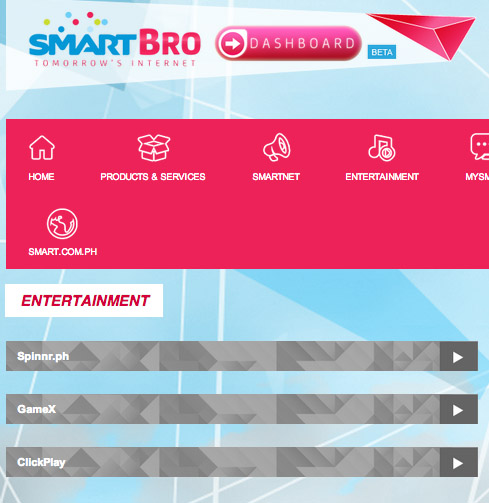 Users can also access various digital content offered by Smart through the dashboard including music from SPINNR, movie streaming from Clickplay and online game e-Pins from GameX. No charges will be incurred if they are accessed from the dashboard.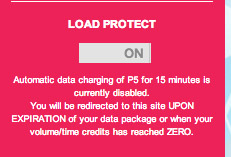 This SmartBro dashboard is initially available to all prepaid Plug-It, Pocket Wifi and SIM-only subscribers and postpaid LTE users (limited to 599 and 999). The dashboard opens automatically ones the user fires the browser, reaches zero balance or when "Load Protect" is turned on and promo subscription expires.
Soon a mobile app will come out! That's will be even more convenient.
To know more about the Smart Bro Dashboard, visit smart.com.ph/brodashboard