In 2007, I bought my father-in-law an Acer laptop. I wasn't that confident of its quality but there are no regrets because the laptop is still working…to this day. It is with great pleasure to attend an Acer event because I want my readers to know of the latest news on their affordable and high quality products.
Acer Inc. and the National Basketball Association (NBA) entered into a promotional partnership. Acer acquired the rights to use the popular basketball league's logo and other materials. I will get into this later.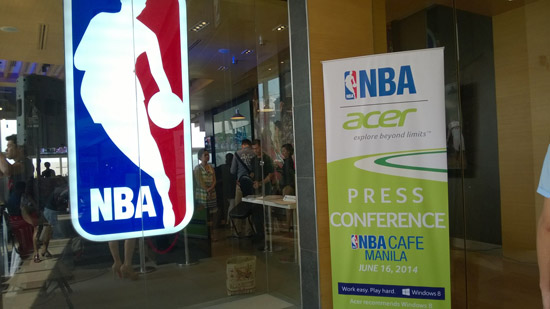 While waiting for the event to start, I checked out their latest Acer Aspire Switch 10, which is a 10-inch Windows 8 tablet with a detachable keyboard.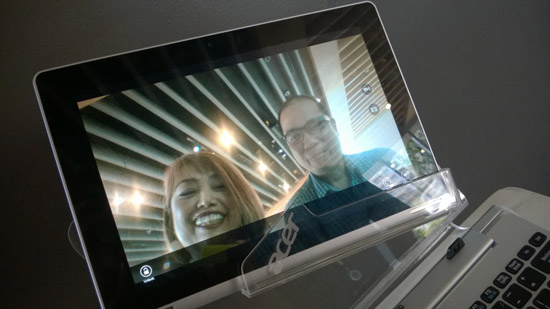 The Acer Aspire Switch 10 is very adaptable . Switch between laptop, tablet, display screen and tent modes to enhance your work and play. It is similar to my sister's detachable or Yoga-style hybrid laptop.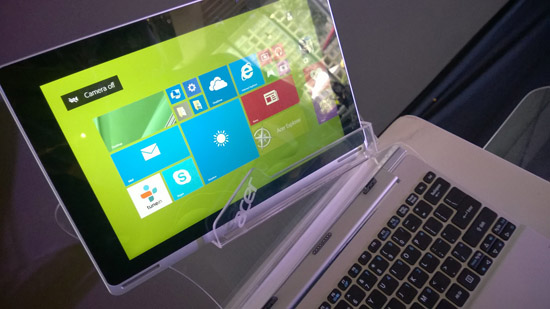 Of course you can use the traditional clamshell mode, and the screen pops off and can be replaced facing outwards, forming a kind of kiosk mode which Acer calls "display" mode.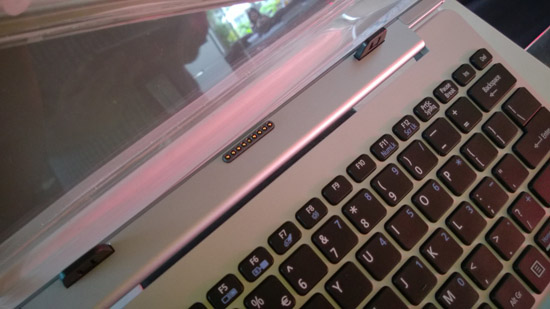 The 10.1-inch screen attaches through the Snap Hinge. It is the same two-pronged connector found on many detachable hybrids. The difference is instead of fitting it together with a physical switch, the magnets pull the two halves together and keep them attached.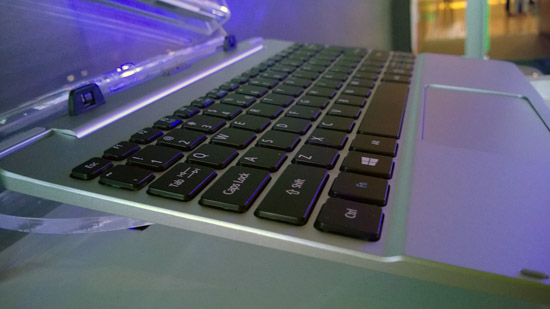 The base model features an Intel Atom Z374 processor, 2GB of RAM, and 32GB of on board storage. There are a number of ports and slots on the tablet — microSD, microUSB 2.0, microHDMI, and audio in/out jack. There is an additional USB 2.0 port on the keyboard dock.  With the base 32GB model only around 24GB is available due to software installs. There's a  64GB offering too but both models include an exposed microSD slot in the tablet so you can increase the storage capacity.  
The Switch 10 is packaged with the Windows 8.1 Small Screen Touch with Office Home & Student 2013 products.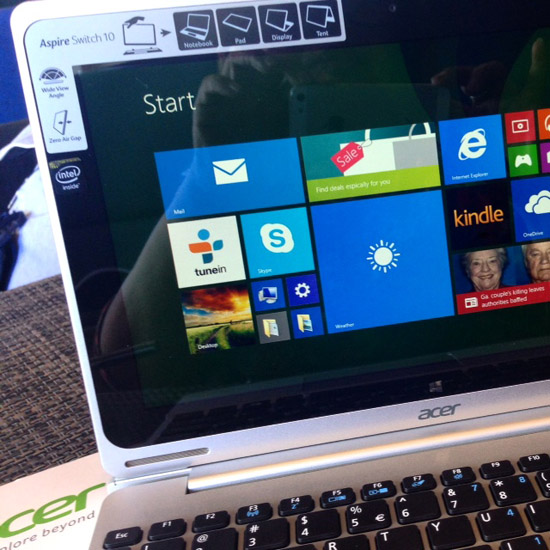 I still have to test this versatile Window's hybrid for a longer period of time but I read a lot of good reviews  . "Overall the Aspire Switch 10 looks to be a well balanced product. Windows 8.1 on a budget with a screen that's usable and a hinge system that's effective. We just wish the overall design was a bit more inspirational. But for this price point it's hard to complain."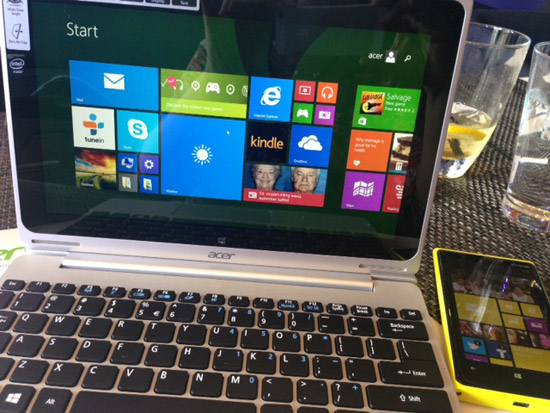 Another review says the "Acer Aspire Switch 10 is a solid Windows 8.1 hybrid consisting of a decent tablet and solid keyboard dock. The current generation Atom processor is a good performer and runs Windows well."
Some things do annoy though: "the keyboard dock has a naff trackpad, its battery isn't quite as good as the Asus offering, and the lack of any Microsoft Office install are each bumps in the road. " Well , this is not a luxury, premium device so there is bound to have some cons. Comparing it to my sister's Lenovo Yoga , the Switch 10 is not as elegant. It does not have an HD resolution and has a deep trackpad depress, trackpad too far user-side, top-heavy in laptop form . You can check more reviews here.
If you are looking for an alternative to the iPad, with a bit of  real laptop feature, then the Acer Aspire Switch 10 is for you. The SRP for the base model is Php19,990. The SRP of the other variant with a 500GB HDD is Php22,990.
Acer NBA tie up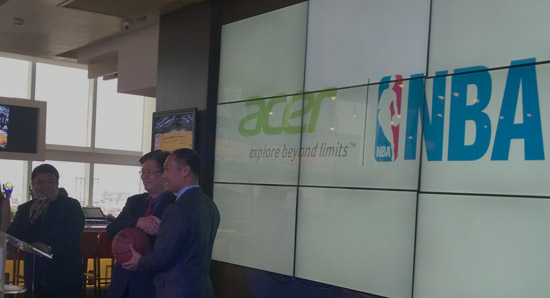 Now comes the promo part I was talking about earlier.
Every purchase of any qualified Acer laptop entitles customers to a free  limited NBA laptop backpack which runs until June 30, 2014.  These include the Aspire 5 Series Ultrabook :  S3-392G-54204G50tw, the S7-392-74504G25aws and the S7-392-74504G2tws models  . I love the gray color! There are enough pockets to hold papers or books if a kid uses this for school. And of course, a padded area for the laptop.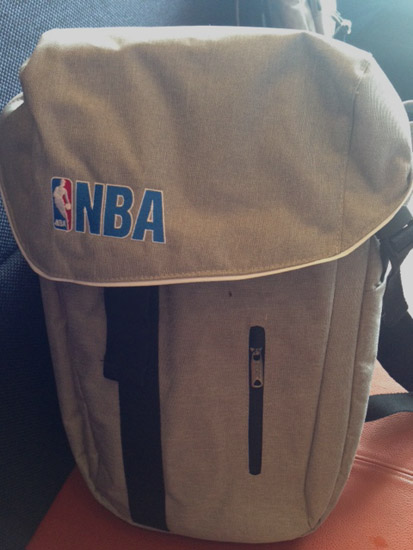 The Aspire Switch 10 SW5-011-155X comes with the Windows 8.1 – Intel® Atom™ Z3745 quad-core processor (1.33 GHz / 1.86 GHz w/ Intel® Burst) – 2 GB LPDDR3 memory – 32 GB internal storage – 10.1″ HD IPS LED-backlit multi-touch display (1366 x 768) w/ wide viewing angle (178°) – 5-point multi-touch control – Intel® HD graphics – stereo speakers – HD audio – webcam – Wireless – Bluetooth® 4.0 – HDMI® Micro – micro USB – card reader – 8-hour battery – Microsoft® Office Home and Student 2013 – 1-year limited warranty
Acer Aspire Switch 10 Specifications (base)
CPU type Intel Baytrail Z3745
CPU speed 1330 Mhz
Graphics Intel HD (Gen 7 Baytrail)
OS Windows 8 / 8.1
Display Size 10.1″ 1366 X 768
Screen Type LED-Backlit LCD
Touch Technology Multi-touch
RAM 2048 MB
Flash 32 GB
Battery capacity 22 (Wh)
Weight 585gm / 20.6 oz.
Size (w/h/d mm) 262/178/10.2 mm
Size (w/h/d inches) 10.3/7/0.4
Physical Interfaces
DC-in
HDMI (Micro)
Headset i/f (Mic+Line)
SD slot (Micro)
USB (Micro)
Wireless Interfaces
802.11 b/g/n
BT 4.0
No Wireless WAN (e.g. 3G cellular)