I first got introduced to the Midea brand when my daughter purchased this lovely vintage looking electric fan for her new condo last year. I thought it was just one of those ordinary brands. To my surprise,  I found out Midea is a  global brand brought here  just recently in the Philippines by  Concepcion-Midea Inc. I was curious to see their consumer appliances line since I am more familiar with LG and Samsung appliances.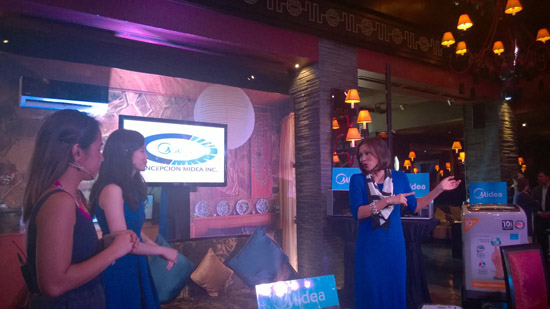 Mr. Philip Trapaga, General Manager of Concepcion-Midea Inc. Philippines introduced us  to the  various Midea's Consumer Appliances line just before the formal launch.  He believes that Midea's new line has all the qualities that can make the lives of consumers simpler. The product's quality goes beyond a solid set of features.  The first that comes to my mind as busy homemaker is getting things done quickly and efficiently.  Trapaga added that with the help of Midea's products, "our busy homemakers can focus on the things that matter the most to them—be it fulfilling the promise of their careers or spending more time with their families."
Let's take a look at a few of these consumer appliances.
The Midea One Touch Washing Machine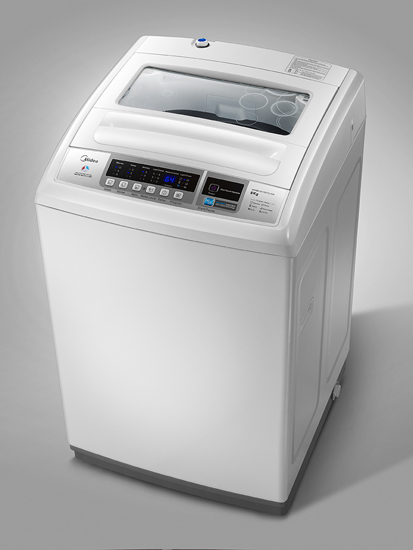 Midea's One Touch Washing machine is meant for the busy homemaker.  The one-touch feature  enables you to wash, rinse, and dry with just a touch of a button to its smart sensors which detects the weight of the laundry you've put and automatically fills in the right amount of water, these features are all geared towards making the laundry chore easier and simpler. I like that there are various sizes ranging from 7 kg load to as much as 15 kg.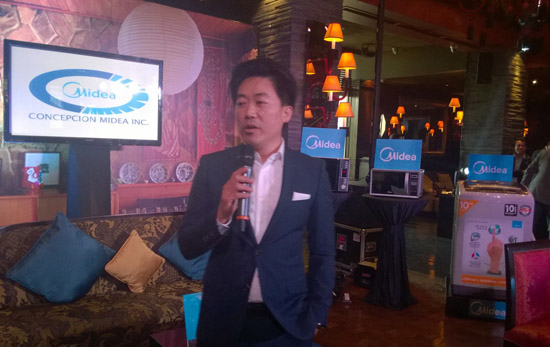 One of the highlights of this washing machine is its Quick Wash function that lets users clean a drum full of clothes in as fast as 19 minutes. Among its most attractive features, however, is the piso wash, a perfect element for all the budget-conscious. The model boasts of energy efficiency, as one wash cycle is equal to only one peso in electrical consumption.
I am seriously considering the semi-automatic washing machine since my 6 year old washing machine is not working properly.
The Midea Party Refrigerator
If you have a large family or often hold parties, then this Party refrigerator is for you.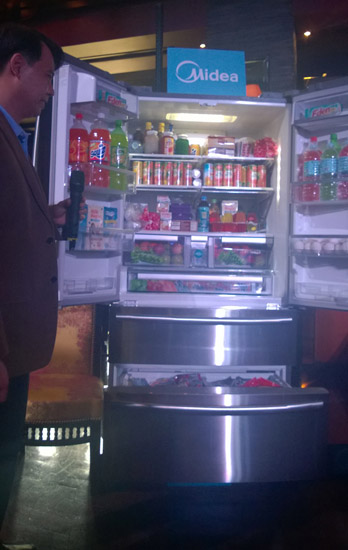 Mr. Trapaga calls their Midea French door model  as "our Party Refrigerator as it is built to store a huge amount of food and drinks fit to throw a big party. We Filipinos love to celebrate and entertain in our homes and the Midea Party Ref is the right product for their needs."
Midea's Party Refrigerator comes with a wide range of innovative features. With wide interiors, adjustable shelves, and efficient French doors, this model can store up to 20 baskets full of groceries. Look how well the groceries fitted snugly inside.
You can even make your own ice.
The refrigerator system also boasts a "Keep Fresh technology" that maintains the optimum level of humidity to maintain food freshness for longer periods of time. It also irradiates natural light to enhance the nutritional value of food and uses UV light to break down pesticides commonly found in fruits and vegetables.
This Party refrigerator allows a lechon to fit inside not that you want to keep it inside. I know the feeling of cutting up the lechon just so it can be stored properly. Sometimes after a party, we are just too tired to cut the lechon up into small pieces.
Similar to the One Touch Washing Machine, the Party Refrigerator fuses high-quality with affordability and energy savings. It is designed with a cutting-edge Turbo Inverter Compressor that enables users to reach desired temperatures without need for costly warm-up times.
This Party refrigerator uses inverter technology. A smilar ref from Samsung or LG costs around 120,000 to 130,000 pesos but the Midea Party refrigerator is close to 100,000 thousand pesos only. Take note though that I have not tried out any of these Midea consumer appliances. They also have window airconditioners, Hopefully, I will purchase the semi -automatic washing machine within the next few weeks.
You can check out Western Appliances and Abenson for the Midea refrigerator and washing machines.
About Midea
Midea is a China based company and the world's largest producer of consumer appliances. Established in 1968, Midea has consistently strived to make the lives of its consumers easier with their line of innovative products. On 2014, Midea Global partnered with Concepcion Industrial Corporation to bring the brand closer to Filipinos. For more information on Midea, please call +632-850-9888 or visit midea.com.