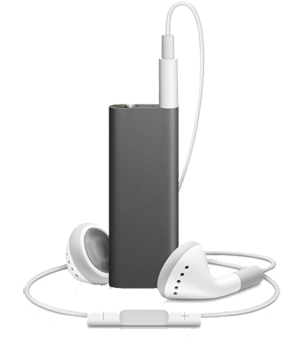 If you thought the iPod Shuffle couldn't get any tinier, then you haven't seen the all-new third gen iPod Shuffle. Not only is it almost half the size of its predecessor; the new iPod Shuffle is also the first music player that "talks to you" via speech technology.
But before we get into the speech technology, here's a photo that shows just how small the iPod Shuffle is (smaller than a USB drive!). But don't let the size fool you – it can hold up to 1,000 songs with 4GB of built-in storage, and is controlled through buttons on the earphone cord that comes with the Shuffle. Which makes me wonder – can you use third party earphones with the new Shuffle?
And with the new Speech Technology, the iPod Shuffle makes up for having no LCD display by announcing your song titles, artists, and playlist names.
The new iPod Shuffle comes in silver and black, and is selling for ? 4,190.00