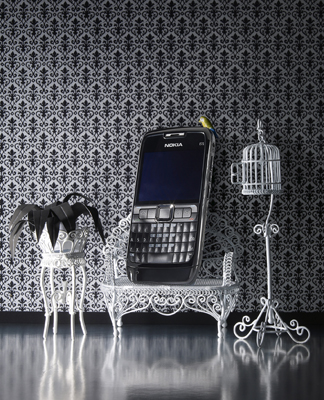 It's important for the upwardly mobile professional to stay on top of things, even when you're far from your office desk. What you need is a device that allows you to do business away from the office and lets you stay connected to important associates while providing features that lets you enjoy your life as you live it. The Nokia E71 can provide all of these and more! Here's why.
1) At the Mobile Innovations Global Awards in Barcelona Spain, the Nokia E71 was voted as one of the best handsets of 2009.
2) What good is a phone that does its job well but looks like a throwback from the early 200s? The Nokia E71 is the sexiest QWERTY phone in the market, with premium metal covers and a sleek 10mm body.
3) It takes about five clicks to set up your email addresses. Yes, email addresses. The Nokia E71 supports multiple email accounts like Gmail, Hotmail, Yahoo, or your corporate address. No need to bring your clunky notebook around! The E71 will take care of all your online correspondence.
4) You can even program your phone to check your email every hour or all the time with its over the air email syncing feature.
5) Viewing and editing attachments is a breeze with the QuickOffice Adobe and Media viewers.
6) With the full QWERTY thumb board, you can teach your textmates to read again and sound professional in all your emails without cramping your fingers.
7) Auto-completion, auto-correction, and learning capability allows for easier and faster texting.
8 Make your phone a reflection of your mood with the two customizable Home Screen Views for work and play.
10) Your data will always stay safe and sound even if it falls into the wrong hands, thanks to remote device management, device lock, and device and memory card encryption.
11) You can file leaves from home – or while at your vacation destination – through mobile VPN, which allows you to look at your intranet sites.
12) Never get lost with the Nokia Maps and A-GPS. There's even a 30-day Voice-Guided Navigation Subscription so you can find your way to your destination without having to ask for directions.
13) This smartphone also comes with a great camera – 3.2 megapixels with autofocus, flash, and 8x digital zoom.
14) Comes with a 2GB card with all sorts of preloaded apps. Or you can erase everything and use it to store over 1,000 songs!
15) With the breathing navi light, you can easily find your Nokia E71 in the recesses of your briefcase, purse, or in a dark room.
The Nokia E71 comes in grey steel, white steel, black steel, and red steel. Available at all Nokia Stores and authorized Nokia retailers nationwide for approximately P 22,800.