I first bought my Harman Kardon Go+Play Portable Hi-Fi Speaker for iPod (by JBL/Harman Multimedia) five years ago. It was the best-sounding transportable iPod speaker system in 2009, with impressive detail across the entire sound spectrum, particularly in the bass department, and capable of doing pretty well at high volumes.
Enter 2014, and Harman continues to maintain its premiere name in sound systems. Today , Harman turns up the decibels with new wireless speaker systems. Let's take a look at these stylish products with outstanding sounds . I was able to test all four wireless speaker systems at a recent event in Abensons.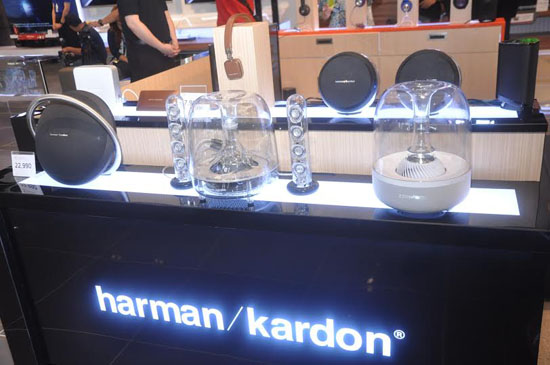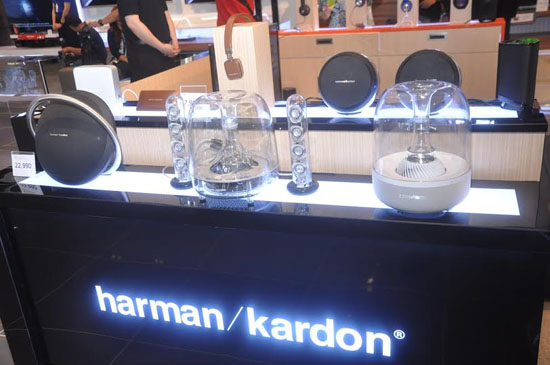 Let's check them out
1. Harman Kardon Esquire mini (SRP is 7,995 pesos but there is a discount of 1000 pesos till December 7, 2014 in Abenson Ascott at the Bonifacio Global City)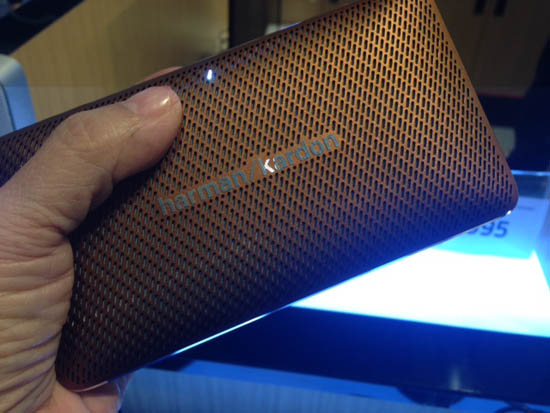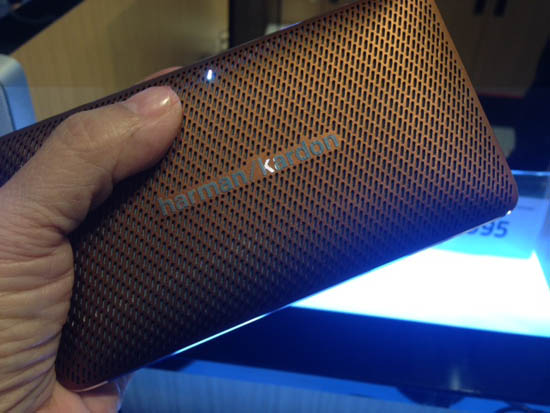 This chic design is made from premium materials, including real leather backing and brushed aluminum finish. It is Bluetooth enabled for full stereo streaming and can even double as a conference phone system with dual microphone and built-in echo and noise cancellation. Its  great high-fidelity sound, portability, and convenient  charging center for your other mobile devices.
2. Multiroom HD Surround: Harman Kardon Omni Wireless HD
One thing with the usual bluetooth speakers is that the sound will cut you off once you leave a room. One can upgrade your home system anywhere in your house with the Harman Kardon Omni Wireless and the Harman Kardon Adapt wireless adapter. This system comprise three new products: Omni 10 and Omni 20 wireless HD loudspeakers and the Adapt plug-in to upgrade your existing home stereo system which is powered by the Blackfire Research wireless media technology.
Market trends are turning to wireless in home with high definition sound where one can easily connect to streaming music. This is quite handy if you have a Spotify or Deezer account.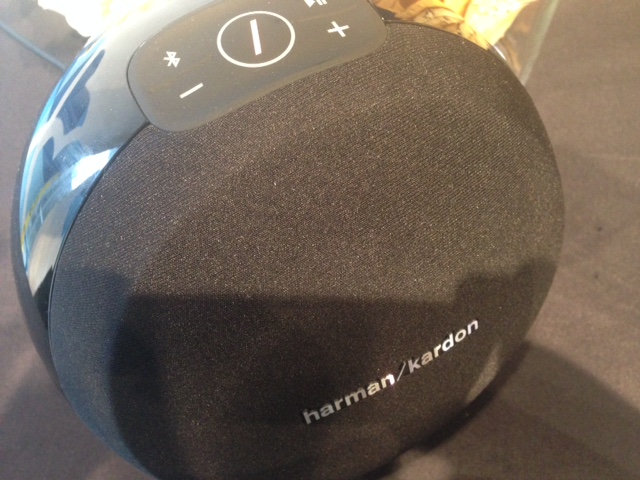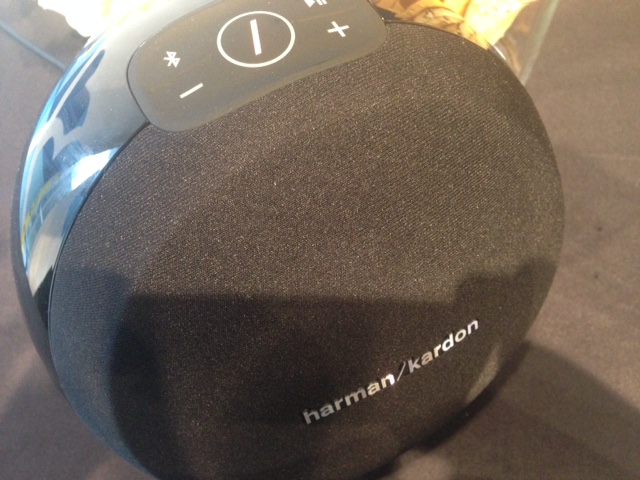 The Harman Kardon Omni and Omni 20 can be used as standalone speakers combine two for a wireless stereo sustem , or even five to create a full multi-channel system. Place the Omni speakers in any room, whenever you want music, or group them together for an immersive same-room wireless sound experience.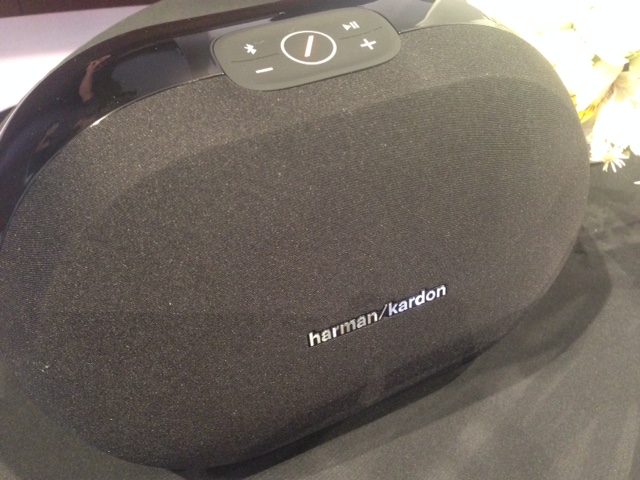 Check out the other cool Harman bluetooth speaker systems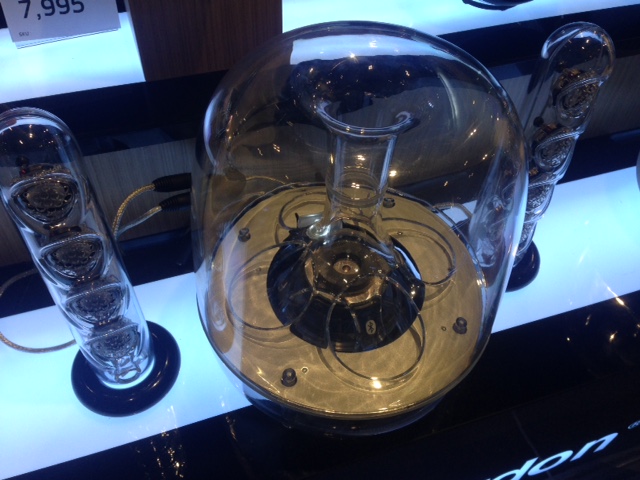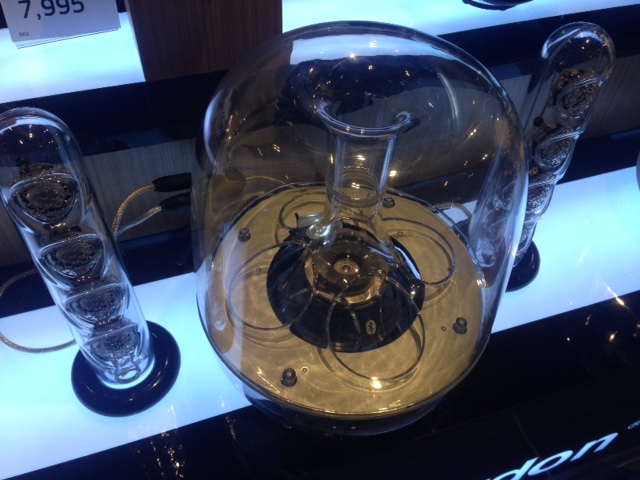 Harman Kardon Soundsticks III 2.1 Channel Multimedia Speaker System with Subwoofer- Beyond its eye-catching appeal, SoundSticks III continues to be incredibly capable, with 40 watts of dazzling amplification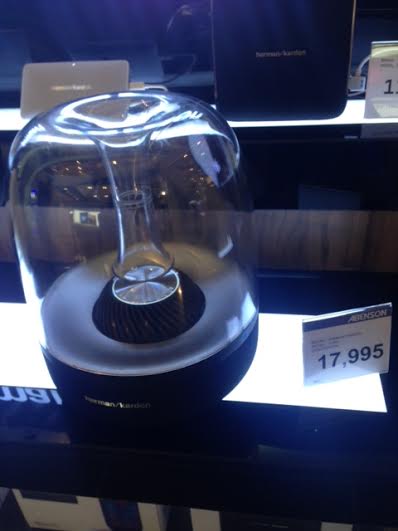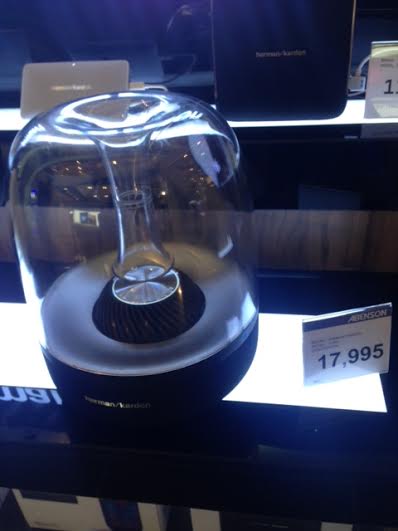 Harman Kardon Aura at an SRP of 17,995- This made with premium materials and features a powerful 4.5″ subwoofer visible trough the transparent enclosure. It produces 360º omni-directional sound and features built-in Bluetooth and AirPlay for wireless music streaming.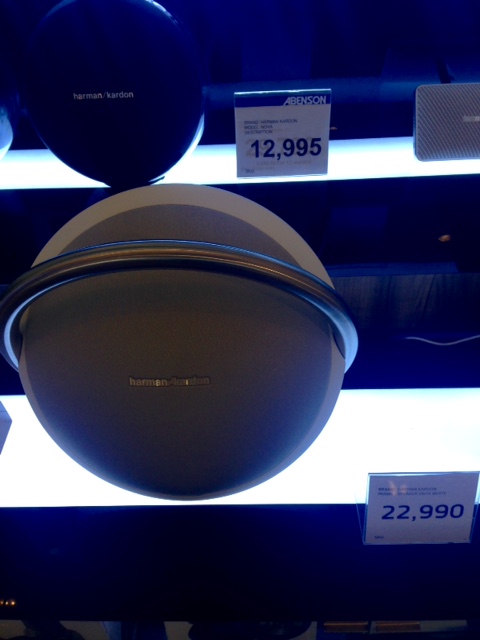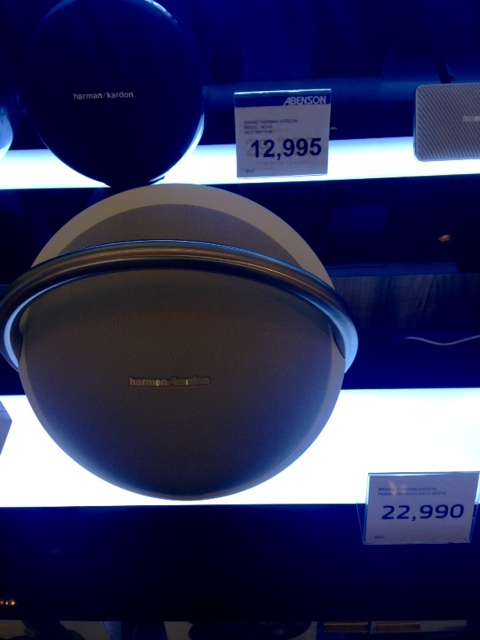 The Onyx black at the SRP of 22,990: Iconic, transportable, wireless speaker system
3. JBL Pulse (SRP is 8,995 pesos)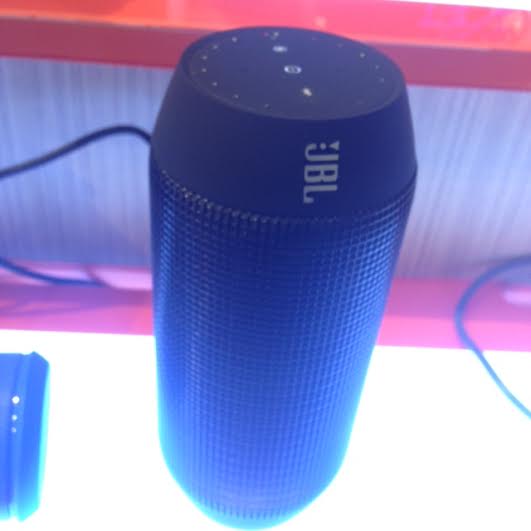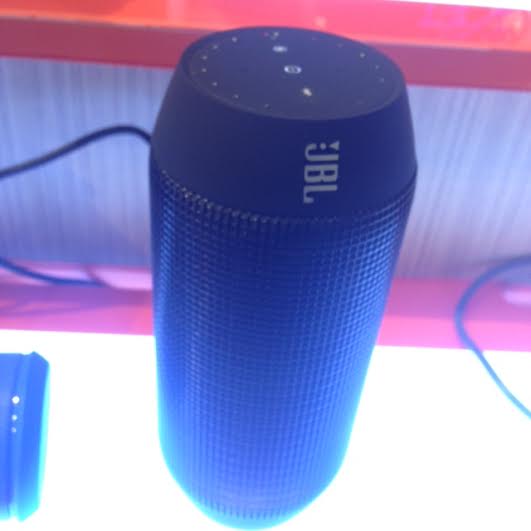 JBL Pulse can be brought anywhere and deliver wireless fun for up to 10 hours of music or 5 hours of music and light show, thanks to its rechargeable lithium-ion battery.
4, JBL Flip 2  (SRP is 5,995 pesos)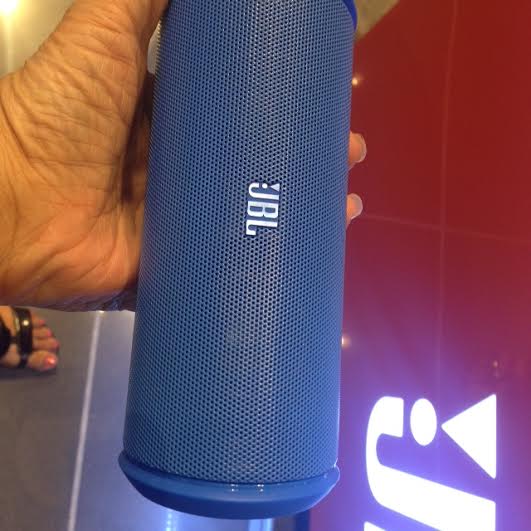 JBL Flip 2 is so portable but quality is not sacrificed.  It is the perfect partner for your smartphone, table and its music library with no wires to break, lose or tangle.  It can also stream wirelessly by means of bluetooth so your device remains mobile. JBL Flip 2 has a built in, hands-free speakerphone with SoundClear echo and noise cancellations to keep your conversations clear and error-free at any volume.
There are so many audio solutions to enhance everyday life, especially for those who value constant connections not only to music but to loved ones here and abroad.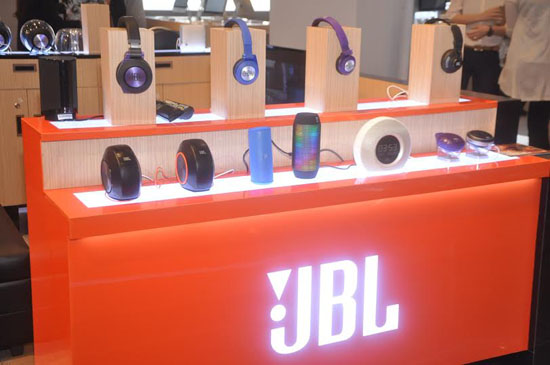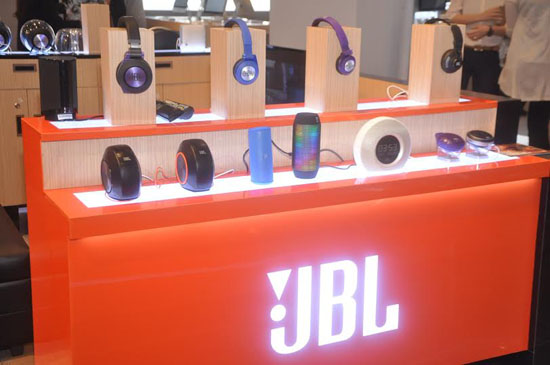 As a bonus to this First ever Harman launch in the Philippines, I got to meet Mohit Parasher, Harman Vice President – Asia Pacific, together with other bloggers. We were talking about headphones when the conversation went to in-ear headphones. Mohit then shared his JBL Reflect In Ear Headphones which he uses to listen to music when he runs. He showed us the features : brightly-reflective, sweat-proof cord design, ergonomic ear-tips and angled ear pieces, universal remote control/mic and great JBL-quality sound.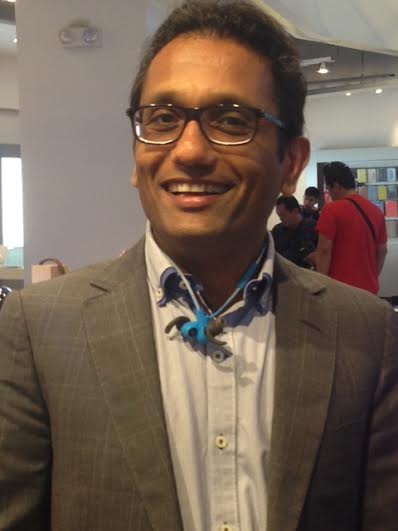 While taking a photo, I asked him if he could model the in ear headphones himself. At that time, I had no idea he was Harman's VP for Asia Pacific. What fun as Mohit modeled for four bloggers.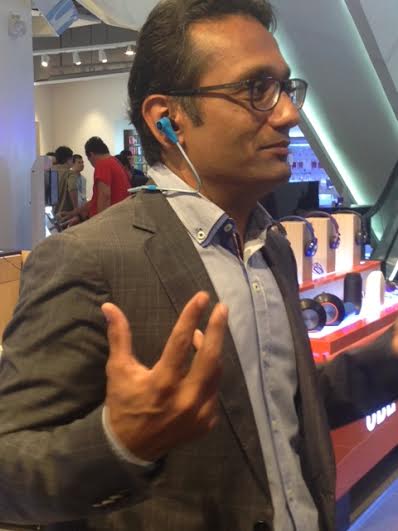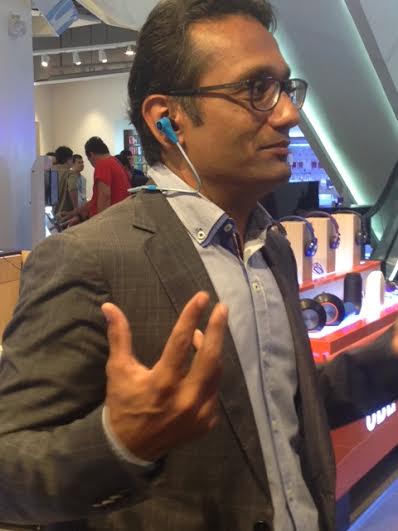 What a lovely day as we got to know more about Harman and other products under the same audio and infotainment equipment company.