The sound of silence is deafening at home… my home office. I decided to make it more deafening by buying speakers for my PC. For many months now, my PC has been speaker-less. I discarded my Creative speakers because the adaptor costs 600 pesos almost half the cost of my cheapo speakers. Why do they make defective adapters anyway? It was about time to put an end to the sound of silence. I chose a Harman Kardon Go+Play Portable Hi-Fi Speaker for iPod (by JBL/Harman Multimedia) because after testing all the speakers at Electrworld, SM Marikina, I got simply blown way by the sound of the Harman Kardon, its sound out of the box. Wow, it offered clean highs and lows compared to the rest of the lot.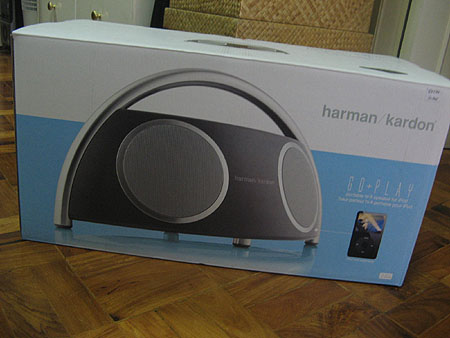 I used my iPhone and selected Michael Jackson's Thriller. Oh my! A crowd soon gathered outside the store smiling at my direction. A customer nodded his head to beat of Thriller and seemed to agree with my choice. Yup, the sound emitted from this "boom look-alike" speaker was really good. A review from ilounge.com says that the pros are
The best-sounding transportable iPod speaker system yet released, with impressive detail across the entire sound spectrum, particularly in the bass department, and capable of doing pretty well at high volumes. Includes a good RF remote control, simple carrying handle, D-cell battery option, and USB port for iPod-to-computer synchronization.
and the cons?
Cons: Odd iPod dock design makes screen hard to see; remote's complexity-adding iPod menu navigation features are thereby worthless. Despite boombox functionality, system isn't as ruggedized or iPod-protective as some competing options, and its modern looks will appeal more to some users than others. Price isn't aggressive relative to other all-in-one speakers given lack of certain features, and sound differences between this and considerably less expensive all-in-ones will be lost on many listeners, particularly those who prefer user-adjustable bass or treble controls.
Measuring 20" wide by 9.5" tall and 9" deep, the matte black system's most unique feature is a huge stainless steel arc of a handle, which runs fully from side to side, and ties visually into oversized matching speaker grilles on the unit's front and back. Viewed from the top or front, Go + Play looks like my oversized hobo bag. I don't know if it is appealing to others but for me, the design is just right… but hey, I am after the sound quality.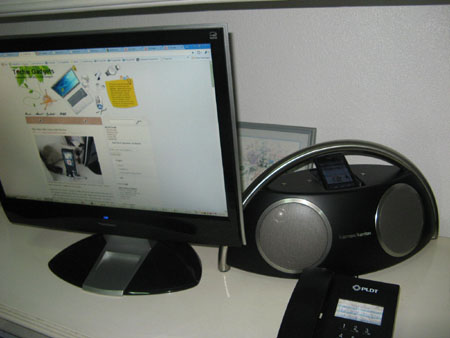 Setting up is also idiot-proof. There are only three buttons on the whole system – illuminated power and volume, all on top and in metal – and four ports in the back, each covered by rubber. I connected the speaker to my PC and it worked immediately! Definitely , it is full-fledged tabletop audio system that's as well-suited to use alongside a computer as elsewhere in your home or outdoors. One can even use 8 D batteries if one needs to bring it outdoors.
Harman Kardon Go + Play boasts two 30-watt tweeters, and two 30-watt woofers which explains the delivery of such powerful audio. It also has an excellent Signal-to-Noise Ratio of >85dB, which means you can really turn this thing up outside without fear of distortion, limited only by the wrath of your neighbors' complaints.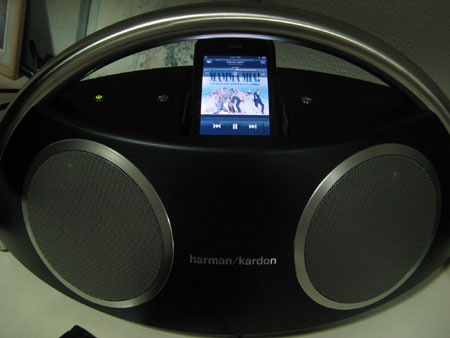 The dock is designed to accommodate smaller iPod minis and the first-generation iPod nano, while a dial in the compartment provides extra back support for thinner full-sized iPods. That means even my daughter can use my portable Hi-Fi Speaker during parties at home.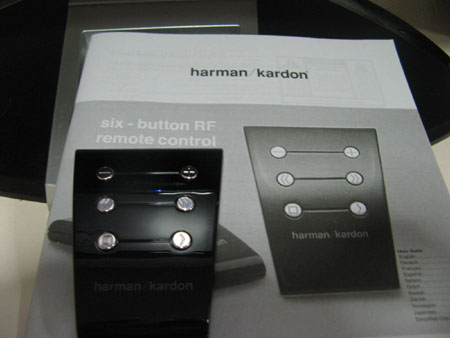 It also comes with a six-button RF remote control for iPod controls. The remote is based on RF radio technology rather than Infrared, so you can control the system without pointing the remote at the speakers, and it works from 35 feet away rather than Harman's stated 20.
Overall, I love the Harman Kardon Go + Play for the wonderful sounds coming from my PC speaker. It helps that I can also use it an iPod speaker system . Reviews says that it's the best-sounding boombox design they have yet heard, but also the priciest, and not necessarily the one you'd actually want to carry someplace where it or your iPod could be damaged.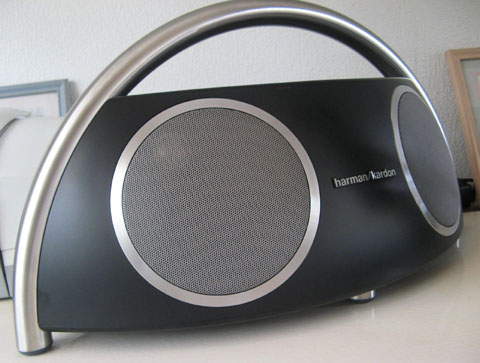 I bought it for 12,995 pesos at Electroworld, SM Marikina. I think it is worth it considering that it has multiple uses for me. Excuse me while I play the "Boom Boom Pow" by the Black Eyed Peas.
A very comprehensive review is written by ilounge.com.
Here is a manual for the Harman/Kardon Go+Play Portable Hi-Fi Speaker for iPod