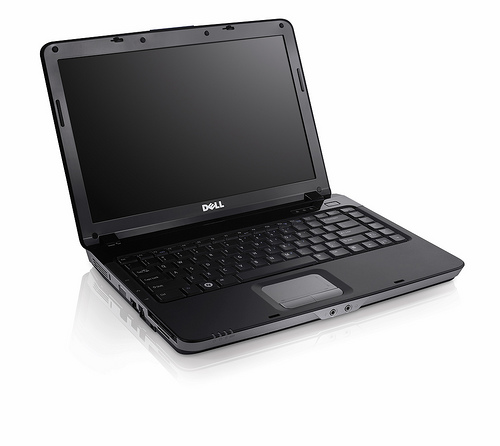 If you're looking for a laptop that will handle your business needs, look no further than the Dell catalog. The Vostro A840 is Dell's latest addition to its Vostro line of notebooks designed to handle business tasks efficiently. The 14-inch A840 features a WXGA display, a widescreen LCD screen with anti-glare coating, and is light enough to take with you wherever you go. Other specs include 1GB of ram, 160GB or 120GB hard disk, CD/DVD burners, WiFi, and optional Bluetooth. What's great about the Desll Vostro A840 is that you have the freedom to decide which processor and OS to use. You can choose among Celeron to Core 2 Duo processors, and decide between a Vista or Ubuntu OS before getting your notebook. Prices depend upon its pre-configurations.
And as if that's not a good enough reason to get a Dell Vostro A840, Dell Philippines is giving a way a free LG KP105 for every purchase of a Dell Vostro A840! Check out the jump for promo mechanics.
Promo Mechanics / Claiming Directions:
This promo is open to all buyers of Dell Vostro A840 laptops from January 15 – February 15, 2009 nationwide.
For every purchase of Dell Vostro A840, customer is entitled to one (1) unit of LG KP105 mobile phone.
To claim your free LG KP105 mobile phone, fax or email the following documents to First Tier Branding Solutions Inc.
Sales Invoice and Official Receipt
Cut out of the laptop's serial number sticker found in the box
Valid ID (SSS, PRC, Driver's license, Passport, etc.) and Contact Information

First Tier Brands contact information are as follows:
Tel Nos: (02) 856.2375 / (02) 383.1651
Mobile Phone: (0922) 836.5191
Fax No: (02) 856.2375
Email Address: dell.a840@gmail.com
Address: Unit 1610 BSA Suites Carlos Palanca Street
Legaspi Village, Makati City
Note: A customer representative will contact the claimant/s on claiming instructions.
For Metro Manila customers, please claim your mobile phones at First Tier Brands office. For provincial claimants, First Tier Brands will send the item via courier service. Delivery charges will apply and will be shouldered by the claimant.
All claims must be received on or before April15, 2009. Redemption period is until May 15, 2009 only.
Unclaimed mobile phones will be forfeited in favor of Dell Asia Pacific – Philippine Representative Office SMB Group with prior approval from DTI.
In case of disputes, Dell Asia Pacific's decision in concurrence with DTI shall be final and non-negotiable.
All employees of Dell Asia Pacific, participating dealers and other promo partners/third parties, including their relatives up to second degree of consanguinity or affinity, are automatically disqualified from joining the promo.
Per DTI-NCR Permit No. 0067 Series OF 2009