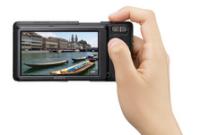 I never thought the day would come when you could upload photos from your digital camera directly to the internet. Well, I actually did, but I didn't realize it would comet his soon! At CES 2009, Sony introduced the Cyber-shot G3, the world's first WiFi-enabled digital camera. It has a built-in web browser, allowing you to upload photos and videos to YouTube, Flickr, Facebook, and other websites wherever WiFi internet is available.
In the US, the Sony Cybershot G3 comes with a complimentary AT&T WiFi access that you can use until Jan 31, 2012. That means you get WiFi access at thousands of AT&T hotspots across the US, including coffee shops, restaurants, bookstores, and airports! I wonder if Globe or Smart will make a similar promo once the Sony Cybershot G3 reaches Philippine shores?
Other specs include a 10 megapixel resolution, a Carl Zeiss® Vario-Tessar lens, 3.5 inch LCD screen, 4GB memory, Optical SteadyShot, Dynamic Range Optimizer, and Face Detection technology. Available in black for around $500.