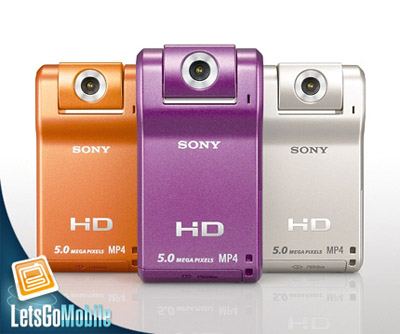 There's no way a big corporation like Sony would ever let someone smaller (comparatively speaking) like Pure Digital Technologies sell millions of their low-cost, YouTube-optimized Flip video camera. At CES 2009, Sony unveiled their new line of low-cost pocket camcorders designed to compete with the Flip. Cameras from the Webbie HD line like the Sony MSH-PM! and the Sony MHS-CM1 capture everyday events in either 5-megapixel still photos or high-definition video. And thanks to to the software embedded on it, you can upload new videos and photos in just mere minutes.
The Sony MHS-CM1 camera sports a slim horizontal design that fits naturally in your palm with a large 2.5-inch (measured diagonally) LCD screen that swivels up to 270 degrees. It also has 5X optical zoom to snap a detailed close-up of your subject.
Both cameras are small, lightweight, and chic-looking, allowing you to take them with you wherever you go. The Sony MSH CM-1 has a slim design, a 2.5 LCD screen that swivels up to 2.70 degrees, and a 5x optical zoom. The ligher Sony MHS-PM1 has a flip-ver 4x. so you can see yourself while you take photos or shoot videos.
Unlike the Flip, the Sony Webbi HD Cameras are more expensive, but not by much. The Sony MSH-CML and the camera only works after paying $200.