I think I know what I want for Christmas this year. I'm too cheap to go out and see movies at the cinema and besides, most of the ones I like are never shown here anyway. Every night I leave my computer on so I can download episodes or movies or while I sleep. On weekends you can find me in front of my Samsung LCD monitor, marathoning TV shows or watching a movie.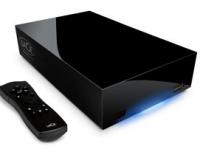 And this is why the LaCie LaCinema Classic Hard Disk is the perfect present for me. Designed for fans of movies and movies by award-winning designer Neil Poulton, this multimedia storage device can hold over 1,000 movies or 250,000 mp3 files or 1 million photographs with up to 1TB of space! The LaCinema supports a number of video, music, and photo formats including MPEG4, JPEG, MP3, and even HD-JPEG. It's also DiV-X certified so you can watch DiV-X transcoded video in high quality resolution. What's even better is that you can connect the LaCinema to your TV. All you have to do is load files onto it from your PC or Mac, then plug it in the TV. It also only weighs 33 ounces, so you can bring it with you wherever you go.
The LaCinema Classic comes in 500 GB and 1 TB models; both have the Hi-Speed USB 2.0 interface for PC or Mac, HDMI and composite outputs for video, and stereo coaxial S/PDIF outputs for audio. Available for $169.99 at the LaCie online store.