It's summer, which means at some point, you're probably gonna go out of town, out of the country, or to the beach to catch some sun. The rule of the Internet says "Pics, or it never happened!", so you're going to want to document every moment of your vacation to show to your friends on Facebook and Multiply. If there was one camera I could use to take fabulous pictures of my trips this summer, it'd definitely be the new Canon Powershot D10. I've always loved Canon cameras for the crisp, clear colors, not to mention they're very sturdy. My three-year old Powershot has fallen down the stairs more times than I can remember, but it still works great. Which is why I'm looking forward to the shockproof, waterproof Powershot D10.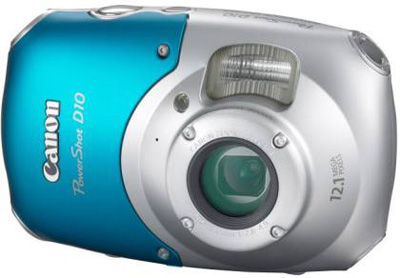 The 12-megapixel Canon Powershot D10 is waterproof up to 10 meters and shockproof up to 1.22 meters, a fact that's been abused by the media and the Canon staff just to show what it's capable of handling. With big buttons for instant access to key shooting features, face detection technology, and motion detection technology to automatically correct blur and minimize noise, you have no excuse for taking crappy pictures of your vacation this summer!
Unfortunately, the Canon Powershot D10 won't be available til May (guess it was being released for a US summer), and there's no news about pricing.