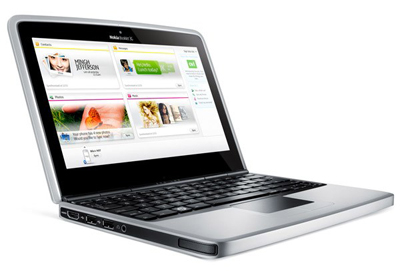 I'd been hearing rumors of Nokia expanding to the netbook market and coming up with a 3G Mini Laptop but no substantial news has been able to back that up – until today. Nokia recently unveiled the Nokia Booklet 3G Mini Laptop, a Windows-based device supported by an Intel Atom processor that guarantees the performance of a PC. It's supposed to have an battery life of up to 12 hours with normal use, but I wouldn't get too excited about that – actual battery life for all laptops is always far less than what the manufacturers promise. Its shell is made of aluminum and is around 2 cm thin, and at 1 kg it promises easy portability. It also has a 10.1-inch HD display, a front-facing camera, and HDMI port for HD video out.
So why put the 3G in the name? Apparently, the selling point of this product is connecting at speed. The Nokia Booklet 3G was designed with fast uploading and downloading in mind – it's 3G and HSPA ready for fast mobile access anywhere. It's also got WiFi, hot-swappable SIM card functionality, BlueTooth, and assisted GPS with Ovi Maps.
So far, this is all we know about the Nokia Booklet 3G. But stay tuned when we give updates on the goings-on at Nokia World 2009 on September 2, where all will be revealed.