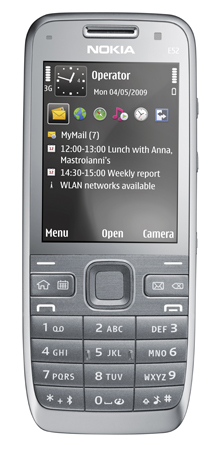 Nokia just announced the latest E-Series phone to come out of Finland (or rather, China) and reach Philippine shores. The Nokia E52 is designed for consumers who need efficiency in their professional and personal lives. It's got nearly a month of standby time, high-quality voice calls with its noise-cancellation feature, as well as other features like A-GPS with Nokia Maps, HSPA, and a 3.2 megapixel camera with flash. It also has a music player, media player, FM radio, and quick access to applications with one-touch keys. It even makes it easier for you to access your online social life with support for your favorite sites like Ovi, Facebook, Yahoo Messenger, Windows live, MySpace, and YouTube.
What will make this model particularly useful is its upgraded email capability, featuring a new email user interface that integrates perfectly with Nokia Messaging. Nokia Messaging, for those who haven't heard of it, is a Nokia service that allows your mobile device to access the world's leading email accounts. It also has direct access to IBM Lotus Notes and Mail for Exchange's email servers, enabling companies to cut a third of their operating costs for mobile email.
The Nokia E52 retails for PhP17,580 and can be found at all Nokia Stores and authorized dealers nationwide. Choose from either Metal Grey Aluminium or Golden Aluminium.