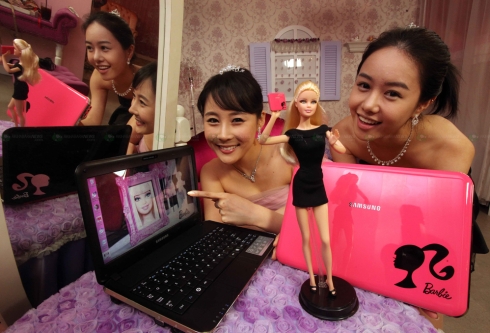 Koreans and Japanese love their kitsch, but I've never seen a kitschier gadget than this one. Samsung just launched a Barbe-branded netbook called the Samsung X170. The bubblegum-pink device is ultra-portable with an 11.6″, 1366×768 display, a 9-hour battery, and an Intel Core 2 Duo SU7300 CPU. It has 4GB of RAM and 500G of storage, and a full sized keyboard. And of course, a silhouette of Barbie on the cover.
This looks like a netbook you can give to your little girl, except the specs of this device are too powerful for a kid's notebook. There's also something else that might make you want to pass up on this one – the mouse buttons are on the left and right sides of the touchpad instead of below. Nothing you can't overcome with an optical mouse though.
Prices and availability TBA.