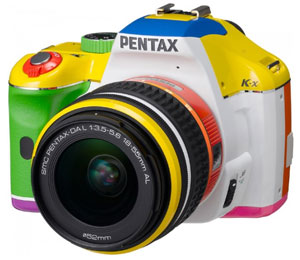 The Pentax K-x has been one of the more affordable DSLR cameras in the market for a while but unlike other camera models, which entice shoppers by changing its specs, this one changes its color from season to season. The latest incarnation of the Pentax K-x looks like a rainbow threw up on it. Who wants to bet that teenage hipsters will be the first in line to buy one?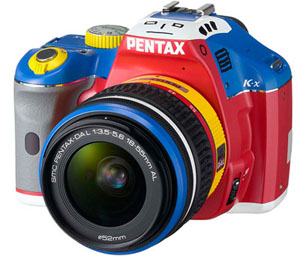 The rainbow-colored Pentax K-x isn't the first specialty color this camera came in. A few months ago, a cartoon-colored version came out, inspired by the Japanese Kore Ja Nai Robo toy.
Thank God both brightly-colored cameras are limited edition and sold exclusively in Japan for about $880. It's pretty hard to take a colorful camera seriously but on the up-side, no one will probably steal it because it looks just like a toy.
Photos from Today Gadgets and i4u