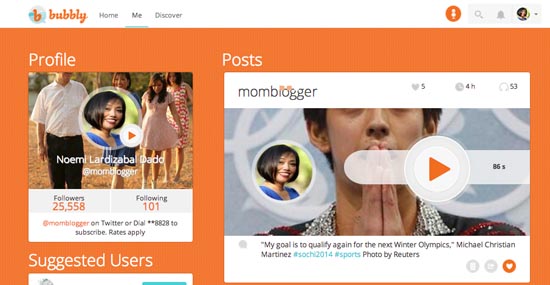 This is the url of my Bubbly Audio Blog: http://bubbly.net/momblogger
Some of you might have seen my bubbly audio posts on twitter and facebook. Let me explain first what this bubbly app is. I first tried out this cool app in May 2012 upon the invitation of Bubbly Philippines to be one of their premium celebrity user. Why not? I always want to try new social media tools. Bubbly is a social messaging service where people share SMS and voice updates with friends, family, fans and followers. Think of Bubbly like "twitter with a voice" . It brings social networking to mobile phones. When I first tried it out in 2012, I did it for fun because there are times when I won't be able to post on twitter.
Bubbly allows users to access Bubbles from celebrities too such as Christian Bautista, Karylle, Maxene and the Magalona family, Jasmine Curtis, Rivermaya, Boys Night Out, and many more.
It is cool. At most you can listen to 90 seconds of update. It is neither too long nor too short.
A year later in 2013, I discovered that the growth of Bubbly increased tremendously. As of January 27, 2014, Bubbly hit 3.8M subscribers in Globe and reached 100K subscribers in Smart.
When I realized the tremendous growth for users who may not have access to Facebook or Twitter, I decided to become more dedicated in postings. I used to post every other day only.
See, those who subscribe to Bubbly audio posts don't necessarily own a Smartphone. With one peso a day per subscriber, I want to make sure these subscribers get value. This app is also useful to those who are visually impaired since they can listen to relevant posts online. I share snippets of what I normally share online like current events, food, gadgets, commentary, love , parenting and anything under the sun.
Why am I passionate to post in Bubbly? Well, Bubbly is a wonderful way to share my advocacy online to non-smartphone users or those with limited internet access for just one peso a day. It is one reason that I post a lot in one day…para sulit, di ba?
Not all subscribers will pay monthly. Some will just listen to one message at a time so don't be fooled with the number of my followers. I am hoping though that more will subscribe so the listeners can get the information I share online.
Here are sample bubbly posts (click)
Love
On politics
Lifestyle
Current events
How to listen to my Bubbly audio updates: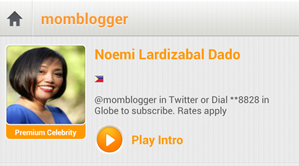 1. You can download the app through your iPhone or Android phone by visiting
bubbly.net
. Rates apply if you subscribe to my daily updates.
2. To subscribe to Globe and Smart, just dial **8828 and press 1 at the voice prompt . Rates apply. I believe it is 30 pesos a month or just 1 peso a day.
3. You can listen to me for FREE if you are following me on Twitter since I do automatic posting there . My twitter name is @momblogger
Visit http://bubbly.net and follow celebrities and sports stars and other popular users to listen to updates in their own authentic voice. This is the url of my Bubbly Audio Blog: http://bubbly.net/momblogger or just dial **8828 in your cellphone and press 1 at the voice prompt